Cresset receives lifeline grant from Government's £1.57bn Culture Recovery Fund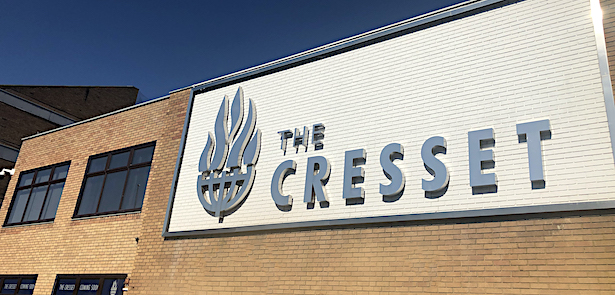 The Cresset has been awarded £242,286 as part of the Government's £1.57 billion Culture Recovery Fund (CRF) to help face the challenges of the coronavirus pandemic and to ensure they have a sustainable future, the Culture Secretary has announced today.
The Cresset is one of 1,385 cultural and creative organisations across the country receiving urgently needed support. £257 million of investment has been announced today as part of the very first round of the Culture Recovery Fund grants programme being administered by Arts Council England. Further rounds of funding in the cultural and heritage sector are due to be announced over the coming weeks.
The Cresset has been staging live events in Peterborough for over 40 years, and has played host to hundreds of acts. Over 60,000 people attended live events last year, with 80% of audiences coming from within the Peterborough postcode area. Since March over 100 performances and events have been cancelled or rescheduled. While the venue has announced some socially distanced performances in recent weeks including a specially adapted pantomime, the reduced capacity has a huge financial impact.
Culture Secretary Oliver Dowden said: "This funding is a vital boost for the theatres, music venues, museums and cultural organisations that form the soul of our nation. It will protect these special places, save jobs and help the culture sector's recovery.
"These places and projects are cultural beacons the length and breadth of the country. This unprecedented investment in the arts is proof this government is here for culture, with further support to come in the days and weeks ahead so that the culture sector can bounce back strongly."
Chair, Arts Council England, Sir Nicholas Serota, said: "Theatres, museums, galleries, dance companies and music venues bring joy to people and life to our cities, towns and villages. This life-changing funding will save thousands of cultural spaces loved by local communities and international audiences. Further funding is still to be announced and we are working hard to support our sector during these challenging times."
Head of Commercial Activities at The Cresset, Penny Hansen, said: "This funding will make an enormous difference to us. It allows us to continue to run events, to retain our wonderful staff and to work with freelancers and suppliers in the area. We are committed to continuing to provide events and entertainment to our audiences in a safe and sustainable way and this is a real lifeline to ensure we can afford to do this and be here for the months and years to come. We're incredibly grateful to DCMS and Arts Council England for their support."
For a current Cresset events list including reschedules and socially distanced shows visit www.cresset.co.uk
Leave a Reply