Creative writing workshop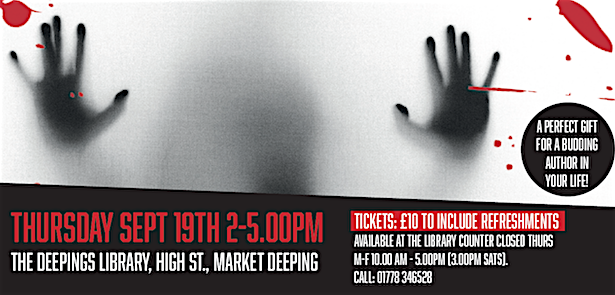 Crime writer Alison Bruce comes to Deepings Library to offer professional advice and insights. Whatever the genre – crime, romance, history – Alison will have tips for you!
'Whether you're a new writer or already experienced, there will be skills that are vital. Once you've learned them then it's up to you how you use them. From character and plot to unusual and invaluable tips, this workshop will help you to develop your writing and make that elusive first novel one step closer.'
Alison Bruce is the author of eight crime novels and two non-fiction titles. She has completed seven books in the critically acclaimed Gary Goodhew series set in Cambridge. Her most recent release is the standalone psychological thriller I Did It for Us. She is currently studying Crime and Investigation at Anglia Ruskin University, Cambridge.
This event is a perfect gift for a budding author in your life – especially if that's you!
Creative writing workshop with crime writer Alison Bruce
Thursday 19 Sep 2pm-5pm
The Deepings Library, High St., Market Deeping
Tickets: £10 to include refreshments, available at the Library Counter
Open Mon-Fri, 10am-5pm (3pm Sat). Closed Thu
Call: 01778 346528
Leave a Reply