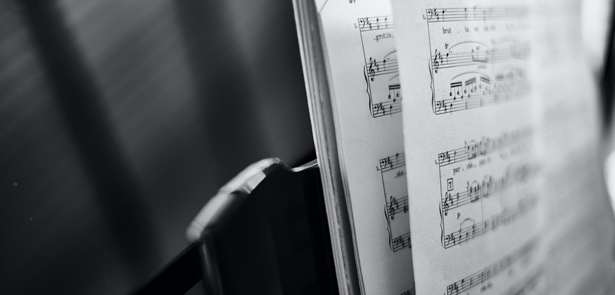 The CPSO is very pleased to have two possible dates for the 30th Anniversary Gala Concert which will be held in either September or December. Do keep an eye on our website — this is a concert not to be missed!
We are excited to be welcoming pianist Imma Setiadi to the stage in a programme which celebrates both Beethoven's anniversary and that of the Orchestra. The CPSO are also proud to announce its partnership for this concert with the Peterborough Centre for Young Musicians. Since its inaugural performance in Peterborough Cathedral in 1990, the CPSO has been an important part of the vibrant musical landscape of Peterborough. Antony Hopkins (1921-2014, pictured) writer, composer and radio broadcaster was invited to become the first Chief Conductor of the newly formed CPSO, itself the initiative of the Assistant Organist for the Cathedral at the time, Gary Seiling, and the Chair of the Peterborough Arts Council Music Panel.
From the outset, the original steering committee was able to establish the CPSO in venues at the heart of the City. The Cathedral was home to the Orchestra for much of its first 10 years. During 1993-1996, the CPSO staged an amazing seven concerts per year, bringing large scale orchestral works to Peterborough audiences such as Beethoven's 9th Symphony, Holst's 'The Planets' and Mussorgsky's 'Pictures at an Exhibition'.
The Orchestra continued to perform in wonderful venues in the city, bringing live classical concerts to the Cresset, the Key Theatre, The Broadway, St John's and other indoor and outdoor venues! In 2010 we were so thrilled to make our 'home' at the spacious and versatile Queen Katharine Academy, where we rehearse and hold our Concert Seasons. The CPSO has been at the heart of music-making in your city for 30 years. We are looking forward to welcoming you to our next concert when we all meet again…
Beethoven Piano Concerto no.5 "Emperor" op.73 Martin Bright "Apkallu: Protector" Marquez "Danzon 2"
Prepare to be dazzled by emperors, ancient gods and exotic dancers! Beethoven's middle period features large-scale works that express heroism and struggle, including the magnificent Emperor piano concerto of 1811. From the majesty of the first movement, and peace of the centre, the last movement and its irrepressible rondo is not a regretful farewell from one whose legendary abilities were floundering on the rocks of his deafness, but a surge of glory 'I shall seize fate by the throat,' he wrote. 'Oh, how beautiful it is to live – to live a thousand times.' Apkallu: Protector is a dramatic work by Martin Bright for orchestra and five percussionist soloists, featuring a wide range of percussion instruments and is inspired by the beliefs of the ancient Assyrians and their protectors, the extraordinary Apkallu, part-man, part-animal, seen in exquisite carvings in the British Museum.
There are dances, processions and moments of quiet reflection, finishing in the realm of the gods themselves and their eternal breaths of life. The composer studied at the Royal College of Music in London and currently teaches percussion in Peterborough. Danzon 2 by composer Arturo Márquez is one of the most frequently performed Mexican contemporary compositions, gaining great global popularity when performed by the Simon Bolivar Youth Orchestra of Venezuela under Gustavo Dudamel in 2007. The 'danzon' genre was inspired by the ballroom and dance halls of Mexico and uses syncopation and pauses, where the dancers hold elegant positions before carrying on. The music oozes passion and sophistication, representing 'sensuality, nostalgia, and jubilant escape'!
A celebration worthy of the 30th anniversary of the City of Peterborough Symphony Orchestra.
City of Peterborough Symphony Orchestra 30th Anniversary Gala Concert
● September or December 2020 (details tbc)
● Queen Katharine Academy, Mountsteven Avenue, Walton, PE4 6HS
The Concert is sponsored by V & A Vigar
CPSO recommends  
In the middle of this global crisis, many people have turned to the soothing and uplifting capabilities of music and the other arts. Despite the anxiety and stresses of the situation, there has been much evidence online of our resourcefulness, creative abilities and desire to stay connected with one another throughout. Music has played a big part in our lives while we have stayed at home, even as all our usual events have been cancelled. With concert halls and opera houses closed, organisations and musicians across the world are livestreaming concerts from their homes, from empty concert halls, and are opening up their archives.
Easily accessible is:
● The Guardian's online resource at theguardian.com "Lockdown Listening: Classical music and opera to stream at home"
● Classic FM's online resource at classicfm.com "Coronavirus quarantine – the best livestreamed classical music concerts available"
● Royal Albert Hall – From Their Home To Yours
● Royal Opera House – From Our House To Yours
CPSO & Peterborough's young soloists
It has been a privilege for the CPSO to give performing opportunities to young musicians with local connections. Imma Setiadi, a pianist originally from Indonesia, made her UK debut with CPSO's conductor Steve Bingham in Cambridge in 2014 and now has an international career. Imma returned to a delighted Peterborough audience to perform Shostakovitch with us in 2018.
Charlotte McAuliffe from Peterborough studied at RNCM and now combines motherhood with a music career in chamber music, as a soloist and as an adjudicator and teacher. Charlotte played to a capacity auditorium when she performed the Elgar cello concert with us in 2018. Another local player was violinist Katy Smith who started her career with Peterborough Youth Orchestra and Birmingham Junior, studying with Alex Brulo, before joining the Yehudi Menuhin School in 2003.
Katy played the Mendelssohn concerto with us in 2008 and by popular demand returned in 2011 to perform Mozart. Freelance horn-player Nick Wolmark trotted the globe before settling in Cambridge and performing the first Strauss concerto with us in 2013.
Finally, Freya Goldmark, who made her debut performance on the violin in Russia at the age of 13. She has worked extensively abroad and in the UK winning prizes at the Royal College of Music. Freya loves chamber music and runs Stamford International Music and Cambridge Summer Music Festival. Her performance of the Sibelius concerto with the CPSO in 2019 was truly memorable.
During our 30th Anniversary Year, we are looking forward to welcoming Imma Setiadi to play Beethoven in the composer's own 250th Anniversary Year. She will take the concert stage alongside our other guest soloists, the outstandingly talented percussionists from Peterborough's Centre for Young Musicians.
Image: Valentino Funghi on Unsplash
Leave a Reply