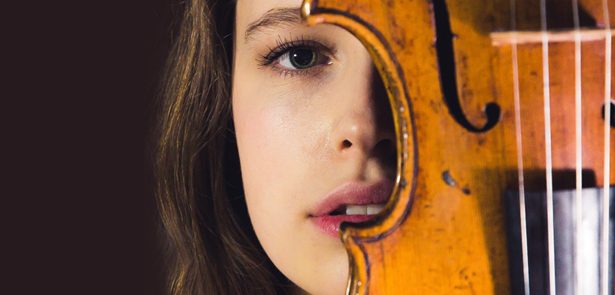 CPSO's 2019/2020 Season will see the City of Peterborough Symphony Orchestra proudly celebrating 30 years' music-making in the local area
Festivities begin in October when the Orchestra welcomes vastly talented violinist Freya Goldmark to perform the Sibelius Violin Concerto. Freya, who plays a violin made around 1740 by Camilli of Mantua, recently graduated from the Royal College of Music where she studied as a Foundation Scholar with her long-time professor Maciej Rakowski. Her career includes performances at Cadogan Hall, The Wigmore Hall, Sandringham House, the Elgar Room at the Albert Hall, The Red House, Aldeburgh and the Purcell Room in London's Southbank Centre.
Freya works with a number of English orchestras and her performance this Autumn with the CPSO is eagerly anticipated. Grieg is the second of the great Scandinavian composers featuring in the forthcoming concert. From 90 minutes of music for Ibsen's play, Grieg extracted two four-movement orchestral suites with Peer Gynt's travels round distant lands represented by individual instruments. Grieg's talent for writing memorable tunes comes to the fore. Suite no.1 starts with the famous flute solo of "Morning mood", and ends with the iconic "In the Hall of the Mountain King", both themes beloved of popular culture. The door-knocking opening four-notes of Beethoven's Fifth Symphony form the most famous symphonic theme ever written. Insistent and doom-laden, the composer generates something miraculous out of it.
The final work of the Autumn 2019 Concert programme, Beethoven's 5th is one of the best-known compositions in classical music. This October's performance by the CPSO promises orchestral drama of a high order! Since its inaugural performance in Peterborough Cathedral, in 1990, the CPSO has been an important part of the vibrant musical landscape of Peterborough. Keeping music live has involved us in both large-scale extravaganzas and cosy concerts. They have performed Beethoven, Mahler and Saint-Saens in the Cathedral and accompanied A level students, charity concerts and Proms in the Park. The CPSO is grateful to sponsors, the Friends of the Orchestra and all the supporters over the years. They invite you to join them for the exciting 2019/2020 concert Season which features some great Classical and Romantic favourites, a specially commissioned new work for talented local percussionists and a Fiesta!
City of Peterborough Symphony Orchestra
13 October, 3pm, Queen Katharine Academy, Mountsteven Avenue, Walton PE4 6HS
The concert is sponsored by V & A Vigar
Leave a Reply