Count Arthur Strong: somebody up there really does lick him!
Count Arthur Strong: somebody up there really does lick him! 1 2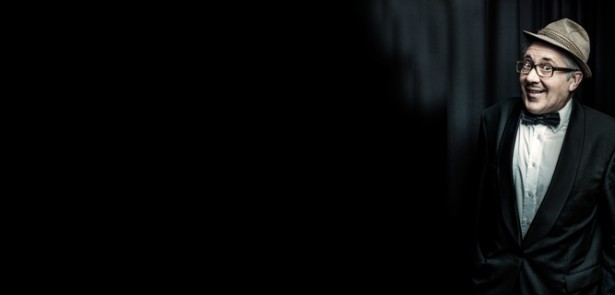 Born to entertain – even if not everybody wants him to – bumbling, semi-retired variety performer Count Arthur Strong is the glorious comic creation of actor Steve Delaney who has built a cult following performing live, on BBC Radio 4 and now on BBC1. We caught up with Steve – ahead of the Count's new tour – for a glimpse into Arthur's world…
The Count is back with a second series on BBC1, and you're just embarking on a whole string of new live shows. What's this new tour going to bring to your live audience, and how do you think it's going to be for you, as a performer?
Television is a recent thing for me, but I've always toured, getting half-hour shows together at various comedy clubs and then Edinburgh, and then touring after every Edinburgh. The first year of the TV show I couldn't tour because of work commitments, but touring is where I started and where Arthur developed, really.
With TV, if there's development there, it's more about getting used to a different medium, I think, rather than character changes – I've done all the changes I'm going to do with Arthur! If I look back to when I first kicked off doing him, in the late 90s, it seems to me now it was quite a young bloke pretending to be an old bloke, but I've grown into him: he's fully formed. New development now is working out what I can do visually, after many years on the radio and then transferring to television. I'm thinking: 'Gosh, I don't have to say anything for that bit to get a laugh!' For the live tour I would hope that there are people who have seen the television show who haven't seen a live show before, and I hope they get what they expect – but I don't know whether they will or not!
Count Arthur Strong has a very well-established fanbase – the radio show has become cult listening over the years – and now there's the TV show, which is picking up its own set of devotees. However, there seems to be quite passionate disagreement among them about which is best!
For me, it's very simple: if you like the radio show best then listen to that, don't watch the telly show – and vice versa. I can't 'censor' what I do because certain people only like certain aspects of it. I just do my thing, and that's what I've always tried to do. I don't amend what I do for any particular medium in a deliberate way, I don't think: 'Right, we're on television now, we've got to appeal to millions of people and make it much more generic.' You do your thing and if people like it then brilliant; if not that's fine, too. It's never been a problem for me, people not liking what I do – they shouldn't all like it, and it would be wrong if I was trying to make all people like it. I'm absolutely not interested in developing things that have to please everybody. But yes, some people do think that Arthur just belongs on radio and… I disagree! I'm very lucky to be working in several different mediums and I enjoy them all equally.
You've been performing as Arthur for many years now, and he's such a completely rounded character he must almost have become like a separate person. So, why do you stay with him? Why do you love him, still?
I was saying earlier that I think Arthur's done all the developing he's going to do, but there are subtle changes all the time. As I get older I certainly feel like I inhabit Arthur more, when I look back to the start, that young man playing an old man, a lot of what I was doing was quite mannered and external, but now I think from the inside out.
When I left drama college I thought: 'Why have I trained as an actor?' because I didn't really like seeking work as an actor, I didn't like auditioning, people looking at me and sitting in judgement on me, making their mind up whether or not I could play a part that had three lines and that any fool could do. When I got Arthur out on the comedy circuit and started writing material for him, it made an immediate impact on the audience. There was a booker there from a comedy club in Soho who wanted to book me, and I thought: 'Wow, this is so much better than waiting for people to… [cont]
Count Arthur Strong: somebody up there really does lick him! 1 2
Leave a Reply