Concrete Soul at City Gallery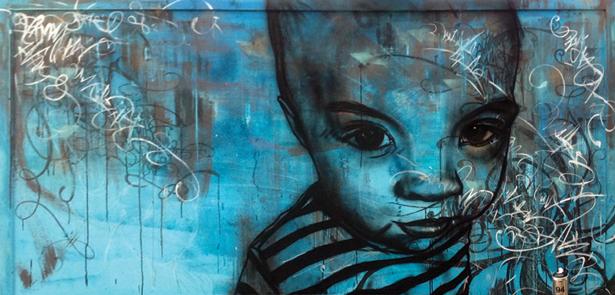 Stuart Payn, better known as Process Smith, has had a lifelong interaction with Peterborough's urban environment as both a keen skateboarder and street artist. Inspired by the materials that make up the fabric of the city, he brings his new exhibition to Vivacity's City Gallery this January
When it comes to artistic expression, the urban environment can be just as inspirational as the natural environment. Concrete Soul, City Gallery's first exhibition of 2017, celebrates the city and its many guises. The exhibition is a collection of new work from artist Stuart Payn, who works under the artistic pseudonym Process Smith. In it he applies the processes and techniques he has developed over his artistic career to the urban aesthete, creating a remarkable collection of work that will appeal to all ages and backgrounds. Stuart originally trained as an animator and has been a graffiti and street artist for many years. He has also worked with both digital and sculptural art forms.
An urban environment
'I don't focus on any particular method. For me it's all about the idea, and if I need to develop a new technique in order to fully explore that idea, then that's what I'll do,' he explains. The exhibition centres around Stuart's relationship with concrete, which as a skateboarder and graffiti artists is an intimate one.
'In the urban environment concrete is ubiquitous. But as an avid skateboarder my involvement with this material was very physical too – falling off my skateboard and rubbing my elbows across it! However, I'm not restricting myself to concrete; there will be other materials including metal, wood and plastic.'
Sense of fun
Concrete Soul sees Stuart refining a philosophy. 'It's about exploring how I can develop my personal heritage. I have had years of interacting with and subconsciously processing all this stuff. Now I want to use this experience to radically transformmy arts practice.' Visitors to the exhibition can expect to see a lot of experimentation.
'Nothing there is to be taken too seriously,' says Stuart. 'A lot of it will be there simply because it was really fun to make! There's nothing conceptual in the exhibition, that's not me. What I'm trying to do is produce pieces that the audience can resonate with, purely because it resonates with me. In the same way I am always mindful that all of the street art that I produce should be accessible to everyone.'
Going underground…
Stuart's street art has taken him to the underpass at Cowgate where he was involved in a commission to transform 500m2 of wall space. The colourful collage he helped create was based around Peterborough's history and a lot of this work will be reinterpreted in Concrete Soul.
'There will be similar characters, whether illustrated or part of an assemblage.' Stuart isn't one to rest on his laurels, always seeking out new techniques: 'For example, I've been using a laser cutter to work with wood and plastic etchings. I am just having fun with all these different technologies, materials and processes. If I drew a picture on a piece of paper, I might think to myself 'well, what if I made that out of clay?' or 'what if I made some of the elements out of laser cut plastic?' So it starts to become more 3D and comes off the page. It means there should be plenty of pieces in the exhibition that those who are into more serious art will hopefully also appreciate! But above all the exhibition is supposed to be fun, while at the same time producing a very definitive philosophy or idea that connects it all together.'
Concrete Soul 4 January – 30 March 2017 Tues – Sun, 10am – 5pm City Gallery and Museum, Priestgate, Peterborough PE1 1LF.
Leave a Reply