Speaky Blinder! Chris McCausland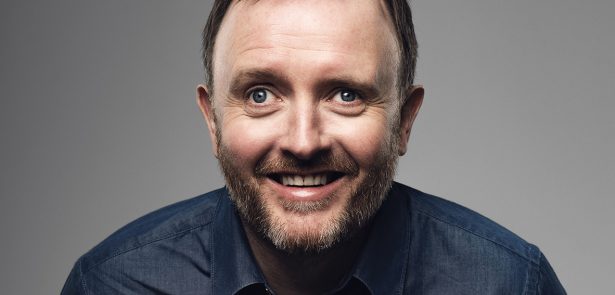 Chris McCausland is going places – and not just because he has just filmed a new travel series for Channel 4. The Liverpudlian stand-up star is back on the road with an extended leg of his Speaky Blinder tour which will see him perform over 130 dates nationwide.
What began as a modest journey around the UK's arts centres has snowballed as McCausland's fame has grown thanks to breakout appearances on television shows including 8 Out Of 10 Cats Does Countdown, Have I Got News For You' The Royal Variety Performance and QI.
The Liverpool-born 45-year-old is a classic storyteller, who spins relatable tales of everyday life into comedy gold. The difference is that he is blind. He was born with a genetic condition called Retinitis Pigmentosa which caused his sight to deteriorate steadily throughout his childhood and teenage years. "It's not just blackness that I see these days, but rather just useless blurry light."
In the past on stage he would only make a few references to his blindness at the start of his gigs, but in more recent years he began to feel more relaxed talking about it, making this his most personal show yet. "I'm older, I worry less about what people think. I don't really care about being trendy or cool any more – those days are long gone."
His current show sees him weave traditional stand-up with a more personal insight into his experiences of life and fatherhood in the dark. "I talk about loads of stuff, from my failed attempts to meditate and keep fit, to my wife's marathon labour, and the difficulties of trying to be a dad when you can't see what the hell you're doing. I try and offer a bit of insight into what life is actually like without sight, something that I probably wouldn't have been doing a decade ago. The response from the audience has been really great!"
It's a frank and funny show in which he talks about his shortcomings as a Dad, not being able to take his daughter Sophie, now nine, out on his own, or teach her certain things. He has a natural wit and ensures there are plenty of punchlines along the way, like when he talks about the farce
of trying to play hide and seek when you can't see to do either the hiding or the seeking!
This year though, McCausland has hardly had time for hide and seek, with tour dates being added due to demand. "My wife is delighted that the tour keeps on getting longer. I'm not entirely sure that after having me stuck at home for 18 months during the lockdowns, she's not on the phone to the promoter saying 'Can we add some more dates please and keep him away for longer?'" The tour is due to end in style at the Shepherd's Bush Empire on May 13, 2023.
And it's not just gigging that keeps Chris away from home in Surbiton in south west London. He has also been filming a Channel 4 series which will air early in 2023, in which he visits famous places with fellow comics. He visits Jordan with Guz Khan, Greece with Harry Hill, Niagra Falls with Liza Tarbuck, and Rome with dapper Tom Allen. "There's nothing funnier than Tom Allen trying to maintain his sartorial elegance in 40 degree heat."
It's travel with a twist: "They are taking me to these places to prove to me that there's more going on there than staring at famous sights. We immerse ourselves in the culture and the history. I'm up for getting involved. I did a pottery class and learnt about Greek theatre with Harry in Greece."
McCausland is finally getting the breaks he deserves. He has recently been told that his Radio 4 game show pilot, You Heard It Here First, is going to be made into a series, and he is due to appear on QI again at Christmas. He is also set to be one of the managers on the rebooted version of Fantasy Football League hosted by Matt Lucas and Elis James, which airs on Sky Max from September 29.
It all adds up to a nice result for this passionate Liverpool FC fan. He says he is more comfortable in his own skin now. Life is good. Has he ever had therapy? "I have it five times a week in front of as many people that are willing to buy tickets!"
CHRIS MCCAUSLAND
will be at The Cresset on October 22. Tickets are £21.50. To book, visit www.cresset.co.uk or call the box office on 01733-265705.
Leave a Reply