Comedy Gold at The Cresset!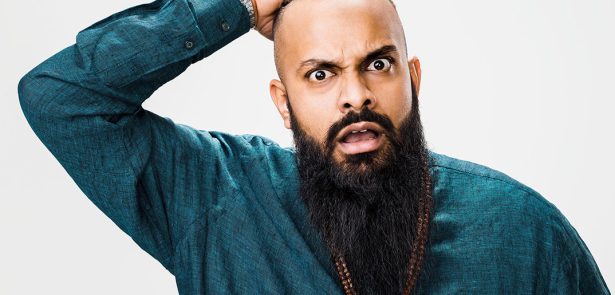 Guz Khan Live
Coventry's finest, Guz Khan, brings his big-screen persona and BAFTA-nominated hilarity to The Cresset on Wednesday 18 January with his brand-new stand-up show Guz Khan Live!
Guz is the creator and star of BBC's Man Like Mobeen, alongside his appearances on Taskmaster (C4), The Last Leg (C4), Live at the Apollo (BBC), Hypothetical (Dave), Turn Up Charlie (Netflix), Netflix movies Army of Thieves and The Bubble, and much more.
Danny Baker: At Last… The Sausage Sandwich Tour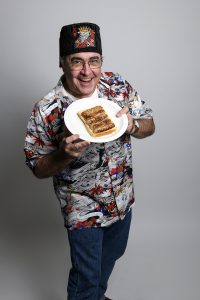 Buckle up at Curtain Up because here we go again! The third (and final) part of the trilogy that began with the sell-out Cradle To Stage nights, charged on through the Good Time Charley shows now reaches its peak with At Last… The Sausage Sandwich Tour!
Danny Baker's concluding chapter of high-kicking euphoria comes to The Cresset on Wednesday 1 March.
A brand-new full tilt non-stop thunderous performance, another panjandrum of unstoppable anecdote. The last ever instalment in this gleeful raucous eruption, chock full of true-life tales and show business revelation!
Every Night Unique! Plus, The Sausage Sandwich Game played LIVE and dripping with condiment! This time there's even a bonus appearance from Dan's old man SPUD! Imagine that!
"This makes that Abba thing seem like a lot of fuss about nothing!" – An actual quote from Dan himself.
At Last… The Sausage Sandwich Tour! comes barrelling into town. Grab a fistful folks, of a truly dynamite night out!
Altogether now…Will it be Red Sauce, Brown Sauce or…?
*****"A raft of cracking anecdotes", Mail on Sunday
****"Boy can he sell a story… a compelling, evocative account of his south London roots", Evening Standard
****"Entertaining audiences with stories that are eclectic", The I
****"Baker is at ease on stage", The Times
****"It's hard not to marvel at the flow", The Guardian
The Comedy Club
The Cresset Comedy Club has been running since 1998 and has welcomed some of the nation's biggest comedians over the years – before they became household names – playing host to the hottest circuit comics in the country in the intimate Fitzwilliam Suite. A real treasure trove of comedy gold and undiscovered talent, each event features four comedians in a club style format. Line-ups are released nearer the time.
Comedy Club – Fridays, 24 Feb, 31 Mar, 28 Apr, 26 May, 30 Jun
Dara Ó Briain: So… Where Were We?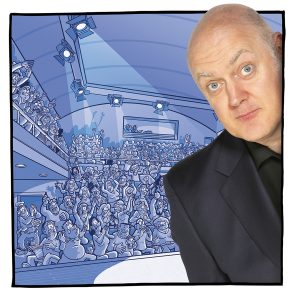 Dara Ó Briain is back on tour with a brand-new show! Arriving at The Cresset on Friday 10 March.
At the end of his last tour, Dara had performed the show Voice Of Reason 180 times, over two years, across 20 countries from Auckland to Reykjavik, from Moscow to New York; and by March 2020 he was ready for a break!
He would now like to apologise for saying that and will never wish for anything like that again.
Yes, he's back on tour, and he will never stop again, because that's clearly what caused all this trouble. Instead, in his new show So… Where Were We? Dara will hardly mention the last year and a half, because, Jesus, who wants to hear about that? Instead, Dara will fire out the usual mix of stories, one-liners, audience messing and tripping over his words by talking too quickly because he's so giddy to be back in front of a crowd.
"Pure, undiluted comic genius" Evening Standard
"His set is a masterclass in intelligent, no-frills stand-up" The Guardian
"If you want a comic who can hold an audience in the palm of his hand for two hours, here's your man" The Times
Dara Ó Briain is one of the UK & Ireland's favourite stand-up comedians and television presenters. He is best known for hosting Mock The Week, Robot Wars, Three Men in a Boat, Dara and Ed's Great Big Adventure, Stargazing Live, Dara Ó Briain's Science Club, and the documentary Dara Ó Briain Meets Stephen Hawking, all on BBC Television. He also currently hosts Comedy Central's hit gameshow Blockbusters.
The Little Mermaid Adult Panto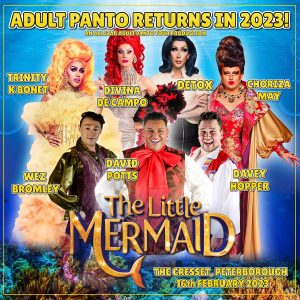 Join us under the sea as Adult Panto Tour returns to The Cresset on Thursday 16 February with a brand-new naughty little tail… The Little Mermaid. The Little Mermaid will be an all-star Adult Panto Tour production featuring a cast of returning queens and actors from Adult Panto previous productions over the past four years!
Complete with her iconic red wig and a silver tail, Divina de Campo leads the cast in the title role of The Little Mermaid herself. Will our evil Sea Witch Detox, with the help of her evil side kick Trinity K Bonet, manage to steal the voice of The Little Mermaid or will our King, David Potts, and ship's captain Choriza May help save the day?
Featuring beautiful scenery, sparkling costumes and all the usual jokes, comedy, camp songs and filth you'd expect, you'll have a whale of a time down where it's wetter!
Tim Vine: Breeeep!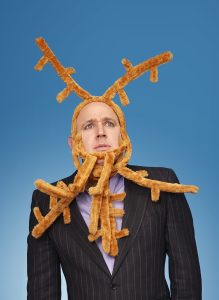 It's Tim Vine and he's back with a brand-new stand-up show! Come to The Cresset on Tuesday 9 May and enjoy a mountain of nonsense, daft one-liners, joyful songs, wobbly props and ridiculous humour. (Plus utter drivel.) Witness the stupidity. Then leave. Switched on the Christmas lights in Cheam two years on the run. All tickets non-repundable.
"Is there a more ludicrous comedian in Britain?" The Times
Tim's like the manager of a sweet shop where all the sweets are replaced by jokes, and he serves them in the order he chooses. So, it's like a sweet shop where the manager just throws sweets at you.
'I used to live hand to mouth. Do you know what changed my life? Cutlery'. – Tim Vine
Winner of Dave's Best Joke of the Fringe 2010 and 2014. Star of The Tim Vine Chat Show (BBC Radio 4) and numerous TV appearances.
Enjoy the foolishness. Then leave.
*****"A symphony of silly" Times
Book online at www.cresset.co.uk or call 01733 265705.
Leave a Reply