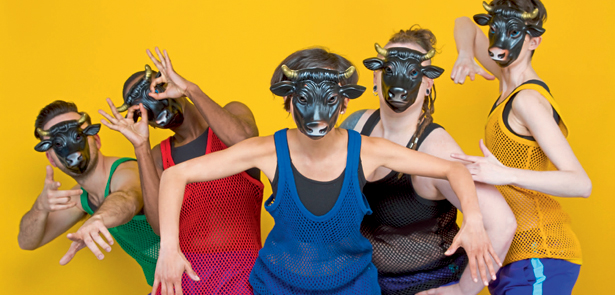 2018 has already seen Peterborough's biggest Pride festival to date celebrating the LGBTQIA+ community with cabaret, theatre, film screenings, talks and a fabulous parade reaching audiences of over 4,000 people. What's great is that you don't need to wait until next year for further amazing events. Hot on the heels of its success, and direct from London is Come As You Are, a three-day festival from 8-10 November celebrating transgender, non-binary and gender-queer identities
Come As You Are Festival is produced by Camden People's Theatre in partnership with Metal and Vivacity. With shows that explode and explore ideas around gender and sexuality, and passing the mic to the lesser heard voices of the LGBTQIA+ spectrum, we know Peterborough audiences are ready for it. The touring shows are all electrifying pieces of theatre, for anyone who loves bold new performance, or are curious to experience a different kind of night out. The festival in Peterborough will be headlined by the award-winning show BULLISH, created by the team behind the smash hit Joan, alongside Bound by Lucy Hutson, Non-Binary Electro Hour by Ray Filar and other events hosted by the local LGBTQIA+ community.
Lucy J Skilbeck, writer and director of BULLISH describes what it means to identify as non-binary or gender-queer: "Being transgender means you don't agree with the gender you were assigned at birth. When we are born, doctors take one look at us and put us into two piles. For me they got the pile wrong. Indeed for gender queer or non-binary people there is no pile, non-binary identities offer an alternative to the either/or male/female binaries. For me being gender queer is like a punk version of this, it operates outside of the binary and sometimes outside of any spectrum at all"
Here's a bit about what you can expect from Come As You Are:
The festival opens on Thursday 8th November with Scratch Performance, a night of explosive new work featuring local LGBTQIA+ artists and emerging talent. Expect brand new excerpts from works in progress, never-before-seen ideas and some of the freshest work from the most innovative and exciting local theatre-makers, based around the themes of queer and non-binary identities. Audience feedback is very welcome. Scratch Performance starts at 7pm at Metal's Chauffeurs Cottage. Pay what you feel.
For those of you who enjoyed Drag Bingo as part of Peterborough Pride, LoUis Cyfer returns to the Key Theatre with Festival headliner BULLISH. This is the story of Theseus and the Minotaur re-moulded and transformed by Milk Presents. A gender fierce ensemble of hopers and renegades pass, pack and blag their way out of the Labyrinth, re-defining the myths that shape our identity. A tale of treachery, power and love, hell bent on not taming the Minotaur within. You can catch the Bullish performances at the Key Theatre on Friday 9th November, 7.45pm and a matinee on Saturday 10th November at 3.30pm.
Bound by Lucy Hutson is a show about the slippery nature of identities, the ones you give yourself, the ones forced onto you and the ones that were once strong and now you are just clinging on to. More specifically it's a show about breasts, gender and using urinals. But mostly it is about baring all. Bound will be on at Metal's Chauffeurs Cottage on St Peters Rd on Friday 9th November at 6pm.
On Saturday 10th November at 1pm Metal will host a free open panel discussion at Chauffeurs Cottage asking the question 'What would a Queer Peterborough for young people look like?' exploring the needs and aspirations for future support, services and programming for the young LGBTQIA+ community in the city.
You can round the festival off at The Key Theatre on Saturday 10th at 7.45pm with Non-Binary Electro Hour by Ray Filar, a tale of gender fluidity and desire told in electro-punk form with songs, sci-fi, strip-tease and spoken word. This show brings together noise about queer life with a brief punk history of drag outside the boxes – from male impersonators of the music hall era to the gender-bending icons of today.
Moment asked Brian Logan, Artistic Director from CPT what audiences might hope to feel at Come As You Are: 'First and foremost, I hope – and expect – that they'll have a good time. None of these shows are worthy: they're all exciting. Further to that, how audiences feel may depend on their own relationship with gender. Some audiences, I hope, will feel the exhilaration that comes with having your own (often marginalised) experience and identity publicly represented, celebrated and dramatised in surprising ways. Others will find themselves thinking (and feeling) in new and richer ways about gender, away from the caricaturing and panic-mongering that sometimes characterises that wider conversation. I hope people will get excited too about the theatrical flair on display, and will be inspired to engage more with theatre of this kind.'
So, wait no longer, get booking for your festival tickets. For more information about all the events, and details on how to book visit www.metalculture.com or call The Key Theatre Box Office on 01733 207239.
Some of the performances will be accessible for deaf and hard of hearing audience members using hand-held captioning equipment. The Difference Engine is developed by Talking Birds Theatre Company to provide access to experimental, small scale and site-specific performance. It broadcasts captions to smart phones and tablets.
Leave a Reply