Civil war comes to Peterborough!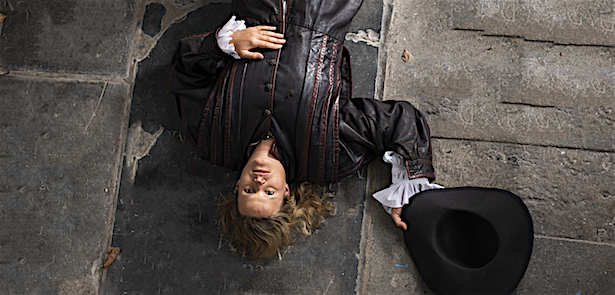 This September, two pieces of new theatre set during The English Civil War will be performed at Key Theatre Studio, Peterborough. Writer Mark Finbow has teamed up with Stuff Of Dreams Theatre to create a script based upon the attempted assassinations of Oliver Cromwell. The second play, produced by locally based Play Nicely Theatre (run by actress Henri Merriam) is inspired by accounts of cross-dressing females on the front line of the conflict.
Both projects are co-produced by Norfolk based theatre company The Keeper's Daughter, funded by Arts Council England and supported by arts organisations Vivacity and The Seagull Theatre. Both plays are being supported by a series of historical advisors and are being created with support from The Cromwell Museum in Huntingdon.
Writer Mark Finbow says: "Theatre about the civil war largely seems to deal with the witch hunts, the Putney Debates or Charles' trial and execution. These two plays will look at some lesser known stories from the time and hopefully shine a fresh light on some of the political philosophies and religious divisions that still echo throughout society today."
The Numerous and Varied Assassinations of Oliver Cromwell will look at the accounts of several assassination attempts upon Oliver Cromwell's life by a small group of radicals funded by Suffolk born former Cromwell supporter Edward Sexby.
"Sexby seems to have changed allegiance throughout the wars, which makes for an intriguing story in itself. Finally he felt betrayed enough by Cromwell to plot the man's death and this is the point in Sexby's life we've decided to focus upon."
The English Civil Whore will tie the battle of Naseby to the assassination of Thomas Rainsborough in a fictional tale of intrigue. The play will feature sword fighting, original music and physical theatre.
Producer Henri Merriam comments: "Recently published accounts of females who fought on the front line of the Civil War and those who acted as informants made us consider what other stories we weren't hearing from this time and how we could bring them to light. These women were challenging convention and I hope that's what our show will do."
Both pieces are at the very beginning of their development towards a full production and will have a work in progress sharing at the Key Theatre Studio in Peterborough in early September. For more details on these events please follow The Keeper's Daughter on Facebook or go to www.vivacity.org.
To book your FREE tickets, go here for The English Civil Whore, and here for The Numerous and Varied Assassinations of Oliver Cromwell
Leave a Reply