Cinema 100 launches at New Theatre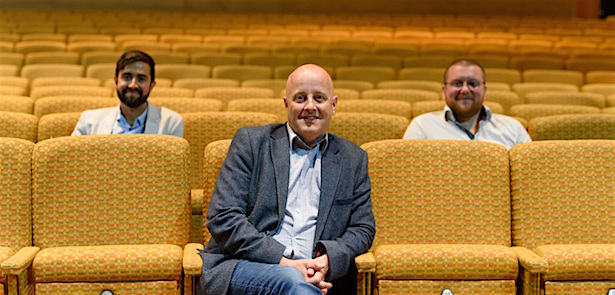 The New Theatre opens its doors once again as Cinema 100 @ New Theatre Peterborough launches from Friday 31st July.
The New Theatre was originally built as a cinema and opened in 1937. It continued to operate as a cinema for nearly 50 years before closing in 1991. In 1996, the venue was converted into a theatre and re-opened as Cinema 100. Now, operated by Selladoor Theatres, the New Theatre is a thriving live performance venue in the heart of Peterborough.
Following the Covid-19 closure, the New Theatre is once again re-opening its doors with the launch of Cinema 100 @ New Theatre Peterborough, presenting a brilliant summer programme of film screenings.
The opening weekend of Cinema 100 @ New Theatre Peterborough begins with The Invisible Man on Friday 31st July, Trolls World Tour and Military Wives on Saturday 1 August and Mary Poppins Returns on Sunday 2 August. The programme continues with everything from Rocketman to 1917, as well as family favourites; Doolittle, Incredibles 2, and The Addams Family – to name but a few!
With 15 films currently announced, the New Theatre are pleased to be able to provide the audiences of Peterborough and the surrounding areas with this wide variety of films to entertain all tastes and ages.
There will be social distancing measures in place at all film screenings as well as staggered arrival and seating times to ensure that this is maintained throughout each visit. All visitors are also requested to adhere to the following guidelines:
If you have COVID19 symptoms, please do not attend.
It is recommended that you wear a face covering during your visit.
Maintain social distancing throughout your visit.
Please use the hand sanitiser provided and ensure that you wash your hands if you have used the theatre toilets.
Use contactless card payments where possible.
Be considerate of others.
Tickets cost just £5.00 and are available to purchase from newtheatre-peterborough.com
Live performances will resume at the New Theatre from Thursday 19 November with a programme of events that includes Jimmy Carr, Frank Skinner and Blake before the opening of this year's genie-us family pantomime, Aladdin, from Saturday 12 December. Tickets and further information for all forthcoming events can be found at newtheatre-peterborough.com
---
Cinema 100 @ New Theatre Peterborough Film Listings
Friday 31st July 7pm – The Invisible Man (15)
Saturday 1st August 11am – Trolls World Tour (U)
Saturday 1st August 4pm – Military Wives (12A)
Sunday 2nd August 11am – The Greatest Showman (PG)
Sunday 2nd August 4pm – Mary Poppins Returns (U)
Friday 7th August 7pm – Rocketman (15)
Saturday 8th August 11am – Lego Movie 2 (U)
Saturday 8th August 4pm – Doolittle (PG)
Sunday 9th August 11am – Incredibles 2 (PG)
Sunday 9th August 4pm – Judy (12A)
Friday 14th August 7pm – 1917 (15)
Saturday 15th August 11am – Dora & The Lost City of Gold (PG)
Saturday 15th August 4pm – Book Club (12A)
Sunday 16th August 11am – Addams Family (PG)
Sunday 16th August 4pm – Mamma Mia – Here We Go Again (PG)
Leave a Reply