Christmas is coming to The Broadway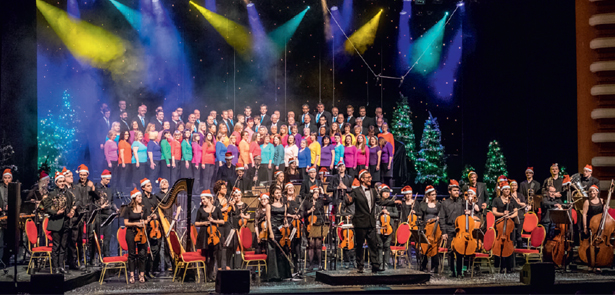 Christmas is coming, and Christmas in Peterborough wouldn't be complete without Christmas Magic, at The Broadway for one night only on Sunday 17 December
Now in its seventh successful year, the everpopular Christmas extravaganza has become an established high point of the festive season in Peterborough, selling out venues across the city including Peterborough Cathedral, Kingsgate auditorium, and The Broadway, where the event has been based since 2013. Featuring all your festive favourites and more, including Walking in the Air, Driving Home for Christmas, Little St Nick, Silent Night, Carol of the Bells, White Christmas and many more – as well as some specially commissioned new arrangements – there will be something for everyone young and old, so bring the family and get your Christmas off to a flying start!
Directed by William Prideaux, hosted by Jane Smith, and featuring a full symphony orchestra, Christmas Magic will showcase performances by the city's award-winning choirs Peterborough Male Voice Choir, Peterborough Voices and Peterborough Youth Choir, as well as orchestral classics such as Christmas Overture and Sleigh Ride from special guests Peterborough Festival Orchestra.
It's been another fantastic year for the Peterborough Sings! choirs who have enjoyed success on the national and international circuit as well as performing with the BBC Concert Orchestra in their sensational sell-out Film Music Gala in September. Exciting plans for 2018 include more international tours and a collaboration with the Band of the RAF Regiment.
William Prideaux says: 'Christmas is always a very special time of year for our choirs – it's a wonderful opportunity for us to have fun, celebrate and put on a thoroughly fantastic show for our home audience, who give us such tremendous support throughout the year. We're looking forward to digging out our Christmas jumpers and presenting a really memorable evening of festive fun for all the family.' So, when you've finished the shopping, the tree, baubles and bangles are up, and the mistletoe's hanging from the door, there's only one thing left to do – celebrate the magic of Christmas with Christmas Magic, Peterborough's biggest Christmas celebration!
Christmas Magic will be at The Broadway at 7.30pm on Sunday 17 December. Tickets from £16 available from Peterborough Visitor Information Centre, by phone on 0333 666 3366 or at www.peterboroughsings.org.uk
Leave a Reply