Chitty Chitty Bang Bang we love you!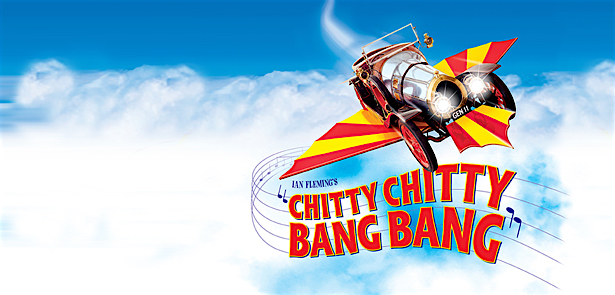 What a happy time you'll spend as Peterborough Operatic and Dramatic Society fly into The Cresset with a musical classic – and their most ambitious show to date
Whether you remember Dick Van Dyke dancing his way round Me Ol' Bamboo or Truly Scrumptious turning around on a music box, many of us have lovely, treasured memories of the charming musical masterpiece, Chitty Chitty Bang Bang. And now it's flying right into Peterborough as award-winning musical theatre society Peterborough Operatic and Dramatic Society (PODS) stage the 'fantasmagorical' show this October half term at The Cresset – complete with a real flying car!
With the help of a stellar score from musical theatre legends, the Sherman Brothers, and lots of rip-roaring dance numbers, they'll tell the story of the eccentric inventor, Caractacus Potts who sets about restoring an old race car from a scrap heap with the help of his children, Jeremy and Jemima. But they soon discover the car has magical properties and can take to both the seas and the skies. Trouble brews, however, once the evil Baron Bomburst spots and wants the magic car for himself and Caractacus, the children, batty grandpa and their friend Truly Scrumptious must fight to save their fine four-fendered friend.
It's the first time in many years PODS have staged two musicals back-to-back in one year, having just months ago wowed audiences with the Mel Brooks' classic The Producers at The Key Theatre. And to boot, Chitty is going to be their most ambitious production to date with a cast including more than a dozen talented children from the community, a handful of toot-sweet guzzling dogs and a very important flying car with a personality all of her own.
Robert Bristow, Chair of PODS and Director/Choreographer for Chitty says: "It's so exciting. Chitty Chitty Bang Bang is going to be the biggest show PODS have ever put on and quite possibly one of the biggest shows attempted by an amateur society that we've ever seen in the region. It's going to be packed with magical moments from Caractacus singing Hushabye Mountain to our cast of Peterborough children to the moment Chitty defies gravity and flies!"
---
Did you know…?
The novel of Chitty Chitty Bang Bang was written by Bond creator Ian Fleming and adapted for the screen by Roald Dahl
There were reportedly six version of the iconic Chitty car made for the 1968 film, all made automatic as Dick Van Dyke couldn't drive a manual. Lord of the Rings director Peter Jackson now owns one of the versions and radio presenter Chris Evans bought one in 2012
Chitty's licence plate is 'GENII' which can be read as 'Genie' hinting that the car is magic
Chitty Chitty Bang Bang runs October 22-26 at The Cresset, 7.30pm with a Thursday and Saturday matinee.
To book call 01733 26570or visit www.cresset.co.uk. You can also find out more about PODS on www.peterborough-operatic.com
You can catch a glimpse of the Chitty car and watch PODS in action on 1 June at Serpentine Green and Bridge Street. Follow PODS on www.facebook.com/PODS1901 for more info.
Leave a Reply