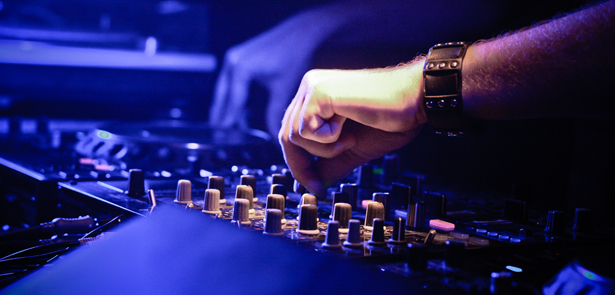 The current 'vinyl revival' has seen a resurgence in record sales as music connoisseurs fall back in love with the turntable. Charters is here to help it along – with the launch of Vinyl Nights
Vinyl's staging a bit of a comeback, as music lovers eschew the digital world in search of something tangible. The humble record has always had a loyal following, bringing with it a rich history seeped in popular culture. As more of our entertainment goes digital or migrates online, there are still plenty of takers for the physical – something you can touch, hold, smell and see. In the same way that books are seeing a resurgence in the face of e-readers, it's obvious there's room for both. Today vinyl isn't merely an historic music format – it's a thing of great beauty. 'It's great because you can physically hold something rather than it just being inside a computer,' explains music graduate Warren Allett. 'And there are special edition records these days that have colourful or textured covers. What you're getting isn't just music. It's a piece of art, a collectable.'
Magic in the music
Warren runs Vinyl Nights, a new music night at Charters real ale barge on the River Nene. It's a magical setting that lends itself to a musical crowd enjoying good tunes and good company. 'Vinyl Nights is all about bringing people who enjoy music together,' says Warren. 'People can bring along the records of their past and listen to them with others. It's a great way of sharing your music in a relaxed, social setting. Many people don't have a turntable anymore, so it also offers them the opportunity to have the records they've owned for years played once again.' The first two Vinyl Nights held at the end of November and December proved to be a hit, with a wide range of records being played. 'Of course, not everyone likes everything that's played, but that's the point of it – you bring along records you'd like to hear and you get to hear something else that's different.' Like a juke box, if you actively opt into the music you're more likely to hear something you like!
The music is hugely varied. 'In another Vinyl Night I ran you might have N.W.A followed by Aphex Twin and then a 60s record from a band such as the Small Faces. You really do get everything! It's a genuinely proper mix, which is why I enjoy doing it.' Warren likes to keep the music within genre and era, before swapping over to something else. 'So I might play a collection of songs from the 60s followed by 90s records.' Warren himself is very musical. At the age of 15 he spent his very first pay packet on records. He has been in bands since 2010 and in November he graduated from York St John University with a degree in music production. Alongside his work at Charters, he continues to write and produce music. Vinyl Nights have come about because of his love of music and vinyl.
Feast for the ears
Anyone and everyone is invited to Charters' Vinyl Nights – and anything goes! 'People can ask me to play a specific track, which makes the evening more of an interactive experience. Then there are others who bring along a record and say 'just play anything', so I'll have a listen to it first then put on what I think's best. But essentially I'm here to play what people want,' says Warren. Vinyl Nights are held on a Sunday evening, from 8pm until late, and follow on from live music hosted during the day.
Music aficionados can come along, enjoy a drink and relax to music for the entire day. From 1-5pm (Sunday – Friday) pints of real ale and cider cost just £3, making the prospect of a musical Sunday all the more attractive! Then there's the unique ambience of Charters, with its low ceilings and wooden paneled interior guaranteeing a truly cosy and inviting atmosphere. Warren is keen to see Vinyl Nights gain traction and become a much-loved fixture of Peterborough's nightlife. The nights currently run monthly, but could well extend to fortnightly in the summer. It's a great way to spend time with friends in a fantastic setting. All you need to do is bring along your ears… and perhaps a record or two.
Vinyl Nights
The next Vinyl Night is Sunday, 28 February. The evenings run from 8pm to late. Everyone is welcome, whether you want to bring along your records or not. Come and discover the magic of vinyl, and why not enjoy a few quaffable real ales on offer while you're at it? Charters: 01733 315700, www.charters-bar.com
Leave a Reply