Bring on the Bollywood at the Key Theatre!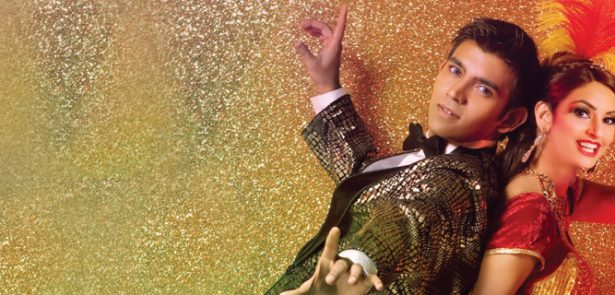 This August, Phizzical – the masters of authentic Bollywood-inspired work who also provided Peterborough's Diwali celebrations this year – bring their brand new Bollywood extravaganza to the Key Theatre (24-26 Aug). Featuring a festival of colour, a fantastic soundtrack and high energy dance it aims to bring together audiences new and old, Asian and non- Asian, for a delightfully romantic experience infused with Bollywood magic – and more than a little bit of Shakespeare. Toby Venables talks to the show's producer and creator Samir Bhamra about how it all came together...
First of all, what should people expect from the show?
Hmm, what should people expect…? [laughs] People should expect to have a great time out! It's a feel-good, fun show. It's partly based on She Stoops to Conquer, which is an Oliver Goldsmith play, which itself borrows from Taming of the Shrew – but also looks at Much Ado About Nothing, and The Two Gentlemen of Verona. And we've added our own real-life story into that as well. In our story, Katrina Pawar is a doctor who has lived in London for 14 years, but then is summoned to her ancestral home for her younger brother's wedding. Whilst there, Katrina's parents try to find her a potential suitor – just as good-looking Bollywood film director Amit and his newly eligible British personal assistant Ronny arrive on the scene… It's a feel-good, romantic comedy with lots of different dance styles, brilliant costumes – a very colourful show. And a big cliffhanger that you don't see coming at the interval! Don't worry though; it all gets resolved…
You've mentioned several Shakespeare plays there; what is the connection with Shakespeare?
Bollywood exists because of two things: Indian scriptures – the Ramayana and the Mahabharata – and Shakespeare, which was hugely influential when cinema was being developed in India. Bollywood would not be the way it is if it were not for Shakespeare being presented in British India. When you look at Shakespeare's plays family values are really important, and in any Asian household the family values play a big, big part. So, we're showing a dysfunctional family in India, but we're also revealing identities of people today. Migration is happening, globalisation is taking place. So, you've got a Brit Asian who is living and working in India, and you've got a born and bred Indian girl who comes to study medicine in the UK. Then you have the parents, who are born just postpartition, so their education was very British and they speak with a very proper English accent, but their son is rather gritty and uncouth. So, Bring on the Bollywood really shows the different classes and statuses of Asians in the world today – and kind of reflects the British-Indian connection and the shared history we have.
Is this intended as a crossover show, to appeal to both Asian and non-Asian audiences?
The show is definitely crossover. The majority of it is in English; there are a few of Hindi songs in there – some from movies, but with one we've written ourselves – but it's inclusive to everyone, and very accessible. Kids as young as five have watched it and loved it. Any Bollywood fanatic will pick up the references in the play, but it doesn't matter at all if you're not. Everyone will pick up something different, such as the Shakespearean elements. There is something for everyone. The reason why those songs and dances are there, for example, is because the films are made for a family audience. And we have big families – this is the culture that invented the Kama Sutra after all! Bollywood films provide three hours of entertainment where you're all together as a family and have a great time.
How did the show first come about?
On the back of a napkin in KFC! It came out of a conversation about why we make Bollywood-themed work when many young Asians now don't even speak the language. We did some research and found that they still love the films, dances and songs; I sit as a judge on university dance competitions, for example, where they'll come and performBollywood. So, we realised it was still relevant, but there was maybe another way to do it. Then there was the task of finding the story. We had four writers who had to leave the project each time, and each time it landed back in my lap until eventually I just thought: 'You know what? I'm just going to do it…' I had help from Steve Nijjar – I hate writing! But I was never really meant to write it or direct it, I was only meant to costume design and produce the show – but I ended up doing all four.
Tell us about your cast…
My male lead is Robby Khela, who originally came through one of our talent development projects called Bolly Idol – very much like a Pop Idol kind of thing. He is also the singer-songwriter for this show. In fact, he wasn't meant to be in the production at all – he was just going to write the songs, but he sings so beautifully, and I've got to know his personality over the years and how to get the best out of him. I just knew he was going to be Ronnie. But that only truly fell in his lap after the guy we had got cast in a well-known soap!
The female lead was a nightmare to find. She needed to be able to dance exceptionally well – and that means dancing Bollywood exceptionally well. She needed to be able to sing – in English and in Hindi – and she needed to be able to act. After 16 days of first auditions I was at the end of my tether, then in walks this girl to one of the dance workshops. I hadn't remembered seeing her CV, but I assumed she was there to audition. The auditions finished and she went to leave, so I asked her where she was going. It turned out she was the choreographer's assistant, who just came to help that day. I gave her the script anyway and said: 'Come back in 20 minutes, let's see what you can do…' She looked at me like I was crazy, but 20 minutes later she came back and did it. And I think she surprised herself, not just me. She could dance. She could sing. She could act. She was everything I expected a Bollywood lead to be. And that was how I found Nisha Aaliya.
Is it true that one of your choreographers is also a doctor?
Leena Patel is a doctor by day, but she has also choreographed people like Will.i.am – as well as some of the biggest Bollywood superstars when they came to perform at the O2. She has choreographed two numbers in the show. In fact, the whole story is partly based on her life. I've actually known her since she was about 15, because she was the first winner of one of our Bollywood dance competitions about 15 years ago. We were doing research – which I like to do over food – and I asked her how her love life was going. She said: 'What love life? Most men don't want to date a doctor.' I was shocked by that. She's bright, she's beautiful. But many men felt threatened by the fact she was a doctor. That was one of the reasons why, when we wrote the character of Katrina we made her a dancing doctor. It shows how men are threatened by her, but also we are trying to be progressive in the show. It is a fun show, but there are also moments when we're addressing issues in Asian society.
How important is it to be doing this right now, when there are heated arguments about immigration, and claims that multiculturalism has 'failed'?
I think it's incredibly important. I watch my audiences every night. They're always a good mix of Asian and non-Asian, and then they come in and have this shared experience. Some will laugh at one thing, and some will laugh at another, and then they go away and have a chat. With our audiences in Coventry, 37% of them were from areas where people would never normally go out to the theatre, and for the first time they felt part of the city in which they lived. That, I think, is really important – to welcome everyone. I don't think multiculturalism has failed. It's part of us. I've just got my own DNA test results not long ago, and discovered that I'm part-Polynesian, part-Melanesian, part-Asian, partnon- Asian… And I just look at my beautiful nephew, who is five years old; a mixed-race young boy, who is a mix of two cultures. There are lots more nieces and nephews like that out there in the world.
Bring on the Bollywood
24-26 Aug Key Theatre
Tickets are on sale now. Book on the Vivacity app or website, www.vivacity-peterborough.com
Leave a Reply