Brass and Voices with Foden's Band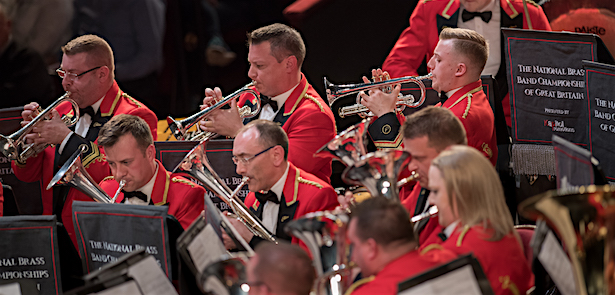 Foden's Band is a household name in the world of brass bands and has been for well over a hundred years. This virtuoso group of brass and percussion players thrills audiences year in year out with its astonishing flexibility in a huge range of styles, far beyond the boundaries of the usual brass band concert repertoire.
Consistently ranked as one of the finest brass bands in the world, Foden's Band is a trademark that is internationally associated with exceptional class and musicianship and playing of the very highest quality. Regularly performing for audiences across the UK and worldwide, they have toured in Italy, Switzerland, America, Ireland, France, Norway, Finland, Denmark and Israel.
They will be here in Peterborough for one night only on Saturday 14th September, performing at the Cresset with the city's award-winning choirs Peterborough Male Voice Choir, Peterborough Voices and Peterborough Youth Choir who – over the last few years – have established a track-record of bringing some of the world's top brass bands to the city, including Grimethorpe Colliery Band, Black Dyke Band, and Brighouse and Rastrick.
In 2012 Foden's cemented themselves as one of the world's leading brass bands, defeating the very best bands in the world's two most prestigious competitions to win a rare and exceptional 'Double', being crowned 2012 British Open and National Champions. They were the 2018 National Champions of Great Britain and hold the record for the number of Area Contest wins with an unprecedented 21 North West Area titles.
The origins of Foden's Band go as far back as 1900 when the village of Elworth near Sandbach in Cheshire formed a band to celebrate the relief of Mafeking in the Boer War. Soon after, the village band was adopted by local industrialist Edwin Foden and re-named the Foden's Motor Works Band…and the rest is history!
From these humble beginnings the band would go on to win twelve British Open titles, fourteen National Championships of Great Britain and six unparalleled double hat-tricks. In fact, the band has won so many titles and awards it feels superfluous to allude to them! And as well as being very successful on the contest front, they have won numerous awards for their recordings, regularly featuring on BBC TV and Radio.
As they embark on a second century of musical excellence, Foden's Band continue to amaze with their virtuosity and an ever-growing repertoire characterised by the sophisticated orchestration which contributes to their magical brass band sound. "Foden's Band is a musical Magic Carpet" says conductor Howard Snell "It continually takes the listener to places that few other ensembles rarely even approach".
Don't miss this unique opportunity to see the world-class Foden's Band live on stage here in Peterborough as they perform at the Cresset for one night only with the city's award-winning choirs Peterborough Male Voice Choir, Peterborough Voices and Peterborough Youth Choir…it promises to be a truly spectacular evening!
Voices and Brass with Foden's Band will be at The Cresset, Peterborough at 7.30pm on Saturday 14 September.

Tickets from £18.50 at the Cresset box office, by phone on 01733 265705, or at peterboroughsings.org.uk
Leave a Reply