Bewilderwood: the curious treehouse adventure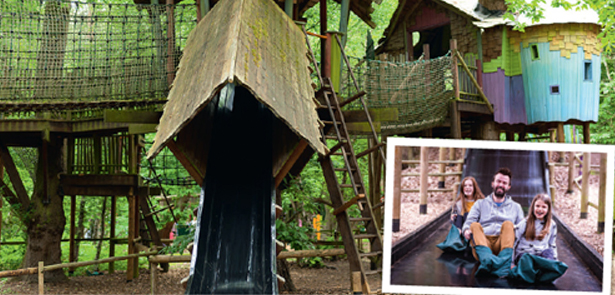 The most magical family day out in Norfolk
BeWILDerwood is a wild and imaginative adventure park with magical treehouses and a hint of intriguing characters, bringing a curious difference to the Norfolk Broads. The setting for the book,A Boggle at BeWILDerwood by local children's author TomBlofeld, BeWILDerwood is a wonderful, mystical land of brave, adventurous creatures who you may never see anywhere else in our world. When you visit, you step inside the pages of Tom's books – a character world of Boggles, Crocklebogs and Twiggles, quietly brought to life, bringing a curious difference to the Norfolk Broads National Park.
Beautifully designed in keeping with its natural surroundings, BeWILDerwood is truly an enchanted place, unlike other attractions there are no noisy rides, no electronics and no junk food! The 18-acre adventure park is filled with zip lines, slides, mazes and lots of climbing through magical tree houses, as well as an array of special events throughout the year. Parents and grandparents are encouraged to play alongside their children, and whilst The Telegraph rates it as one of the top destinations to visit with under 16-year-olds in the UK, ALL of the family can run WILD in the beautiful canopied forest.
This marshy woodland is a true haven for inquisitive young minds. A day at BeWILDerwood means time taking lazy boat rides, joining in with the enchanting storytelling, braving the Broken Bridge, visiting human sized Twiggle tree houses, building dens with bracken and sticks, whizzing on Wobbly Wires and zooming down Slippery Slopes. With special events taking place within the park throughout the season at no extra cost — this is a world with more than a little sprinkling of fairy dust. Join in BeWILDerwood's Summer holiday spectacular, "Swampy's Silly Summer Parade!" WILD Explorers meet at the Storytelling stage to take part in the parade and keep an eye out for Mildred the Crocklebog as she makes her fabulous way through the woods – a true spectacle, not to be missed!
As well as the parade and towering play structures, BeWILDerwood will have all their inclusive activities available for visitors such as free face painting, arts and crafts and an array of fete style, interactive games. As always, they have a delectable offering of locally sourced food, including delicious, cooling ice cream. BeWILDerwood's Summer Spectacular is on every day from Sat 21st July til Wed 5th September. Located close to both Wroxham and the Broads, BeWILDerwood is ideal for a day out during your time in Norfolk. Perfect for all the family, BeWILDerwood really is a breath of fresh air.
Visit www.bewilderwood.co.uk to discover more!
● Admission prices are based on height rather than age, as there are some things in the park that require longer arms and legs!: Under 92cm free; 92–105cm £14.50; over 105cm £16.50; over 65's £9.50 ● Pssst! You can book online in advance to save some pennies at www.bewilderwood.co.uk 01692 633033 BeWILDerwood, Horning Road, Hoveton, Norwich NR12 8JW
Leave a Reply