Behind the scenes: His House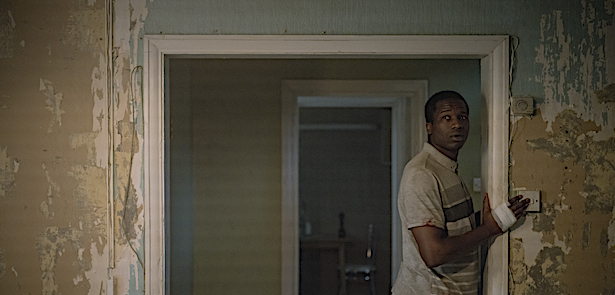 Moment editor Toby Venables is also a screenwriter. Here, he writes for the first time about his most extraordinary project to date, co-written with Felicity Evans, describing what inspired it, how it came about, and why it nearly didn't…
It was the best of times, it was the worst of times…
I'm talking about 2020, of course.
The worst? Well, we know about that all too well… But, in spite of everything – and there were some truly bad things, both personally and otherwise – it was also in 2020 that the most momentous event of my entire career as a writer occurred, something that was the culmination of years of work and nothing less than the realisation of a dream for me and my writing partner (and wife, and occasional Moment contributor) Felicity Evans. It was the year we finally had our names in the credits of a feature film.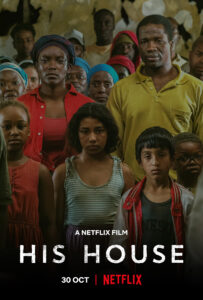 That film was His House, directed by Remi Weekes and released globally on Netflix. Even now, to find delight in this thing against a backdrop of such chaos seems perverse – but it was real. And to say its own journey was tortuous is an understatement; there was a point, just when everything was signed off, in place, greenlit and ready to go, when the whole project was suddenly dead in the water – thanks to a $10 million lawsuit slapped on it by the Weinsteins.
And yet somehow, it did get made. 2020 – that worst of years – began with His House heading to the Sundance Festival, to stunning reviews. '#HISHOUSE will be compared to Get Out, but it is so much more than that…' tweeted one critic from the premiere. Another said: '#HisHouse is the real deal. Scariest #Sundance2020 flick by far — and one of the most beautiful and most moving.' The reviewer on that occasion was Joel Meares, Editor-in-Chief of Rotten Tomatoes.
At Sundance, the film got snapped up by Netflix. We were over the moon about the news, but the film's producers expressed disappointment; this, they said, meant it would not get the theatrical release they had hoped for. But this was the pre-COVID world. Within weeks it would become clear that this deal was the best thing that could possibly have happened to it. By the time His House was released globally on Netflix (they kept us on tenterhooks for nine months, saving it for the prime Halloween slot) cinemas had been empty of both punters and films for almost the entire year. His House found its audience on Netflix in ways it probably never could have in cinemas, reaching No.2 in their UK film chart (it was held off the No.1 slot by The Holidate). It got five-star reviews, scored a rare 100% rating on Rotten Tomatoes and got plaudits from many we greatly respected, including horror icon Mike Flanagan. We were – and to some extent, still are – overwhelmed. At the time of writing, the film has received 16 BIFA nominations, and our fingers are crossed for the BAFTAs.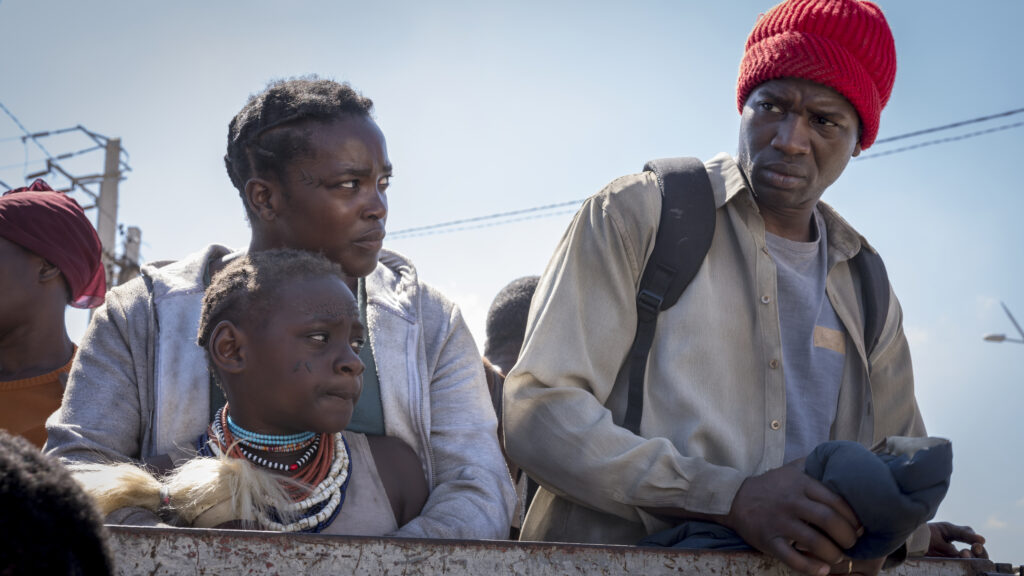 In some respects, the film seemed a tough sell. Despite being, on the face of it, a simple haunted house story, at heart it's something more deeply troubling; an undeniably grim and, at times, bleak tale focusing on the traumas of a pair of Sudanese asylum seekers trying to settle in the UK. Bol, its protagonist (played by Ṣọpẹ Dìrísù), is full of determined, sometimes desperate hope – but the couple's experiences in their adoptive country seem to crush that hope at every turn. The house they are given is barely habitable, but as their case worker Mark (Matt Smith) makes clear to them, they either accept it, or get sent back – back to a place where they will very likely be killed. Bol sets about making the best of things, putting aside the scepticism of his wife Rial (Wunmi Mosaku) and the new threats evident in the outside world – but gradually realises there is something in the house with them that is far, far worse. In its core social message, it now seems a story that is very much of our times – despite being conceived long before Brexit.
The Idea
It began as an idea in Felicity's head – the result of our, by this time, regular musings on what would make a good horror film. We've been screenwriters – together and solo – for nearly 18 years now, trying our luck with both TV and film, often (but not always) pitching some twist on the horror genre. We spent the first eight of those years getting interest here and there, attending some great meetings with exciting people, and for the most part, not getting commissioned. But perseverance pays off. Right now, the tally stands at four commissioned feature film screenplays and three commissioned TV pilots with series outlines. Much more than this gets written, of course, and much less actually gets made. What ultimately makes the difference is probably more blind luck than anything else, but the journey of His House may offer some insights, nonetheless.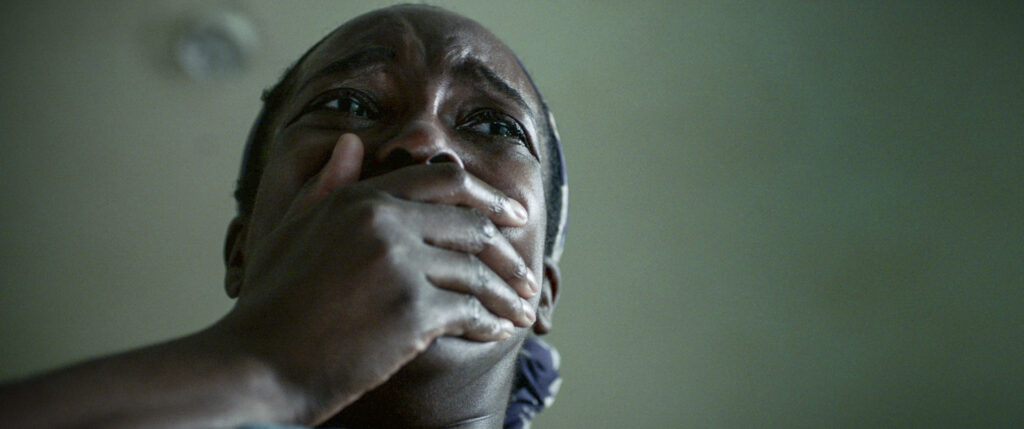 It was 2015 when Felicity started to wonder about new ways to approach the 'haunted house' story – a horror sub-genre that we both loved, but which had become rather tired. We'd recently seen James Wan's Insidious and The Conjuring, both of which had sparked renewed interest in the genre and provided some great, scary entertainment, but which still essentially trod the same old ground. She had been reading about an old house in St Osyth, Essex, known as 'The Cage' – reputedly the most haunted house in England. Its rather ominous name was a key to the building's history; it began life as a medieval prison and had been a place of imprisonment for witches in the 1500s, including the notorious Ursula Kemp, later hanged for witchcraft. Local woman Vanessa Mitchell had bought the house in 2004, allegedly oblivious to its dark past. By 2009, she and her new baby son had been driven out. Doors would slam, latches would rattle, footsteps came up the stairs towards her room at night. Once, while two friends were visiting, fresh blood appeared in the walls. Then, one night, while she was ironing in the 'prison room' her son's toy started up by itself and a threatening figure appeared at the top of the stairs. Fearing for the safety of herself and her son, she left. She put the house on the market, but no one would buy it. And it was at this point that Felicity read about her plight. (The house did finally sell, in September 2019, just as His House was being completed.)
The story raised a question: who would live in such a house, and why? Clearly, if you had the option, you wouldn't – which is so often the issue with haunted house movies. Why don't they just leave? Felicity started to think about people who couldn't leave, who don't have the luxury of choice, and somehow that connected with contemporary news reports about asylum seekers – Syrian refugees were the big story at the time – being housed in dire conditions by private companies contracted by the UK government. Although the media tend to lump together 'asylum seekers', 'immigrants' and 'migrants' the three groups are distinct different. Asylum seekers are, quite specifically, people who are requesting refuge because their lives are under threat in their own country. To think people do this casually, for personal gain, or on a whim, is to misrepresent it completely. They have lost everything, and often have risked what little they do have – their lives – on a traumatic and dangerous journey to get to a place of safety. For many, the UK represents that: a place of safety, humanity, and fairness. The reality is often quite different. Apart from the few charities that work on their behalf, no one stands up for these people, and often they find themselves housed in filthy conditions – conditions that would spark tabloid outrage were they UK citizens – with few rights, no recourse and under constant threat of deportation.
And so, these two quite distinct ideas came together as one. It seemed to make perfect sense. We'd lost count of the number of times we'd seen a film begin with an American family arriving at a big old house, a young daughter regard the grim edifice with gloom, and the father say with somewhat forced cheer to his uncertain wife how they were going to 'make this work'. Of course, they wouldn't. Always they had some relationship trauma that they brought with them – something broken that this was supposed to fix – and always this would be their undoing. But what if that trauma was something much worse, much more substantial, and far more difficult to fix? Something really meaningful, from the real world?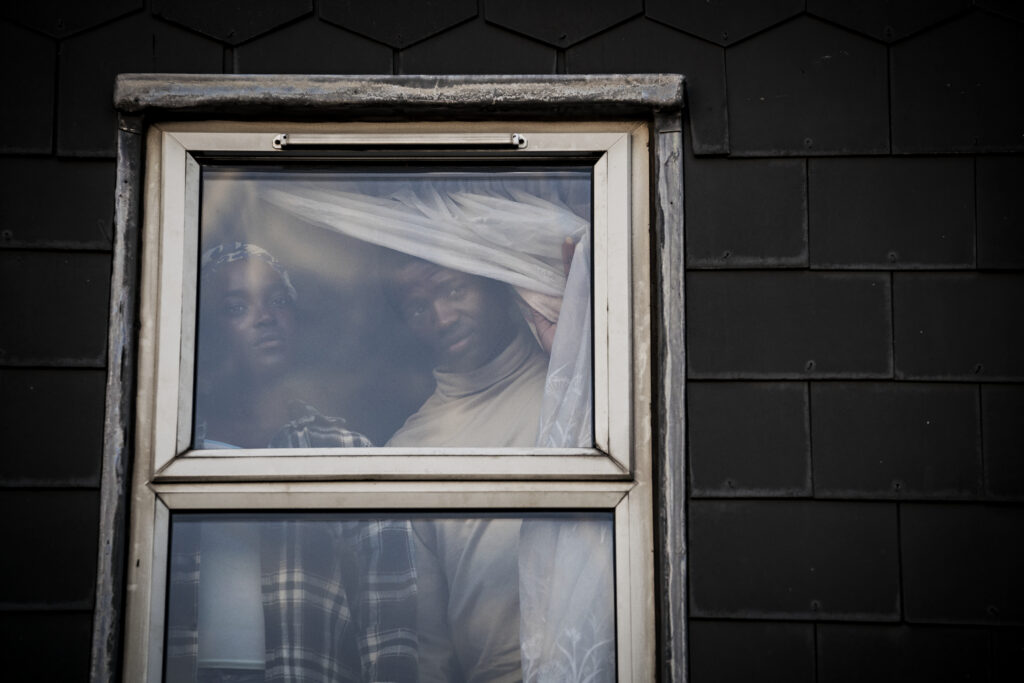 We discussed it, knocked it back and forth and took it through various incarnations. At one point, it was a period piece set in the 1970s (we'd just seen the excellent drama series The Enfield Haunting, about the celebrated Enfield poltergeist case) and the family in the house were Ugandan Asians. But, much as we liked that 70s setting, we rejected that idea. The real story was now. There was no need to set it at a further remove.
The precise composition of the family also changed. Early on, an adult brother was part of the mix, and various other characters came in and out of the frame. Always, though, there was a central dynamic at the story's core: parents, children whose lives were (hopefully) ahead of them, and loss. Finally, we settled on Syrian refugees – two parents and two children, one of whom had survived the journey and one who had not. And now, we were ready to pitch the idea.
The Pitch
At the time, I had been taking a break from screenwriting and had instead been writing books (that's another story), but there were a couple of producers we knew who were receptive to new horror ideas – especially those that were trying to do something a little different. Ed King and Martin Gentles, who set up Starchild Pictures, had in fact given me my first screenwriting commission in 2010 – not a horror movie at all, but a kind of heist movie with a twist called Seven Thieves. It never got made, but the development process with them was great, and we'd ended up with a really strong screenplay at the end of it. We'd pitched a few ideas to them since, none of which had really taken off, but some time in 2015 Felicity had coaxed me out of the medieval world of my novels to put a new list of horror movie proposals together and give it another go.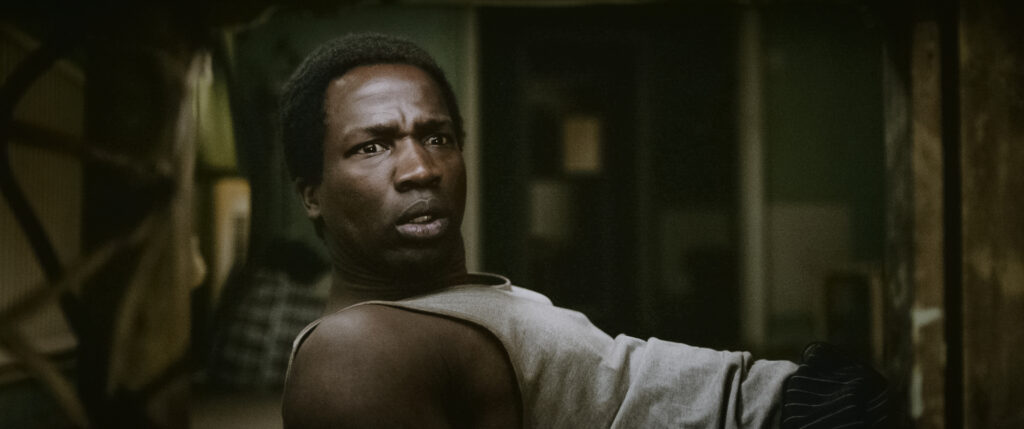 The Welcome, as it was then called, was just one of the ideas that emerged during that period. It struck a chord with Ed and Martin immediately. We met, we talked, they invited us to send them a more fleshed out version (it's always an 'invitation' at this point – if producers specifically ask you to do something, then they have to pay you). We expanded it, and wrote a more detailed treatment (film-speak for a synopsis). They gave their feedback, pitched in suggestions and ideas, and the shape of the thing continued to shift.
At this stage, writers find themselves in a delicate position. No agreement has been formally made, no contract signed, no money guaranteed. It could come to nothing – yet, clearly, you want to give it all you can. Whether it goes ahead or not ultimately depends on your efforts, so you are constantly trying to balance the delivery of this work-on-a-promise-but-no-pay with the day-to-day needs of earning a living. It can be hard, but this is when you put in the extra hours. These chances may not come again.
Finally, towards the end of 2016, with the idea having been back and forth several times, they felt ready to commit, and in December we signed a contract to write the screenplay. It was real now – which meant we really had to deliver on it. We can make this work…
The Development
You might think that at this point that we were simply left to get on with it. Oh, no, no, no… There were many miles to be travelled before hitting the screenplay itself, for this was where the process known as 'development' began. This essentially means creating progressively more detailed treatments, getting notes from the producers, then reworking with those notes in mind. Sometimes, these entailed major changes, sometimes minor details. Always there was discussion, and sometimes heated debate about which way to take it. The object here is to test the plot, characters and so on at every stage, making the whole as robust as possible, and the challenge for the writer is knowing when a good suggestion has been made, and when to accept it, and when to defend some aspect of the work against a change that may compromise the core of the piece. This can have its frustrations – in fact, I'm not sure it would work if it didn't – but it can also be a hugely enjoyable and creative process.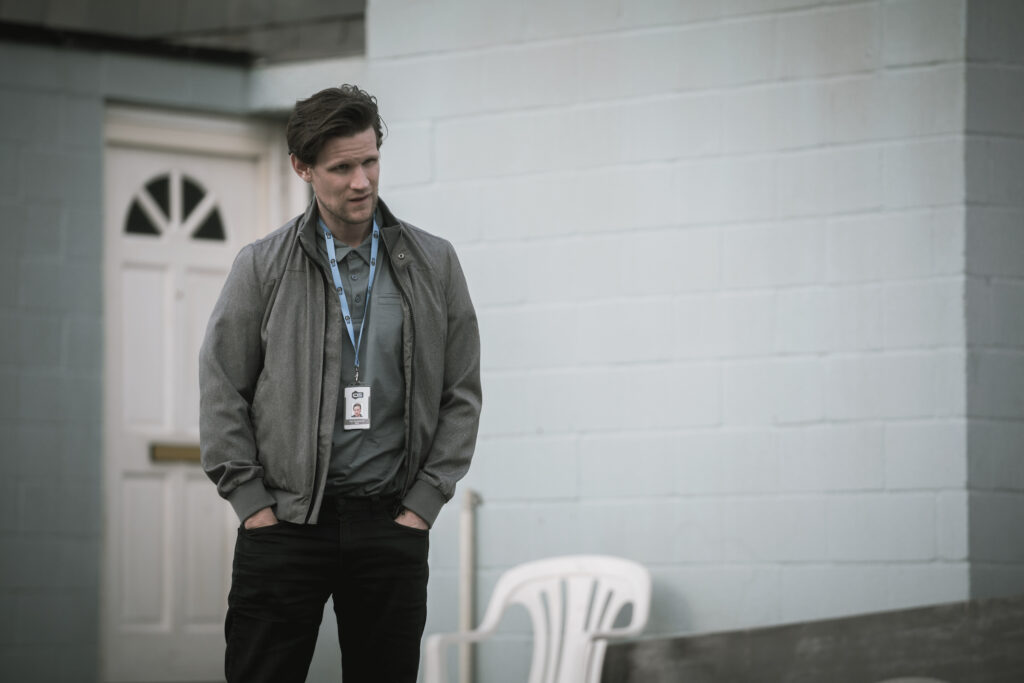 One challenge we had set for ourselves – the main one, in a way – was to do justice to the subject matter. Horror movies can be frivolous, but the plight of asylum seekers is anything but. It would be easy for this to come across as trite or exploitative. So, we did as much research as we could, reading and listening to first-hand accounts of asylum seekers who had made the journey we were describing. We also interviewed representatives of charities just so we were certain we were getting the technicalities of asylum seekers' arrival in the UK and their subsequent processing right. In both cases, it was even worse than we thought. Some of that research got lost during filming but, well, at least we did it.
Many other things influenced it in tangential ways. All through the process, we were also hard at work on The Moment magazine, for which I was (and am) editor. Because Peterborough is a city with a high immigrant population, much of what we heard and wrote about fed into our development of the story and characters. In one detail we paid direct tribute to someone who was trying to make a positive difference, naming a significant character 'Mark' after our own publisher Mark Wilson. Originally the character was a good man trying to make things better for the couple, but his role shifted somewhat during development and he ended up a far less sympathetic individual (sorry Mark!). In the film he was played by Matt 'Dr Who' Smith, however, so I think our Mark was happy with it in the end.
The Director
With the story and characters shaping up nicely, Starchild signed Remi Weekes as director, and he then joined the development process. This would be Remi's first feature, but his talent – especially for visuals and creation of mood – was clear. He had just made a short horror called Tickle Monster which had made a strong impression, and Ed and Martin felt he would bring a unique perspective to the project. The ethnicity of the couple had started to shift during development, from Syrian to Somali to South Sudanese. Remi encouraged that, finding clearer points of reference to his own experience growing up as a black kid 'in a country where you're not always feeling like you're wanted'. One day, we all met up in a big office in London and thrashed out the finer details of the plot – the last big brainstorm before heading into the first draft of the screenplay. Remi's brain had been whirring on the story, and with the new material several wild ideas were thrown in by all of us. Some withered and died on the spot. Others were considered and rejected. A few made it into the mix. By now, the names of the characters had changed about a dozen times.
The ending, in particular, was a bone of contention. We must have had five or six possible endings, ranging from the utterly bleak, to happy-ever-after. Neither of those extremes felt right for the subject matter, however. Horror it may be, but it also had to feel real, and justified, and not at all contrived. We knew we had to pitch this right. There could be no easy fix here. Finally, with Ed having drawn up all the plot 'beats' on a stack of index cards, we were done. Now we just had to write it…
We delivered the first full draft in March 2017. That same month, Get Out was released – which was to prove something of a game changer for horror, and for His House (as it was now called). But here, our direct involvement as writers ended. All we could do now was sit back, and wait.
Remi, meanwhile, had been having further ideas and did his own pass on the screenplay. And word was getting around. It was a concept that people could quickly grasp – and also a story that had not been told before. As the buzz around the project grew, US production company New Regency got involved, immediately raising the stakes – and the budget. It was no longer a small horror movie; His House was now set for international release. Casting took place and the buzz grew. Ṣọpẹ Dìrísù – who we then did not know, but soon would from his amazing lead performance in Gangs of London – was cast as Bol, with the wonderful Wunmi Mosaku (Lovecraft Country) as Rial. The casting of Matt Smith as Mark felt like a real coup, too. Although the part was small, he was a household face and name, and his presence was sure to draw attention to the film.
Momentum was growing, expectations were high, a superb cast was signed up and the director was ready to go. What could possibly go wrong?
The Problem
I'll always remember the day Ed phoned me to pass on the news that the Weinstein's were suing for $10 million – pretty much the entire budget of the film. He kept it together remarkably well, simply saying 'we're not sure where we are with the project' – but it was a shattering blow. Apparently, there had been a meeting with Bob Weinstein, who liked the sound of the film, and said he'd like exclusive distribution. Team His House, not wishing to be tied into an exclusive deal had responded with a polite 'no thanks'. Considering his reputation, what Bob did after that should not have come as a surprise. He issued a lawsuit, claiming a verbal agreement had been made. Whether that lawsuit was likely to succeed or not wasn't really the point. It was enough to halt production in its tracks, effectively killing the project.
That was August 2017.
I'm not really one for believing in fate, but what happened next has caused me question that.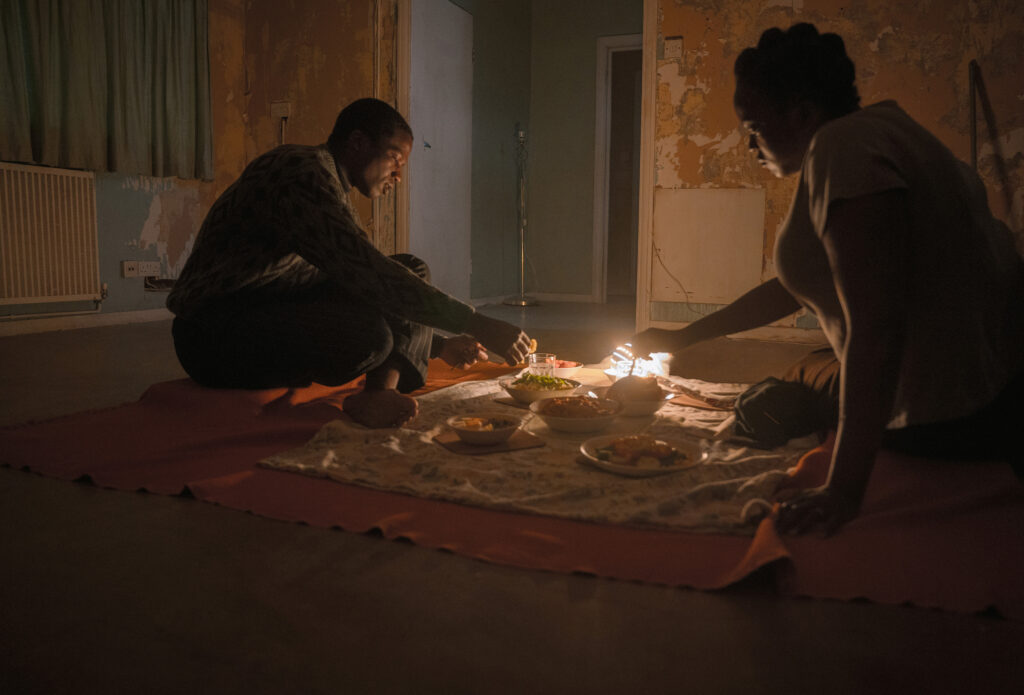 In October 2017, the New York Times and New Yorker broke the story that dozens of women were accusing Harvey Weinstein of sexual harassment, assault and rape. Three days later, Harvey was fired from his own company – but confidence in The Weinstein Company was in freefall. By November 8, 2017, The Weinstein Company had a debt load of $520 million, and in February 2018 it declared bankruptcy.
In the meantime, guessing that the Weinsteins now had bigger things to think about, New Regency and Starchild pressed quietly ahead with the film. We visited the set, met Ṣọpẹ and Wunmi, and watched them play out an intense scene over a dozen times. There was no noise, no fuss, no hullabaloo. The whole place just exuded quiet, steady concentration. But it was real. It was happening. A story and characters we had created being brought to life. That was quite a day.
And the rest, pretty much, you know.
The Resolution
When thinking exactly why this difficult, unsettling story struck a nerve with audiences, it occurred to us that it was oddly appropriate for lockdown. Though we had no idea what was ahead when we wrote the first draft back in 2017, Bol and Rial's plight turned out to have points of reference for all of us in 2020. They find themselves trapped in a house, unable to leave, with only each other for company, trying to maintain a sense of normality when nothing is normal.
But I think – I hope – there's more to it than this. Their core experience – flight from war, a treacherous sea crossing, the loss of a child – is something most of us have never experienced, and hope we never have to. We can sympathise with those who have, nonetheless. To fail to do so on any level at all – well, what would that say about us as human beings? In recent years, however, some have tried to persuade us to do exactly that; to not only open up a discussion about immigration, borders, asylum and so on – all of which are perfectly legitimate areas of debate – but to dehumanise, dismiss or actively stir hate for those at the sharp end of the issue, not only representing them as a problem, but spuriously blaming them for every problem faced by the rest of us. Unfortunately, for the last few years, it has seemed that the resentment-fuelled hate-stirrers, the immigrant blamers and the out-and-out racists were winning. When people embraced Bol and Rial's story, however – which they did, worldwide, and in their millions – it seemed to suggest otherwise. It may seem a small sign of hope, but we've learned to take hope where we can get it. Caring is caring, whether in real life or in fiction.
His House is available on Netflix
Production stills: © Aidan Monaghan/NETFLIX, 2020
On-set photo: Martin Gentles
---
Press reactions:

"The film is a marvel. For its horror and much else besides, consider this a standing ovation … Writing of real skill, clichés upturned, pearls of detail scattered … a showstopper of a ghost story." ★★★★★ Danny Leigh, Financial Times
"An absolute knockout. When we're looking to the horror genre to tell us stories with such emotional resonance… This film does it just fantastically." Amy Nicholson, FilmWeek
"A tenacious calling card that should pique the interest of observant Hollywood execs." ★★★★☆ Benjamin Lee, The Guardian
"A terrifyingly effective evocation of horrors real and imagined." Leslie Felperin, Hollywood Reporter 
"One of the best British horror debuts in years." ★★★★☆ Chris Hewitt, Empire
"This is exactly the kind of quality film that Netflix needs. His House is a terrifyingly disturbing film that will move you to tears." Sheena Scott, Forbes
Leave a Reply