Veronika Leonteva – Her Quest for Artistic Perfection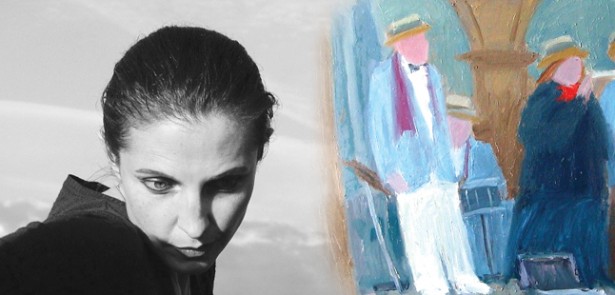 One cannot help being impressed by the sophistication and passion which exudes from Russian born contemporary fine artist, Veronika Leontyeva, as she relates her personal journey in pursuit of artistic perfection. Surrounded by impressive loosely brush stroked canvases at her home studio, she explains how an interior designer and tourist guide, born and bred in St Petersburg, came to be a professional painter in Peterborough.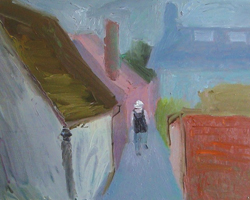 Having trained at the prestigious Academy of Applied Arts in St Petersburg, Veronika was employed as an interior design consultant. With a shortage of materials in the wake of Gorbochov's Perestroika, she was obliged to pursue a more practical career. After more intensive training, she set up her own tourist business and although successful had to give into her passion for art. Just before graduating she explains how she had developed an overwhelming urge to paint. It was in her blood. "I just had to paint!"
In those days she was inspired by the styles and colours of Cézanne and Van Gogh and imitated them. Artistically ambitious, she staged solo and group exhibitions in reputed contemporary galleries. Allied to a like-minded artistic circle, Veronika's style started to evolve. She developed a love for German expressionists Max Pechstein, Emil Nolde and Jewish Belarusian Chaim Soutine. Veronika then experimented with less conformist rapid and loose brush strokes on the road to perfecting her art.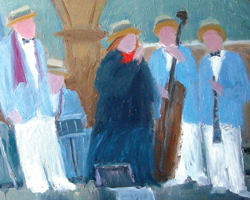 In 2003, she followed her husband's work to Sweden and then Scotland, and in the few hours she could grab while her son was in nursery, she would travel along the coastline photographing and sketching what she observed; elongated shadows and a sky of some unusual lilac. But frustratingly for her, there was no opportunity to paint. Eventually she and her family settled in Peterborough in 2007 where she resumed artistic productivity. Enthralled by the Scottish landscapes and architecture, she used her research to create minimalist loosely brushed compositions in oil from a predominantly lilac pallet.
She now pursues this unique and profoundly contemporary style with passion. Expressing on canvas what is inside and stripping away superfluity with broad fast brushstrokes, she achieves the essence of an image with a fascinating conversation of colour from a restricted pallet. The viewer is compelled to enter and interact with the subject – be it landscape, portrait or still life.
Veronika has staged solo exhibitions in Peterborough Museum and Stamford Arts Centre and has joined the Peterborough Artists' Open Studios. This year she staged a group exhibition in Marlybone, Greece: ancient mythology to modern reality and is now exhibiting in the Bulyanskaya Gallery, London, and Harriet's Art Gallery, Peterborough.
Log onto her Facebook page or view by appointment.
Commissions welcome
07786 225174

Leave a Reply