Tony Nero Master of Portraits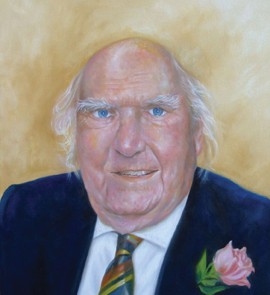 For some time now I've wanted to create a collection of portraits of Peterborough people. One of my great loves is portrait painting especially the elderly: their faces tell so many stories, their characters really shining through the lines and contours of life experience
I suppose I have become renowned for my Black Heroes Collection which includes among many others, great people such as Martin Luther King, Mary Secole, Bob Marley even Mohammed Ali. I've exhibited all over the UK with this collection. Now I'm embarking on my next portrait project: the local dignitary collection(Faces in Spaces) which is such fun and really recognises Peterborough people for what they have achieved. So far I've painted the Deputy Lord Lieutenant, Cliff Walker, and now Peter Boizot who has always been a great supporter of the arts and himself accumulated a great art collection.
I was privileged to attend Mr Boizot 82nd birthday party last year and he was more than happy to pose for a few minutes for me to take a couple of photos to do his painting. I really wanted to try and capture some of his personality in this portrait as well as getting the skin tones right. Overall I am really pleased with the finished painting and would like to add that a dear friend and teacher said it's the best one of my portraits he has seen so far.
Some faces are easier to draw than others and at times you only realise how difficult a face may be to draw when you actually start drawing. I have recently painted John Shearman's portrait. Capturing his character was a lot easier than some portraits I've worked on in the past.
I also wanted to capture some of the natural light flowing through the window and bouncing off his face. When I told John that I was working on his portrait, he was a little worried but upon seeing the finished painting he said 'Looks great – you have given me a gentle benign look and I like that! NEVER had my portrait painted before!'
Each portrait is painted in layers and after sketching, always starts with an overall lightly washed tone, picking out the light and dark areas. After a couple of days secondary tones are laid down, before slowly adding the details. I always start with the detail on the eyes. I tend to work on at least two paintings at the same time and jump between them so I can keep looking at each piece of work with a fresh eye. But at times I get totally consumed in the zone while working on a painting and then I just go with the flow until the painting is completed.
The next two dignitaries on my list are Gillian Beasley, City Council CEO and The Mayor, Councillor Paula Thacker MBE. I have hinted to Paula that she may one day turn up at one of my exhibitions and come face to face with a portrait of herself. I hope to feature the new portraits at my PAOS exhibition this year in June at Shine, in Park Road.
For more information visit Tony Nero's website www.tonynerobrushworks.com Faces in Spaces
Leave a Reply