The Art of A Conservationist: A Narrative Of Colour And Joy
Former conservationist, Charron Pugsley-Hill is one such artist who quickly realised that her art crystallised her own compelling and emotive story. Within a space of two years, she has communicated a simple yet colourful message to a substantial audience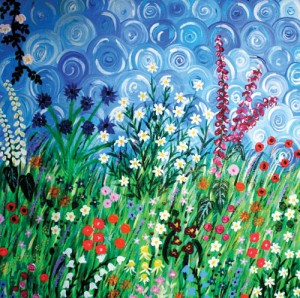 On an immediate level the profusion of glittered scarlet, almost fluorescent lime green and buttercup yellow landscapes with the trademark light blue swirly circle skies arouse instinctive feelings of joy and delight. More profoundly however we enter the world of nature's beauty, its association with childhood memories and a deep passion for its conservation.
Everything about Charron's art is about her philosophy on life. There has been an intense commitment to both people and the environment and an ability to make things happen, most of which finds its roots in childhood experiences and the closeness of family relationships.
My father had such an incredible influence on my life. He taught me how precious our natural world is and how we need to work hard to enrich our own and other people's lives. He was also an extravert, which explains a lot
Charron loves wildlife: meadows, trees, animals, which harks back to happy and exciting days spent with her father as a small child bird watching.
As a child I was always out playing, climbing trees and returning home for tea. I had an absolute fascination for nature even then. I remember finding frog spawn and mangling it through an old mangle we had found just to see what  happened. Thankfully as I thought, it all survived unharmed!."
Charron wanted to be a vet at school with a passion for horses and riding. She studied Environmental Science at De Montfort University and entered the world of urban conservation eventually developing a wildlife strategy for the Greater Peterborough area. Charron was promoted to County Conservation Officer based at Ferry Meadows, responsible for sites of specific interest and leading the well-known fight to project 30,000 Great Crested Newts in Hampton.
It is such a beautiful conservation area where we also discovered lots of other nationally important species
Charron decided in 2008 to take voluntary redundancy from Natural England because she felt that it was time for a change. She had tried a little painting after a serious riding accident years ago but it was only 2 years ago that while holidaying and browsing round galleries in St. Ives, Cornwall one of Caroline Walker's cow paintings called her to action.
This cow was a such a revelation. I suddenly realised that I didn't have to paint things as they are. I could paint instinctively from my mind and my heart. I came home and immediately bought big tubes of brightly coloured acrylics and big canvasses. This is how it had to be with a flamboyant and extravagant character such as mine. Something just turned in my brain. I had no plan and in a kind of trance and with little regard for subtlety I produced my first meadow painting. Wildflower meadows are by far my favourite habitat!"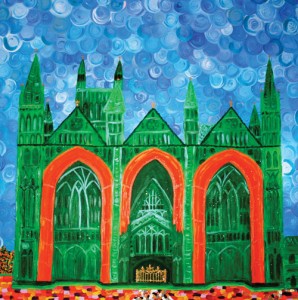 Just over a year ago I met Charron at the Overground Arts Jam at the Green Backyard where she started to tell me about her life and her compelling painting story. A year on I find myself writing about an artist who has already exhibited in galleries, staged her own events including the Peterborough Open Studios achieving comfortable 3 figure sums for her work from discerning audiences. How did this happen? In my view, Charron has always had a very strong life narrative, a gift from her family which she has communicated to others and which she has fully played out in her life and her paintings. They have universal appeal as they exude the colours and images of her childhood memories and dreams. We relate to that. We also get a sense of happiness and joy and find ourselves grinning broadly at Poppy the Dog, Gertrude the Cow, even the green and orange Peterborough Cathedral. Charron has always felt strongly about impacting positively on people, a value she learned from a child doing many different types of voluntary work with her father and this has continued through her conservation and artwork.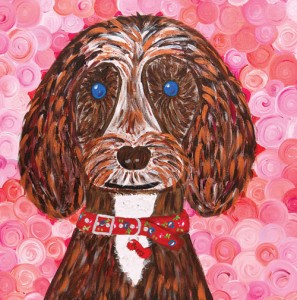 Finally Charron has clear focus in a business and visionary sense having worked for a while in her parents business and having fought for important causes in her conservation work. She has been quick to take advice and gather ideas from professional bodies and fellow artists and has already been marketing her quirky designs on interesting merchandise such as water bottles and bags. She is also producing individual ceramic pieces inspired by wildlife. National companies have already started to take an interest.
Charron's work is available locally at Realitas Community Arts Centre, Peakirk,
Stamford Christmas Market, her home studio by appointment and at the Art in the Heart Gallery and Shop, 47 Bridge Street, Peterborough.
www.charronsart.co.uk

07966 208282
Leave a Reply