Serious artists in our city
Serious artists in our city 1 2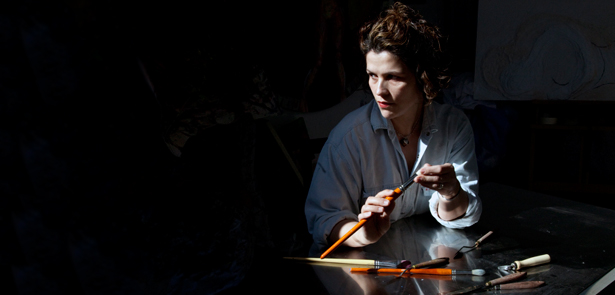 DAWN BIRCH-JAMES talks to artist Giuseppina (Pina) Santoro-Ellwood at her studio in Folksworth…
As an art gallery director, it's important – especially in a fast developing city such as Peterborough – to exhibit work which pushes boundaries and aspires. There is always much talk among artists about the 'right' galleries to exhibit work, so from the outset I aimed to offer a space which was exciting for established as well as emerging artists. Some artists were hesitant at first to exhibit at Art in the Heart – it is a very new concept, after all – but we have since managed to attract a plethora of serious talent, each contributing to the development of a nationally significant gallery with their own unique narrative and identity.
Giuseppina at the Yarrow Gallery, Oundle
Giuseppina (Pina) Santoro-Ellwood is a clear exponent of such talent. In recent years as a painter and sculptor, she has exhibited in prestigious spaces – namely, The Louvre, Art Monaco and the Artic Gallery, Ibiza. Despite all this international acclaim, she continues to demonstrate commitment to local art participation. She has facilitated workshops for the John Clare Trust, tutored at Peterborough City College and teaches children at Saturday Art School at the City Gallery in Peterborough Museum. She also participated in the Find Me Keep Me project where hundreds of free pieces of art were concealed around the city and found by lucky shoppers and visitors. Fortunately Pina has always exhibited pieces at Art in the Heart on Bridge Street and is now busy preparing for an exciting solo exhibition Unspoken taking place January 2014 at the Yarrow Gallery, Oundle.
I took a trip to Pina's Figtree Art Studio in Folksworth to get a sneak preview of the exhibition pieces and to chat to her about their inspiration. I always love going to Pina's studio. You never quite know what you are going to find; she is always exploring new materials. But in terms of narrative, there is always a leitmotif. Pina repeatedly brings into question the relationship with her environment. The narratives go very deep and explore her identity culturally, spiritually and historically as a Peterborough-born female with strong Sicilian roots. I've often found it difficult to get to grips with Pina's explanations about her work, and now I understand why. It is because what she has wanted to communicate has been until now unspoken.
'The pieces I've created for my solo exhibition Unspoken start to unleash things I don't talk about, unspoken experiences, desires which I feel have been taboo…'
'The pieces I've created for my solo exhibition Unspoken start to unleash things I don't talk about, unspoken experiences, desires which I feel have been taboo. I was born and brought up in Peterborough by my Sicilian parents. Although in many ways they broke the mould set by the more traditional customs, our home environment was comparatively strict and modest. So I now have this urge to express through my creations. I have always found it difficult to use words, to hear words. I like this absence of words because they substantiate feelings and…
Serious artists in our city 1 2
Leave a Reply