Metal New Artist Network – Top Tips and Toolkits for Artists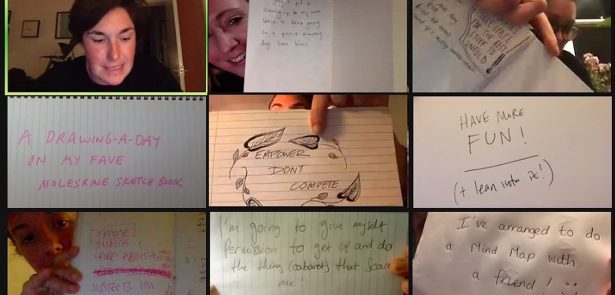 Is 2022 the year you've taken the leap into a creative career? Are you unsure where to begin? Looking for inspiration and want to connect with other like minded people?
Since July 2020, Metal has been hosting an online programme designed by artists for artists, to help share knowledge and expertise on how to survive and flourish as a nearly career artist. The motivation for starting the network was the many barriers people can face in the first few years of their career, needing opportunities and experience but often lacking the skills and confidence to find or create those opportunities.
The programme consists of artist-led training sessions, creative workshops, networking and sharing opportunities. Recently there have been a host of opportunities, from mentoring with established artists to a collective Zine project, and soon we'll be looking forward to providing residencies, specifically for those early in their career.
The network and all sessions are free to join and designed by you, responding to the needs of artists and finding routes to be able to support you. The group aims to connect you with others and provide opportunities to make and show work.
"It was amazing being offered free online workshops aimed at people starting their creative careers. I've learned so much from attending them and am thankful that they were free as I'm totally skint"
– Metal New Artist Network member
WHO DO WE MEAN BY EARLY CAREER ARTISTS?
Early Career artists could be anyone aged 18+ who are in the first stages of developing their work. Whether you went onto higher education, left school but regularly keep up with your creative projects, or you have entered the arts later in life after pursuing a different career, the network is here to support you. You might be interested in illustration, craft, theatre making, visual arts, film, music, writing, poetry or even a mixture of some or all.
We recognise that early-career is a broad term and this is not an exhaustive definition, as long as you're passionate about the arts and developing your work then the network is for you!
HOW TO JOIN THE NETWORK
The network consists of 300+ active members, with artists from across the country. It's entirely free to join, with each new member filling in a short survey that invites people to have their say about how we should develop the future of the programme, what workshops and talks they would like to see, and hear about the challenges you are facing starting out as an artist.
To sign up to Metal New Artist Network and gain access to these resources and free workshops simply visit www.metalculture.com and fill in the short survey.
"I think the evenings that Metal New Artists Network are doing are brilliant and have become a staple part of my calendar now. I find it's really helpful to hear about others' creative process and it's slowly giving me the confidence to explore my own creativity again"
Metal New Artist Network participant
WHAT METAL NEW ARTIST NETWORK OFFERS:
Each month, members of the network receive a newsletter that is packed with local and national opportunities, along with details about our monthly workshops. Our workshops are led by artists and creatives from a range of different practices, with each session focussing on an area that early career artists have highlighted they want support or further knowledge about. Previous workshops have included 'How to create a website', 'Managing your finances as a freelance artist' and 'fundraising for arts', with artists such as Travis Alabanza, Scottee, GRRRL Zine and more.
At each workshop there is also dedicated networking. Networking always sounds daunting however, we like to keep these informal — think of this less as networking more a chance to have a chat to one another, find out about what people are making and a way to meet others who are at a similar stage of their career. There is also a bank of training materials and videos made specifically for early-career artists, often by those who have led our online workshops.
To discover even more about what our Metal New Artist Network offers and to book onto the next workshop visit www.metalculture.com/projects/metal-new-artist-network/ or get in touch with
UPCOMING WORKSHOPS:
24 February 6-7.30pm (online)
Going Public: Documenting and Presenting Your Work with Jessie Brennan
Ever wondered how best to present your work in applications for commissions and residencies? Struggling to select which images could best represent your work and ideas?
Join artist Jessie Brennan to discover her top tips about documenting and presenting your work. Whether it's the first time you've gone public with your work or you have lots of experience doing so, it is often a challenge to select your own documentation when you are in such close proximity to it. Jessie will share her experience and offer prompts to consider for your own work. How should drawing, installation, performance, temporary or community- led work be documented, and for what purpose (e.g. online exhibition, personal website, commission application, portfolio etc)? What are the ethics of documenting other people and our responsibility as creative practitioners in (re)presenting their stories?
Jessie Brennan is a London-based artist whose practice explores the inter-relations between people and places, informed by their social and political contexts and a direct engagement
with the individuals who occupy them. Her practice is research-led and takes the form of drawing, photography, installation, performance, film, writing and publications. You can find out more at www.jessiebrennan.co.uk
24 March 7-8.30pm (online)
Art in Alternative Spaces with artists Becca and Clare
Are you interested in accessing alternative places like shops / community halls / streets / parks
/ empty buildings and overlooked spaces? Do you want to think of other ways that art can be organised? Does your art not fit the mould of opportunities offered by institutions? Are you wondering how this fits with funding or residency opportunities?
Becca + Clare have been working with alternative / non gallery (and gallery) spaces for over ten years. In this workshop they'll be sharing their experiences as well as facilitating a chat to work this out together.
Becca + Clare are two artists who work with each other, and communities, to make things happen. Working with people through hosting, events and happenings; where there are outcomes they work across sound, sculpture, textiles, photography and film. You can find out more at www.beccaandclareareartists.com
Leave a Reply