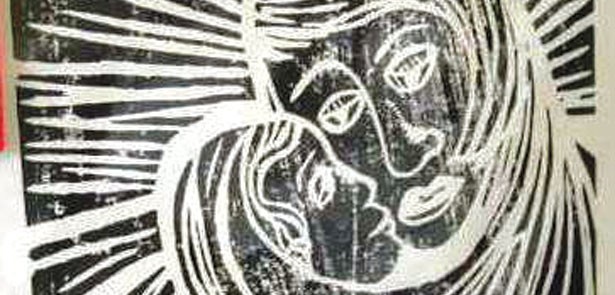 Anglo-Sicilian carves out a Global Career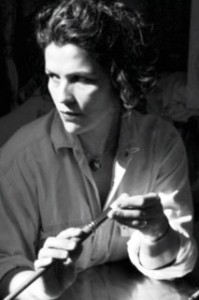 Piña Santoro-Ellwood born and bred in Peterborough is one of our international success stories. Fine artist and sculptor, she has created pieces which have gained her a global profile from her own Folksworth based Fig Tree Art Studio. In 2009-10, she graduated from local to national exhibitor at Bankside and the Mall Galleries, London. By 2011, she had been selected for the Société Nationale des Beaux Arts Salon exhibition, Louvres Paris and Art Monaco 2012.
Piña's ambition is rooted in a clear ability to reach up defying limits. Having studied Art at A level, she eventually learned Hairdressing at college. She very quickly realised however that she would have to resume her first passion. Already running a successful hairdressing company, she subsidised an art Foundation course and then with 2 young children also in tow and still working, she completed a fine art degree at the Cambridge School of Art where she developed a love and profound knowledge of sculpture. She recalls delivering pieces to her first exhibition in Whittlesey with babies strapped on.
I needed to go back to art when I did. I just knew I wanted to do this and you can always find a way if you really want to do something. The defining moment for me was when Stephen Fry presented the scroll to me at my graduation. I remember thinking, this can take me anywhere. I decided then I had to be a full time artist.
Half-Sicilian roots have also afforded Piña a more natural propensity for the global contextualisation of her work. She is at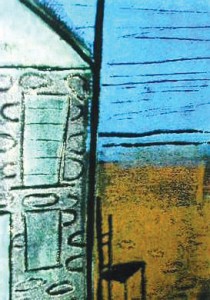 ease with travel and has a deep sense of culture and identity. "The true essence of who I am is not here. I have to go looking". Undoubtedly overcome with the acceptance of her work at the Louvres and Art Monaco, she still had the firm belief that it was totally possible.
Piña's studio exudes creativity: canvasses, sculptural work in progress and a myriad of interesting tools. Some work takes her years. A large board with layers and layers of plaster in relief which she is gradually carving away and shaping is a great textured landscape in the making. "I am never happy with a 2D surface. There has to be texture." She unwrapped one of the collage pieces exhibited in the Louvre, Petit Dame: a sketched woman in a crouched foetal like pose created essentially from sticky gum paper.
Aspects of my work are accidental and I love to use what I've got, found objects, unlikely materials sometimes. I find that really inspiring. I find beauty in what others may consider as junk and rubbish
Piña is primarily a 3D artist. Sculptor. She loves the challenge of manipulation using plaster, stone, wood. She carves, remodels or constructs creating temporary installations. Her methods are based on mathematical sketching, the concept of space and relation, discovery and then relaying beauty to the viewer.
Placed on a plinth outside her studio, Fragment of a Woman, a limestone sculpture, shortlisted for the Threadneedle Prize 2011 is for me the embodiment of the artist's inspiration, love for texture and how she communicates beauty and purpose through her work: a rounded form smoothed with rasps, textured from the natural stone but also from the deliberate carving tool claw marks. The sculpture, although inherently beautiful, depicts the female condition: reproduction machine, sexual object and the related struggle in art and society.
I see my role as communicating beauty. I've just seen the Damien Hirst exhibition and I felt physically sick. I appreciate his work but for me it is not beautiful. My inspiration is Rodin, Henry Moore, Caro, Barbara Hepworth of course Eva Hesse who created amazing sculpture with the oddest of materials. Her work like mine depicts the struggles of her life including her female condition
"Art is not just s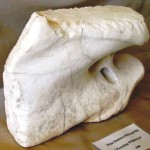 omething I do. It is my whole being. Living is creating. I had this feeling at a very young age. I was always painting and creating. I remember doing a large brightly coloured finger painting on my bedroom window. I thought it was wonderful. My mother didn't," she laughed. "I remember once I had to bring a vase into school, but I could only find the vase I used for a paint pot. I remember I was very keen to get my pot back. It was so important to me, even then I had a deep sense of my artistic territory. My tools and equipment are an inherent part of my pieces and my creative space."
Piña is not selfish with her art. She has assisted in school art projects and tutors in Sculpture and life drawing at the City College.
What is the point of having all this knowledge and skill and keeping it to myself. I love to use what I do to help people around me
Piña has produced a large number of privately and publicly commissioned pieces and has sold work including paintings and prints regularly.
For details about her workshops and viewings by prior appointment contact 01733 244738 or 07759334796
Leave a Reply