Gilson Lavis: a man of many talents
Gilson Lavis: a man of many talents 1 2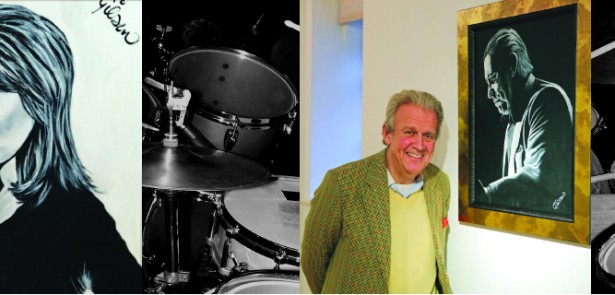 The friendly face of Gilson Lavis is certainly familiar. How could it not be? The name might not be immediately recognisable – although with such a distinctive moniker as Gilson and such a long and fruitful career in music, it fully deserves to be a household name – but there can be few people in Britain who haven't seen him on television backing some very famous stars, or heard some of the songs he's added his distinctive percussion to. In 1976, the man born David Leslie Gilson Lavis became the drummer with New Wave pop/rock group Squeeze, a position he occupied up until 1992. More recent years have seen him team up with bandmate Jools Holland, first as part of the accomplished pianist's Big Band and subsequently its Rhythm and Blues Orchestra incarnation from 1994.
Gilson's musical career has taken in some of Britain's best-known songs, accompanying some of the world's best-known artists
The group's frequent collaborations with other artists, on TV and for recordings, have resulted in him working with an enviable who's who of celebrated musicians and he also tours regularly with the band. From Squeeze's Cool for Cats and Up the Junction to Horse to the Water, the last song George Harrison performed on, Gilson's musical career has taken in some of Britain's best-known songs, accompanying some of the world's best-known artists.
When sitting down with somebody of Gilson's musical stature, it's tempting just to want to immerse yourself in his many anecdotes from his fascinating career as a drummer. For, as the warm and enthusiastic 62-year old says, 'I've done a lot of a living.' But on this particular occasion, just a few days after his big gig at the Royal Albert Hall, I'm meeting him at the Norman Cross Gallery near Yaxley to discuss another string to his bow (or should that be branch to his sticks?). In 2007, he took up painting after many decades away from it, focusing on portraits of people he's played with and for. His latest exhibition of black and white acrylics opens at the Norman Cross Gallery on 14 March, giving Peterborough the opportunity to see his pictures of legends, royalty and others. Previous exhibitions around London, the Home Counties and the south have met with considerable acclaim. Given that Gilson is something of a local – he lives in a house just over the county border in southern Lincolnshire that he bought derelict some years ago and rebuilt himself – he's delighted to be bringing his work to a part of the world he knows well and has great affection for.
Gilson's interest in art stems from his earliest days, although he admits that 'I was pretty good at art at school, but I never had any burning desire to be an artist. I wanted to be a drummer. I thought it would be a lot more effective with the girls.' Marvel Comics provided an early inspiration because he enjoyed their graphic look, drama and perspective. It's an influence that is still apparent in the monochrome starkness of his efforts today. However, while… [cont]
Gilson Lavis: a man of many talents 1 2
Leave a Reply