Ceramic Emblems of Art and Nature – Jane Catherine Sanders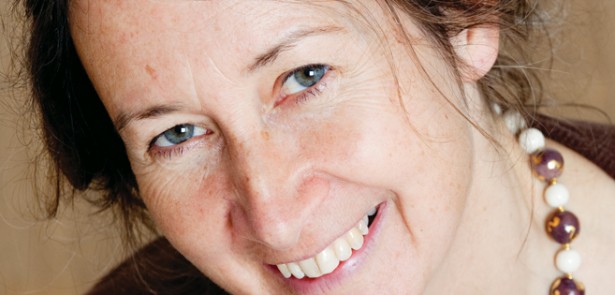 I first encountered the work of Jane Catherine Sanders, artist and jeweller, at the Peterborough Festival's Fine Art Marquee a few years ago. Being a great antiques lover, I was immediately taken by the tiny delft like inspired images, so carefully hand painted in a rich cobalt blue on each ceramic bead.
Jane's handcrafted jewellery is now unmistakable, exhibited and sold in prestigious galleries and fine art ceramic shows.  It comes back to my point I suppose about the difference between hand-made and decorative art.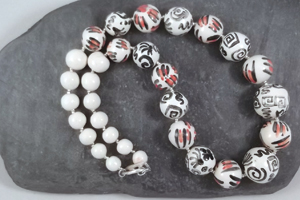 I took a trip to her studio at her idyllic little Tansor cottage to gain a greater insight into how these beaded art forms are created. Supping hot tea, munching homemade cake and sitting amidst scores of ceramic beads at varying stages of production, she explains the whole fascinating process. 'Each bead has to be individually rolled by hand from the earthenware clay. I just get used to rolling to specific sizes although each bead is always unique. Because my jewellery has become sought after, you can imagine how many hours I spend on this first stage. The beads are biscuit fired in a traditional kiln. I then paint my designs and images onto the beads. I tend to collect ideas for designs by sketching shapes and patterns from nature and ornamentation. I use varying colours and finishes but I still love cobalt blue, so vivid yet retaining that subtlety. I then glaze the beads and fire them again. The clasps to my necklaces, bracelets, earrings and cuff links are sterling silver and often hand crafted.'
These individual designs I would define as miniature emblems of art and nature: trees, birds, cats, horses, peacock tails, musical notes and trellis. Each bead is in itself a tiny work of art.  Designs for Jane's new 2012 summer range have already been produced in her sketchbook during a recent holiday on the Norfolk coast: shell, seaweed and star sea squirt. The more contemporary designs include swirls and stripes with real gold, lustre glaze and platinum finishes.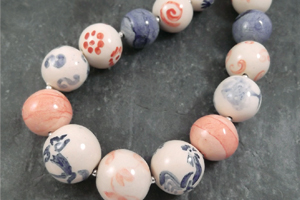 Experimenting more with the abstract, Jane has also started to produce beads and brooches using the Japanese method of Raku firing which requires a Raku kiln. 'This has really added a new dimension to my work. One never quite knows what the effect is going to be until the ceramic exits the kiln. The colours produced are quite different, earthier but really striking. The Raku brooches are proving to be really popular. They satisfy the more contemporary taste and of course brooch wearing has become so fashionable again.'
It always fascinates me how one actually becomes a commercial fine or decorative artist. What is the exact point of departure or catalyst? I think for women particularly, it's a question not just of an urge to create, but also the need to find a fulfilling work activity with children in tow. 'I originally worked in hotel management' Jane explains 'but needed something to fit in with the children. Alongside this I had an irrepressible desire to create. It's funny, I had always viewed food as art on a plate. I received art training for a few years from Bert Carter, Vice President of the Royal Society of British Artists and then attended Rob Bibby's ceramic workshops in Woodnewton where I learned about clays, minerals and glazes and pottery making. Fusing painting and ceramics I began to make hand painted tiles which I still make mostly on commission for tables etc, which then led naturally to producing the smaller detailed work involved in ceramic jewellery making.'
Jane exhibits and sells her jewellery every year during the Northamptonshire, Rutland and Peterborough Open Studios. You can currently find her work at The Gallery at Waterperry, Oxford, The Old House Gallery, Oakham, The Robert Fogell Gallery, Stamford and Harriet's Art Gallery, Peterborough. She will also be at the Anglian Potters' Winter Exhibition All Saints' Church, Cambridge 12th Nov – 11th Dec 2011 and the annual Whisper through the Trees Exhibition at the Yarrow Gallery in Oundle 2nd Dec-11th Dec 10am-4pm.
Contact Jane Catherine Sanders
01832 226495

www.cjdesigns.homestead.com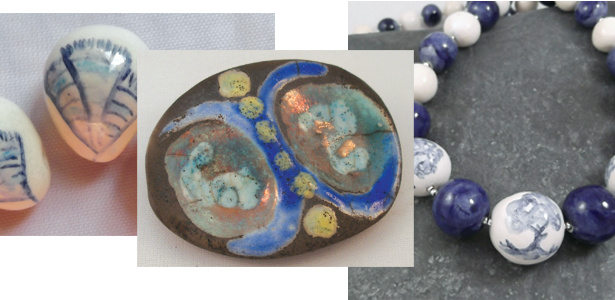 Leave a Reply