Sam the Curator
Although Sam is a conceptual artist, she is becoming more well-known for her ambitious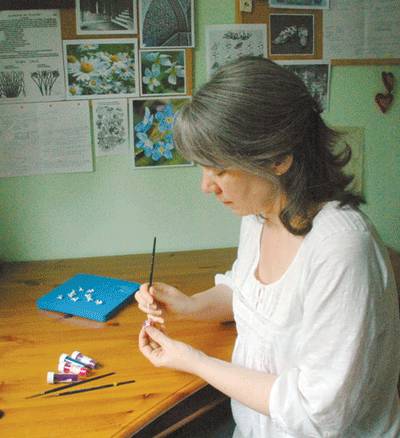 exhibitions as a curator in the Peterborough and Stamford area. Sam's vocation is thus made clear, and the links between previous and current pursuits become apparent. Just as she had enjoyed effecting change in the world of finance by facilitating networks and providing education though conferences, she now becomes driven to effect change through the bringing together of great artists to offer something new and inspirational to the viewer.
Sam had moved from London to be closer to family in Stamford, and was intrigued by the great art chasm in the provinces compared to London.
Quite recently, the Arts Council specifically named East Anglia as a cultural cold spot. There is much less engagement and not many opportunities beyond the  more traditional or semi abstract forms of art. I saw immediately that I wanted to challenge this and diversify the visual art experience, taking more of a conceptual rather than aesthetic route. I wanted to create environments where the viewer would accept that they bring their own experience to the art: what does it make you feel? What does it make you think?"
Shortly after arriving in Stamford, Sam began looking for art pop-up spaces. Her first major project Being British in 2011 was a resounding success. Sam delivered workshops in schools and held an art competition in which 800 primary school children participated. Stamford's Commemorative Book of Messages was produced, including 80 of the children's artworks and over 500 messages of congratulation, presented in person to HM the Queen. The pièce de résistance was the final Gala Art Event in aid of the Children's Society, showcasing 14 contemporary and conceptual artists – encompassing internationally renowned and fresh, emerging talent at the Stamford Arts Centre Ballroom.
Fresh Take at Burghley
Sam is now in the throes of her latest project Fresh Take. A rigorous selection process took place earlier this year to find  six artists from the Greater Peterborough area to participate in a groundbreaking residency programme, culminating in a contemporary art exhibition in the auspicious State rooms of Burghley House.
I was particularly drawn to Peterborough. I sensed an art vibe and was lucky enough to get funding from the Arts Council and Creative Peterborough. With the help of an advisory panel which includes Sheelah Mahalath Bewley, a London-based conceptual artist, I have selected and am working collaboratively with artists who I feel can rise to the challenge. The artists, with a broad range of practice ranging from sugar craft to street art, have been asked to respond to the House's interior and to juxtapose the traditions of Burghley with current contexts. These new contemporary art works will eschew traditional approaches, and look to be innovative in medium and concept. They will experiment beyond canvas and conventional boundaries of painting, sculpture and other mediums. I'm confident that the audience will be offered a completely different take on Burghley House, hence Fresh Take
Kathryn Parsons, previously a sugar craft tutor and now ceramicist, is one of the Fresh Take artists. This has really been her year artistically, as her work was also selected  for the Inspired By exhibition at the V&A.
For Fresh Take, Kathryn is creating two pairs of shoes from sugar. From her research about the house and its history she has become inspired by Tannekin, William Cecil's daughter and Sarah, the Cottage Countess, who both lived at Burghley. The former's shoes reflect the smallpox she suffered and the latter's bear the token of her idyllic former life as a cow doctor's daughter before her startling discovery that she had unwittingly married a Burghley heir. The Roman Staircase where these will be exhibited leads to the roof, which was used for recreation in Tudor times. Here concoctions of sugar – affordable for only the very wealthy – would have been laid out in the turrets for house dwellers and guests to snack on whilst promenading – both to avoid the stench of the rudimentary sanitation and to avoid being overheard by the servants!
The Fresh Take exhibition will run from September to November in the Burghley House Staterooms with accompanying workshops and artist talks. The participating artists are: Anita Bruce, Jason Duckmanton, Lindsey Holmes, Kathryn Parsons, Stuart Payn and Sue Shields.
There will also be related pieces available for purchase in the Burghley House shop and Art in the Heart on Bridge Street in Peterborough.
For more information, contact
Leave a Reply