Art in the Heart's new dimension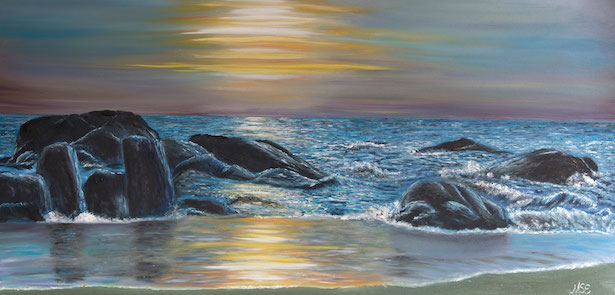 Art in the Heart – which allows artists and makers to sell direct to their customers – has been at the heart of the Peterborough arts scene since 2010, steadily growing its online marketplace to offer exposure for an array of independent UK creatives. Now it's entering a new phase of development, thanks to a partnership with local design and marketing company Dimension 6000. We talked to Art in the Heart CEO Dawn Birch-James and Dimension 6000 Director Mel Elliott about how a personal connection sparked their collaboration.
First tell us what you're doing together with Art in the Heart…
Dawn: We're working to raise awareness of the Art in the Heart Marketplace, to have many more artists selling direct to customers through the site – and to just grow it. I've done all of this on my own up until now so it's great to feel that Mel and Dimension 6000 are batting for me.
Mel: Dimension 6000 have taken control of the site in terms of the marketing, website updates and functionality, doing social media marketing and general support. I think Dawn values having someone she can look to for a second opinion. And we have had a laugh together!
How did that collaboration first come about?
Dawn: Mel registered as an artist on the online shop. At that point I didn't know anything about her – such as the fact she had started Art & Soul magazine years before in Peterborough, and runs a 20-year-old business. We got chatting, she took me out for a meal to discuss contacting other artists for a fair in Whittlesey, and we just got talking…
Mel: We found we had a lot in common. Since then we've chatted or texted probably every day, so I have been involved with Art in the Heart in the background almost from that point on.
What are the similarities and differences between you?
Dawn: We have experience in art, language and marketing in common. But we're also two strong women who are very similar in terms of our outlooks, and who have had battles in life which we have overcome to build up our businesses. Kindred spirits, really.
Mel: We do have similar life experiences – and senses of humour – but there are distinct differences as well. Dawn has quite specific goals for Art in the Heart and where she wants it to be, but I'm much more of an organic growth kind of person. I watch how things are going and jump on the opportunities, and that's really what I'm doing with Art in the Heart. All the books tell you should plan, but I've run a company for 20 years and brought up four children entirely without plans!
For those who don't yet know Art in the Heart, what can they find there?
Dawn: The website has fine art and quirky crafts – paintings, drawings and prints, handcrafted jewellery, pottery, glass, textiles – but also merchandise that bears the artwork of the artist, as well as stationery and cards. And although we have a lot of local artists, it's for any UK maker or artist. It's really about a connection with artists and makers in their studios and workshops, allowing you to buy directly from them. I think that's important for the customer – personal contact.
Is this something that is also very personal for you?
Dawn: Yes, this is something that we both really believe in. It's a meeting of minds.
Mel: I have to be passionate about everything I do. There are plenty of things in life that you have to do, even though you don't want to, but I think if you can find fun and enjoyment in your work, then other people will see it too.
Painting: Sunset Beach by Melanie Elliott
---
And don't miss…
Art in Shop Windows
See up close some of the art and craft from Art in the Heart in shop windows along Westgate Arcade in Peterborough throughout 2018.
All items for sale.
.
---
Browse the ever-changing arty gifts, fine art and craft on the online shop www.artintheheart.co.uk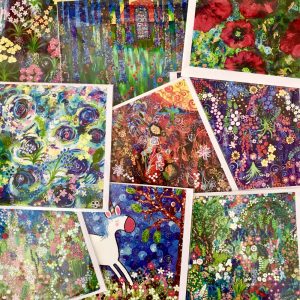 Mixed pack of 5 Cards by Charron Pugsley-Hill £12.00
---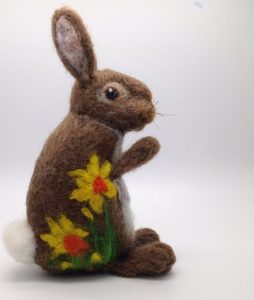 Felted Rabbit by Eve Marshall £65.00
---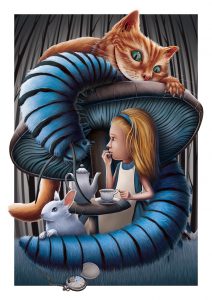 'Who are You' by Jason Duckmanton. Ltd Edition print. £45.00
---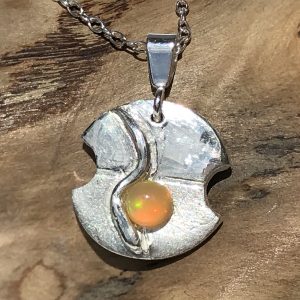 Opal Swirl Pendant. Fine silver by Laura Elliott £95.00
Leave a Reply