Alice's Adventures in Wonderland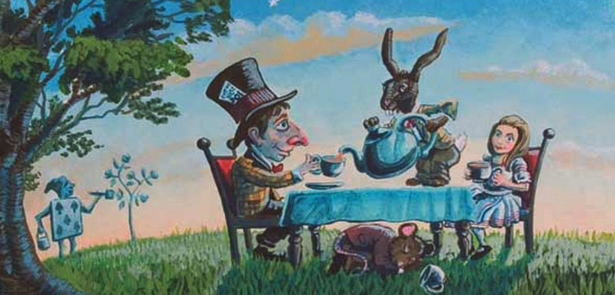 Alice's Adventures in Wonderland comes to Flag Fen on 18 August, courtesy of Chapterhouse Theatre Company. The Moment talks to Chapterhouse's Artistic Director and Producer at Richard Main about the production, the company and what makes open air theatre so magical
Alice is one of the best-loved children's stories in the world and everyone knows something about it, but tell us a little about this new production…
This is the first time we've done Alice since 2005, and it has a brand new script by Laura Turner. Laura has done work with various companies around the country including Hull Truck and the BBC, and also has a film called Lapwing in production at the moment. The script itself is absolutely wonderful – it's fun, it's got songs, and the costume department have put together the most beautiful new costumes. It's a children's show of course, and there's the opportunity for the children to learn a little dance during the show and to have a go during the interval!
Is it a tricky task with such a well-known story, striking a balance between the familiar and the new?
This is a fairly traditional telling, with all the familiar characters – but a little bit outlandish in places as well! I think the real challenge is not making it segmental. The book is like lots of short set pieces wrapped in a story – because it is a dream, of course – and because of that it's easy to just go from one scene to another without there being much of a hook, but what Laura has managed to do is give it a really nice thread, so it flows as a story.
How is an open-air production different from a production in a theatre? Do you have to adapt to the surroundings?
We bring a stage – and there is a mushroom, and a big tree and various backdrops and so on. It looks lovely, actually. But you can't just put a theatre into a garden. The theatre is the garden – and particularly with Alice. Alice is all about a garden, and it's performed in a garden, so really it's perfect. You don't want to be fighting those surroundings, so what we do is fit into the existing space. We had a dress rehearsal for Robin Hood the other day, in a field, but we put it under the trees and they just became the forest. For me it's much more special than theatre. Your audience and your actors are all having a first night each time. Every single night of the tour is different. When you start touring in June, for example, it's bright glorious sun, but when you get to August and the stars start coming out during the evening performances, that completely changes the atmosphere of the show, so everybody has a different experience. The silence is completely different, the birds are completely different… It's magical, and the shows are embellished by the world around. You don't need lights; you've got the world around you.
How did you start doing open-air theatre?
I've been doing open-air theatre since I was at college, a long time ago – I did the mystery plays in front of Lincoln Cathedral. That was just incredible, and I was hooked. Then I did Shakespeare outside and started producing. I still acted into my 40s, at venues all over the country, but I just love it. Don't get me wrong, I like theatres too! But there is something very special about this tradition we have, and not many other countries have it. Part of the experience – which is different from theatres – is that you can turn up early, have a wander around the gardens beforehand and get to know them, and then sit in the sun with your children in this beautiful space, having a picnic as the world around becomes the theatre.
Chapterhouse are doing an astonishing 190 shows nationwide on this tour. How do you manage it?
At the moment we are touring five to six days a week. There are three teams and each team does two shows, so it's kind of like old-fashioned rep; you might do three nights of Little Women and two nights of Alice. That's great experience for the actors and keeps it alive.
There are lots of other shows that you have touring, including Little Women, A Midsummer Night's Dream, The Adventures of Sherlock Holmes and Robin Hood and his Merry Men. How do you choose the shows you do?
Doing open-air theatre, you get a lot of families. And there are endless possibilities for that audience, but I really wanted to do classic literature, and actually Alice was one of the first ones we did. But at the beginning you never quite know whether things are going to work or not. The biggest surprise was when my scriptwriter, Laura said: 'Why don't we try Jane Austen?' No one was doing that open air, but we did Sense and Sensibility and it was SO popular! I couldn't believe it. So that gave us confidence to try a few more different things. Little Women, which we're touring this year, is celebrating it 150th anniversary and also has links to women's suffrage, and the National Trust had asked us to bring something that connected with the 100th anniversary of women getting the vote, so that fitted very well. Then we also have Sherlock Holmes, which I wasn't sure would work but has been huge. I love Sherlock Holmes, so doing that has been a treat.
Something that several panto performers have said to me is that often it can be a child's first experience of theatre so it's really important to make it positive and magical for them. Do you feel that is also true of your shows?
There was a tweet after we did Midsummer Night's Dream at Battle Abbey last week, and the guy said it was the first time his daughter had seen Shakespeare and he wouldn't have had it any other way. That's so important to us. Last year we actually had a girl who had gone into theatre because she saw one of our productions a dozen years ago. Now here she was, acting for us. That is really special, knowing that someone might come along and see what you're doing and remember it forever, or be changed by it. When we're stuck in the office working on organising things it's so easy to forget that side of it, but it's so important. When I did the mystery plays the first time, that's what they did to me. I was just standing at the back as one of the spear-carrying soldiers, but my life changed completely right there!
ALICE'S ADVENTURES IN WONDERLAND ● Open-air theatre at Flag Fen ● Saturday 18 August, 6.30pm ● £16 adult, £10 child, £46 family ticket (2 adults, 2 children) ● For more information on this and other events, and to book, visit vivacity.org
Leave a Reply