A rollicking tale of highwaymen at the Key Theatre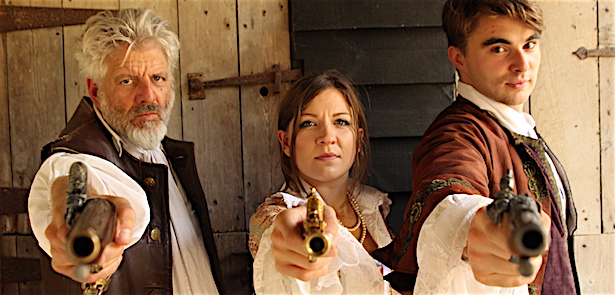 There's something about the rollicking Georgian era that fires the imaginations of writers and audiences alike. Think Poldark, Pride and Prejudice, Vanity Fair and Les Misérables - it seems readers, TV viewers and theatre-goers will never tire of the drama and romance of an historical romp. Bawdy humour, beautiful costumes, dastardly villains and secret liaisons… What's not to love?
Norfolk-based theatre company, Stuff of Dreams, are busy tapping into our passion for all things 18th century with their latest touring production, An Honest Gentleman. Coming to the Key Theatre Studio on 21 May, this lively new musical play tells the story of Aylsham-born highwayman Thomas Easter.
'I have always wanted to write a play about a highwayman, I have had a fascination with them since I was a teenager', explains writer and director Cordelia Spence. 'I asked an historian friend David Lewis Smith, who has an interest in the eighteenth century, if he knew of a Norfolk highwayman … and he found me Thomas Easter.'
Little is known of Thomas Easter except that he was born in Aylsham in Norfolk in 1715 and was hung at Tyburn 24 years later. From North Norfolk to Putney Heath he plied his trade as a Gentleman of the Road, 'raising contributions upon the public'. Ultimately betrayed by an accomplice, Easter was eventually sentenced to death and 'danced the hangman's jig'.
'The best thing about Easter, from a dramatist's point of view', says Spence, 'is that not too much is known about him. He was the son of an Aylsham butcher and we know he had to leave Aylsham because he got in trouble.'
In terms of research, Stuff of Dreams' greatest resource was the original transcript of Easter's trial which was found in the Old Bailey records. It was Tim Lane, the show's co-writer and composer, who came up with the idea of giving Thomas Easter's character a fatal flaw, and he chose gambling.
'Obviously certain things have been invented and surmised. We knew that highwaymen "hung out" in Epping Forest, so it seemed likely that Easter would also have done so too.  Dick Turpin is famous and well known for his vicious activities across Essex – we have no evidence that he and Easter ever actually met, but we wanted a villain and Turpin fit the bill! My research led me to various stories of female highwaymen in particular the ballad about Sovay and the ring. And I have always loved Noyes' highwayman poem, so the character of Lady Temperance Fox grew out of a variety of sources."
With a fast-paced script and cast of three actors (Quinn Richards, Hayley Evenett and Geir Madland) ably supported by original folk songs performed live by musician Tim Lane, 'An Honest Gentleman' is just one a series of productions programmed by the Key Theatre as part of their '3 dramas for a tenner' deal.
'This is the third play that Tim Lane and I have written together,' says Cordelia, 'and it has been an absolute joy. The story and songs literally tumbled onto the page. And now, with the support of Arts Council funding, we are delighted to be able to tour the show to twelve venues across the East of England including the Key Theatre in Peterborough.'
An Honest Gentleman
Key Theatre Studio
21 May, 7.45pm
Tickets: 01733 207239 or visit: www.vivacity.org
Leave a Reply