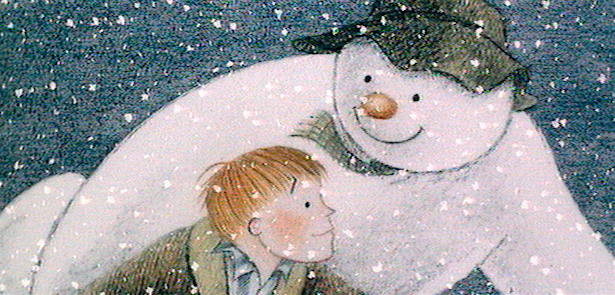 On 4 Dec at Peterborough New Theatre, Peterborough Music Hub presents a special Christmas concert featuring Peterborough Youth Orchestra, KSCS Choir and local professional musicians. Amongst other festive favourites there's a really special treat: a full performance of Howard Blake's score for The Snowman, played lived to a screening of the Oscar-nominated animation based on the classic Raymond Briggs book. Composer Howard Blake will also be in attendance. Moment editor Toby Venables talked to him about the score – and how it was a life-changing experience, in more ways than one...
Walking In the Air has become one of the most well-known Christmas songs – but is it true that the melody existed long before before the animation?
That is right. In fact I wrote the actual tune in 1970. At the time I was phenomenally busy and my doctor had told me I needed to slow down or I was going to be dead! I decided to drive as far away from London as possible, so I headed to Cornwall and rented a beach hut out on Perranporth Sands. I had got so much into heavily commercial music, but I sat down and thought about my life and had, really, a complete change of attitude. I decided that I really wanted to write a symphony – one that starts with perfect innocence, and which tells the story of a life from there. I went for long walks along Perranporth Sands, which is a fabulous beach, and the tune just came into my head as I was walking. I literally wrote it on the back of an envelope. So it dates from then, even though it sat unused for over a decade.
How did that tune connect up with The Snowman?
For a while I moved out into the Sussex countryside and started to write more serious music – I really changed my whole life around – finally coming back to London in 1981. And that year it just happened that I was invited by John Coates, the producer at Television Cartoons (TVC), to look at an animatic – basically an early animated sketch of eight minutes of The Snowman, which included the flying sequence. John had already commissioned a demo track from another composer but didn't think it was quite right, so he said: 'Could you spare a few minutes to listen and tell me what you think of it?' It was this electronic score – very 'children's music' – and I said: 'I'm afraid I think it's absolutely awful!' He said: 'Yes, I thought you might say that… What would you do?' And immediately I thought: 'That tune of mine would work absolutely marvelously with this…' And I said to John: 'I've got this tune – but I think you could make a full half-hour film of this without any words, just music.' John thought you would have to have words, but I said I'd do a demo of what I was talking about, and a few days later I recorded it for him, just piano over that eight minute clip. John took it to Channel Four, which had literally opened the day before, and C4's boss Jeremy Isaacs looked at it and said: 'That's absolutely fabulous. We'll make it!' So that's how it came into being.
What was the writing process like?
The people at TVC made storyboards for a whole 26 minute film, then I composed the score to the storyboards, and then they animated to my music. That was very unusual. I'd asked if we could do it that way because then the animation and music could be absolutely knitted together in a way that I thought would be quite magical. It would create, in a way, a new art form. This was just after I'd been working on Flash Gordon, Amityville 3 and SOS Titanic, which were all monster subjects, so it couldn't have been more different. And when you do feature films – or when you did them then – you're not invited in until after the film's been made, and then you compose the score to the signed off cut, so you're really illustrating someone else's completed work. But with animation, you can do it the other way around and fit the animation to every nuance of the music, which for a composer is the most marvelously liberating thing. It was really a great experience for me.
How did part of the instrumental score – that tune that meant so much to you – become a song?
I'd actually written the complete orchestral score and the animators sent me an almost complete run of the film with the orchestral track. Then some friends came round and asked me what I was working on. They were surprised to find I was doing a children's cartoon as they thought I just did big movies, but I said: 'It's a rather special film…' I hadn't seen the cut yet, so I ran the film for all of us. Where I'm sitting right now in my flat is exactly where I was sitting when I first saw it all those years ago. At the end, one of them said: 'That's a marvelous tune – but why don't you have the boy sing it?' So, I thought about that. Obviously, that would need some words. So, the next morning – it was a beautiful June day – I decided to go and sit in the park and work it out. Now, on the manuscript of The Snowman it said 'Flying in the air' to describe the scene, and I was thinking about this as I thought about walking to the park. Suddenly, somehow, I put the two together and the phrase 'Walking in the air' was in my head. I'd never heard anyone say that, ever, and it seemed like a great phrase, so I sat there in a deckchair until four in the afternoon, and wrote the complete lyric, which I've never changed since!
How did you find a voice for the song?
Initially, John said we should get a boy from a local school to sing it. I said: 'They probably need to be quite good, actually…' So I asked a soprano friend of mine where I would find the best boy singer in the world. She said: 'Well, St Paul's Cathedral…' She knew the chap who coached the choristers there, so she phoned him up and asked if he could get his best chorister to sing the song. He said: 'If you send me the song I could teach it to my six best boys and you could come along after evensong and choose one'. So, we did that, and we both immediately went for boy number two, who was Peter Auty. The next day I recorded him in a tiny little voice-over booth in Dean Street and added it onto the orchestral track, and the rest is history!
Was it obvious even then that this was something special?
We ran the finished film for Channel Four staff one Sunday lunchtime, and people were in tears. Even my little boy, who was three, boo-hooed at the end. But had John Coates not had that demo I wouldn't have been in such a good position to do something original and new. This was also much against the will of my agent who said: 'What on earth are you doing wasting your time on a children's cartoon that'll be on a couple of times and then never seen again?' To which I said 'Shall we wait and see..?' So, I was really on my mettle to do something fabulous. Now there are something like 200 performances every year, all over the world, and it's actually quite hard to keep up with it!
Peterborough Music Hub presents: 'The Snowman'
Wednesday 4 December, 6:30pm (runtime approx. 1hr)
Peterborough New Theatre
Peterborough Youth Orchestra & local professional musicians with KSCS Choir
Conductor: Robin Norman
Narrator: Jeremy Goldthorp
Leave a Reply