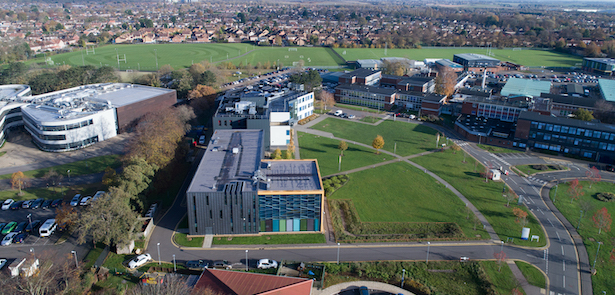 Whilst we are in lockdown at the beginning of 2021 there are still opportunities for students to view university campus facilities and speak to staff in person. At University Centre Peterborough, they have launched '360 degree virtual tours' to showcase their Peterborough campus and offer 1:1 meetings with their academic and support staff
In the heart Peterborough and next to the green area of Central Park is the modern and spacious campus of University Centre Peterborough (UCP) which cost £10 million to build and officially opened in 2009. The campus still looks just as new as when it first opened and now the public can now view inside the campus from the comfort of their home by viewing 360 degree virtual tours.
UCP have been providing degree and higher education qualifications for school leavers and mature students for over a decade in Peterborough and last year they expanded by also offering courses across the border in Lincolnshire at Stamford College. They currently have over 850 students and offer over 40 courses ranging from accounting to counselling, criminology to sociology and animal management to business management.
For students wanting to view university facilities before applying and starting in September 2021 it has been difficult due to lockdown and with open days having to move online. This is why University Centre Peterborough have created 360 degree virtual tours to showcase their impressive teaching facilities. Visitors now have the opportunity to view inside every classroom as well as explore the open study areas, lecture theatre, IT suites, atrium, café, reception, student support and even the toilets and lifts on every floor.
The building at the Peterborough campus is spread across three floors in a purpose-built building which is just used by their higher education and degree students. On arrival at the campus, the main atrium has a dedicated student support area before reception that highlights that students are the main focus. All classrooms can seat between 10 to 60 students and are fully equipped with the latest technology and there are internet based touchscreen televisions on all floors. The lecture theatre can seat up to 96 people making is ideal for guest speakers and events as well as school visits.
In addition to the teaching facilities at their main building, UCP also has sports and science facilities that is shares with the neighbouring Peterborough College plus courses such as Performing Arts uses the facilities at the Key Theatre. For the Journalism and Media courses they share state-of-the-art recording and production facilities in a Media & Journalism Centre in the city centre.
For parents of young children there is a nursery next to the UCP building and there is free parking on campus for students making the UCP even easier to get to for those who commute from outside of the city.
The city of Peterborough enjoys picturesque countryside, green spaces and amazing landscapes and this can be explored with stunning drone footage on the virtual tours giving a birds-eye aerial view of the city and where UCP is located.
To take a virtual tour of University Centre Peterborough visit ucp.ac.uk/virtualtour
---
SUPPORT TO HELP INDIVIDUALS
UCP have always prided themselves on focusing to help students by offering individual support and teach in smaller classes with typically 15 to 20 students. This is why UCP also provide opportunities to support students before they apply with 1:1 online meetings where they can ask questions and get help beforehand.
Every Thursday from 2pm to 8pm, there are 45 minute 1:1 virtual advice sessions available for students and parents which can be booked to offer help and advice with entry requirements, the application process and how student finances work. As everyone can have individual circumstances these sessions can offer individual support which is not usually available at large universities.
On Saturday 20th March, UCP will have a Virtual Open Day from 10am to 1pm, where you can book 1:1 meetings with academic staff from all of the courses. They will be running live webinars where visitors can interact and 1:1 can be booked with staff to talk about the support services available, student accommodation and employability opportunities.
As well as these 1:1 events, UCP hold monthly webinars to offer parents information about how student finances work as many parents might have to help contribute financially especially if moving away from home. The parent's webinars are also open to mature students wanting to return back to education.
To book onto the 1:1 advice sessions or Open Days at University Centre Peterborough visit ucp.ac.uk/events
Leave a Reply