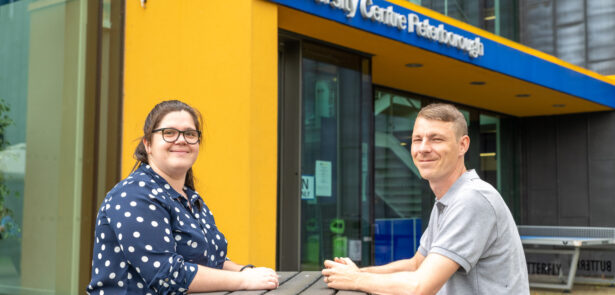 Peterborough residents Emma and Michael are married with three children – and both are studying for their degrees at University Centre Peterborough (UCP). Just a few years ago, neither had any significant qualifications. Now, they are on course for careers in psychology and virology. The Moment talked to them about their journey.
Emma, tell me about your degree…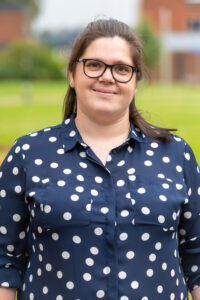 Emma: I'm doing a BA (Hons) Psychosocial Studies, which is psychology and sociology. I originally wanted to do criminology because I'm very interested in forensic psychology, and I was doing psychology lessons in my Access course. And the teacher that I had at the time – she's finishing her doctorate next year – she got me really interested in more than just the forensic psychology side of it, so I decided to change my degree to the psychosocial one. With that you're not just looking at the psychology side, you're looking at society and how that affects individuals. I think it gives me a much broader understanding of the whole subject.
Was this with a view to changing a career or was it just something that you wanted to do?
Emma: I lived in Spain for two years and went to school there, and when I came back I had to repeat the term because they didn't accept the curriculum over here. Then I fell pregnant at the end of what should have been year 11 – which was year 10 for me – and never got my GCSEs. So I went back to college in 2017 and got my science GCSE, and I've since also done my English GCSE. I just got the bug, really. I thought 'Oh, this is good! If I can do this, I can do more…' So I went on to do an Access to Higher Education course at Peterborough College to get my A Levels, and then thought:
'You know what, I'm going to go to University…'
I'm the first one in my family to go. My kids are older now. They're all in school, so it was now my time to do something for me. Two of my children also have additional needs – one for autism and one ADHD – so a lot of my time was spent in and out of the hospital, with diagnoses and things like that, and that's actually another thing that got me interested in psychology because of all the support that they've received.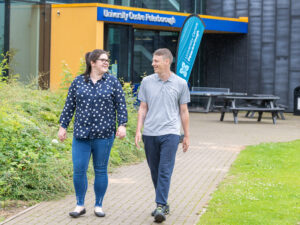 Was UCP always going to be your first choice for study?
Emma: Yes, because I needed to be in Peterborough. But also, I knew the lecturers, because most of them had taught me in Access, and it was a small university, so I knew that if I had any difficulties at home I had that close contact with my lecturers. They knew me, they knew my children, they knew my situation, and there was much more understanding. So, I don't think I would have gone anywhere else, and if I had I don't think I would have got the same experience. With a bigger university, there's a lot more people in a class and you've not got that kind of personal relationship with your lecturers. Also, although we are both studying at the same time, we're on separate days. UCP courses are concentrated into full days rather than spread through the week, so this year he's in Tuesday and Wednesday, and I'm in Monday and Thursday which means we're able to work it with the kids so someone is always around. So, yes, it was always going to be UCP. Obviously, my Masters will be different, but the kids will be older at that point…
You're moving on to do a Masters…?
Yes, I'm applying this month to Lincoln University, to get my psychology conversion course, so I can get my accreditation to become an assistant psychologist. Before I finished Access, I applied to UCST as a volunteer, and I'm now volunteer research assistant at HMP Whitemoor, and also an honorary assistant with a new team in Peterborough called the PSS Team (Psychological Skills Service).
Amazing! So, you're just into your final year, but I know Michael has just started his first year. Michael, let me turn to you… Was it Emma who inspired you to study for a degree too?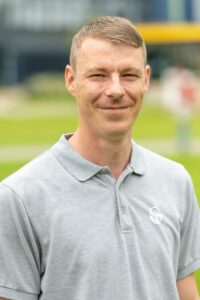 Michael: Pretty much, yes. I did mechanics for two years, and then due to a health condition had to stop. I didn't have GCSEs at that point, so I had to do Pre-Access, and then do Access at Peterborough College. Now I'm doing BSC (Hons) Biological Sciences.
How did you come to choose that?
Michael: When I was doing Pre-Access, the teachers asked me what I'd like to do in the future. I've always been interested in virology – and this was before the pandemic – working on vaccines and immunology, working with the immune system, how we fight diseases. I'm quite interested in parasitology as well – how parasites affect us and how to destroy them and create a healthier immune system.
You mentioned the pandemic… How did that affect things?
Emma: My second year and Michael's Access was during the pandemic, so we were home-schooling while doing our own lessons. Fun with three kids! We had most lessons at home, on Teams. The kids were set up with their school laptops, because we needed our computers, and it was a case of going between Michael's lessons and my lessons and the kids lessons and doing our homework and their homework! And, actually, the fact that we were studying as well helped, certainly with my eldest. Having the academic background, I was able to sit down and go through all his homework him every night before I did my work. He needed that kind of one-to-one. He doesn't do the same lessons as I do, but I was able to help with the general academic side – writing up English essays and things like that. When it came to maths and science Michael dealt with all of that, because that was closer to his own studies. But learning ourselves made it a bit easier than I think it was for some parents.
Even though you're doing different subjects, has it helped that the two of you are studying at the same time?
Emma: Yes! Michael tries to learn my stuff, and I try to learn his stuff! With some of it there is crossover. Because I'm further along in my course, I also help him with the academic side, like how to write essays and Harvard referencing. I was able to help him with those – and then he helps me by reading my work. He's got no idea what he's reading, but he tells me if it reads well, and I do the same with him! We just support each other as much as we can.
What would you say to people who are in a similar kind of situation, who are thinking of studying but aren't sure if they've got enough qualifications?
Michael: Talk to the college lecturers – and if you haven't got the GCSEs required to get on the course, they can get you onto Pre-Access where you get your maths GCSE, your science or English GCSE, all of it's tied into the one year, and that enables you to go on to Access if you want to.
Emma: I still recommend it to people – especially those who have said 'I don't know how I'm going to do it with having the kids…'. But it's doable.
Michael: Some have gone on to do it themselves and have done amazingly well.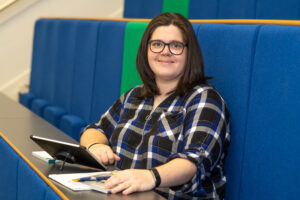 TO FIND OUT MORE ABOUT THESE AND OTHER LOCAL DEGREE COURSES, VISIT: WWW.UCP.AC.UK
Leave a Reply