UCP – working with POSH ladies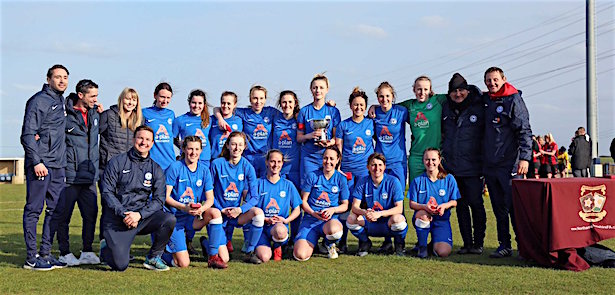 Students and staff at University Centre Peterborough have been introducing technology and psychology into women's football by working with Peterborough United (The Posh) Ladies First Team. The Moment Magazine discovered just how the women's game is gaining in popularity and the opportunities available for degree students studying locally.
Media attention has been growing in women's football with the success of the Lionesses (England Women's National Team) and is set to grow again with a global audience this June as the FIFA Women's World Cup is being hosted in France.
Nationally, The FA has plans to double the number of women and girls taking part in football by 2020, Channel 4 have just launched a brand new Women's World Football programme and there have been recent multi-million pound sponsorship deals with Boots, Barclays and Budweiser.
These recent developments are hardly surprising with precedent being set in other sports such as tennis and hockey where female participation is as popular as males. The women's game is now just as technical and enjoyable as the men's.
Locally, the Peterborough United Ladies First Team is an up-and-coming side that currently plays in the East Midlands Women's Regional Premier. The Posh ladies have aspirations for promotion and are a football league side within a 10 year plan, which they are now into their fourth year.
In order to achieve this, the club wanted to give their players the best environment to thrive and reach their full potential, and required assistance in other areas such as sports performance psychology, motivational climates, coaching philosophies, strength and conditioning.
At the start of the season, staff and students on the BSc (Hons) Sport and Exercise Science degree at University Centre Peterborough (UCP) were asked to provide assistance for the Ladies First Team after UCP had already worked with both male and female scholarship players at Peterborough United FC.
This season, players and coaches at the club were set the challenge of being the best that they can be with the ultimate goal of becoming self-regulating. To start off with, the team were presented with sprint technique sessions, which none had ever encountered, where the ladies were encouraged to assess their own running technique and incorporate new key elements. Sessions focused on their resilience motivation plus team spirit, and not just working on technique.
To improve decision making, players were presented with small-sided game scenarios in which they were challenged to identify relevant and irrelevant stimuli in order to make the correct decisions. In these sessions players are encouraged to analyse decisions and further enhance their problem-solving skills.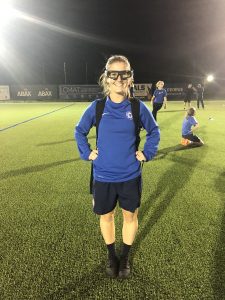 During training, the players were introduced to eye-tracking technology which enables them to assess precisely what their areas of interest and fixations are in given scenarios. Both players and coaches could see the importance of search behaviour/patterns and it has been a key development as the season has progressed.
For coaches to make effective decisions in terms of training intensities, the players wore Catapult GPS Monitors to track the distances they run and the exposure of training load volume in matches and training. By knowing data on each player, the risk of injury or burnout can be assessed and enables coaches to make informed decisions on session planning.
Other educational sessions have orientated around motivational climates and have challenged the players not be so outcome orientated. Players have progressively been set the task of breaking scenarios down into processes, analysing them and trusting them as they apply them in the practical sessions.
Lee Waters, Sports Lecturer at UCP said: 'This first season with the team has been a pleasure and essentially a voyage of discovery for all parties. It has been a privilege for the UCP staff and students to work with such open minded players and coaches who have a solution oriented mentality.'
The success is continuing for the Peterborough United Ladies First Team. They recently won the County Cup for the first time and it is likely that this will be the start of many things to come with this young, exciting team.
Team photo by Joe Dent
---
GET INVOLVED IN SPORT AT UCP
If you want to study sport at degree level, University Centre Peterborough (UCP) runs a popular BSc (Hons) Sport and Exercise Science degree at their Park Crescent in Peterborough which benefits from sports facilities and specialist sports lab on the campus.
By studying at UCP you will benefit from a course that has excellent links with sporting clubs across the city as well as nationally. Recent activities have included Mike Phelan (Manchester United FC, Assistant Manager) as guest speaker, trips to the Olympic Park in London and Nottingham Forest FC. The course works with a variety of sports as well as football such as rugby, rowing and cycling.
The degree has spaces available if you want to start the course in September 2019. The course can be studied full-time over three years and is structured so students study for two full days a week, which gives opportunities for placements and work experience in clubs or schools or maintain local sporting commitments or part-time work such as coaching or personal training. There are part-time study options over four years also available.
For more information about BSc (Hons) Sport and Exercise degree at UCP visit ucp.ac.uk/sportex
The next UCP Open Day is on Saturday 29th June 2019 from 10am to 2pm and your register at ucp.ac.uk/openday
In October half term, there will be a free two day sports coaching module for sixth form and college student to attending – more information will be available at ucp.ac.uk/events
---
GET INVOLVED WITH WOMEN'S FOOTBALL
You can get involved with Peterborough United Ladies Team as a spectator or as a player and they really value your support.
WATCH – During the August to April season, Peterborough United Ladies Team play their games on Sundays at 2pm. It is free to attend league games and they take place at Nene Park Academy.
To celebrate the end of a successful season, Peterborough United Ladies will entertain Solihull Moors at the ABAX Stadium on Sunday 26th May (7pm). Posh supporters will be accommodated in the Motorpoint Stand and tickets are £3 for adults with concessions admitted free of charge. Tickets can be purchased at www.theposhtickets.com
PLAY – If you are interested to find out more information to play for Peterborough United Ladies Team you can email
Also in Peterborough and the surrounding area, there are plenty of ladies football teams for all ages and abilities, so if you just want to keep fit, develop skills or make new friends then you can get involved.
Leave a Reply