UCP: free tuition fees to study sports coaching module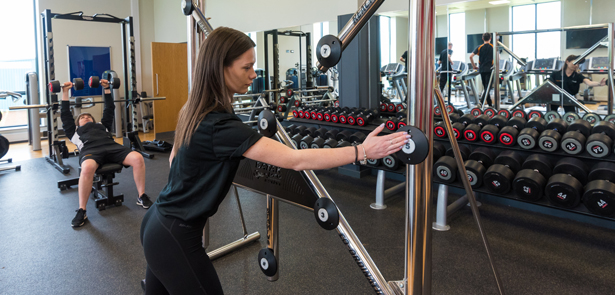 Are you interested in or know someone who wants to develop their career in sports coaching? University Centre Peterborough are offering an exciting opportunity for students aged 16+ to study a degree module during February half term. Best of all, there is no charge to gain this valuable experience and an insight into studying at degree level.
The Sports Coaching and Physical Education degree at University Centre Peterborough has been developing graduates who have made the successful move from theory to practice. 100% of students who graduated from the course in 2015/16 were employed in a 'sports related job' before or with 6 months of graduation.
A major contributor to this is how studying for a degree locally can improve your career prospects locally by working with local clubs, schools and organisations at the same time as studying. This helps students gain experience and knowledge that can be transferred to the workplace when they are making those exciting career steps.
The degree at University Centre Peterborough has work placements embedded into modules to provide students with valuable experience required for working in the sports industry. This is aided by structuring the timetable of lectures into two full days a week, which then allows students to get work placements easier as they can devote full days. This removes the need of having to take a course with a gap year to gain experience whilst studying. Previous students have worked at Peterborough United Football Club, Vivacity and Premier Sport as well as local schools.
Students on the course still get practical experience whilst at the university centre campus as they use a state-of-the-art sports laboratory, gym facilities and sports hall based at the college.
The career opportunities for graduates can be very rewarding with job roles such as a sports coach, performance analyst, sports development officer, sports scientist, sports psychologist, fitness instructor/ personal trainer and a strength and conditioning coach.
---
Free sports coaching module
During February half term, University Centre Peterborough are offering local students in college or sixth form (aged 16+) the opportunity to study a sports coaching module, and there is no charge for the tuition fees.
The 'Introduction into Sport Performance Enhancement' module can be studied for two days during February half term on Monday 12th and Tuesday 13th February 2018, from 9am to 4pm on both days. There will be an assessment on Wednesday 14th February where all participants will be awarded with a Certificate in Sport Performance Enhancement.
This free module is suitable for someone who is already in a coaching role or aspires to work in a sports environment. As well as gaining knowledge from experienced sports lecturers, attending the module will provide an insight into studying a degree level and could help with your application to university.
There are a maximum of 30 spaces available which is typical for a maximum course size at University Centre Peterborough and the teaching will consist of a combination of lectures and practical lab experiments using the specialist sports lab and gym facilities.
You will learn about coaching philosophies by exploring methods of teaching, coaching styles, practices and scenarios. Understand anatomy and physiological responses to sporting performance plus the rational for training athletes using certain modalities. There will be an introduction into psychological skills and exploration into strength and conditioning by looking at athlete needs analysis and delivering of strength and conditioning sessions.
For more information about the course or to book your place on the free sports coching module please email Nathan Thompson (Course Leader for BSc (Hons) Sports Coaching & Physical Education) on
For more information about University Centre Peterborough please visit www.ucp.ac.uk
"100% of students who graduated from the course in 2015/16 were employed in a 'sports related job' before or with 6 months of graduation."
Leave a Reply