UCP: Creating 21st century leaders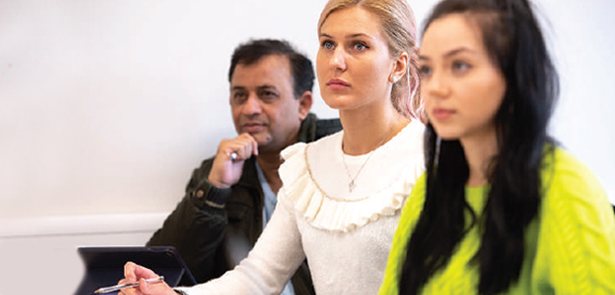 The CMI (Chartered Management Institute) is the only chartered professional body in the UK dedicated to promoting the highest standards in management and leadership excellence
Students studying Business Management at University Centre Peterborough (UCP) now get CMI accreditation, which means they will graduate with a degree and a professional qualification. The Moment explores the recent developments for these degrees at UCP and how the courses can improve career development.
To give graduates the edge in a competitive business environment, UCP is giving their students the best chance of succeeding by working with the CMI (Chartered Management Institute). The CMI works with both businesses and education institutions to inspire people to unleash their potential and become skilled, confident and successful managers and leaders.
The Business Management degrees at University Centre Peterborough were created in consultation with local employers to ensure graduates have the required skills and knowledge. There is now a choice of six Business Management degrees with specialisms in human resources, marketing, logistics and corporate social responsibility to enable students to focus on these growing business sectors. As part of Business Management courses students now automatically become members of CMI for no extra cost and with no extra study involved.
This membership helps students with their studies and development as they also receive access to a 24/7 online management resource portal from the CMI to increase their skills and knowledge. Membership of the CMI will help students stand out to employers as 62% of the managers surveyed by the CMI expect new graduate recruits to have professional management skills.
Get the skills employers are after
The CMI surveyed employers to find out what employers want from new managers, what they expect of new graduates, and how higher education can best develop graduates that meet those expectations.
The top five skills and behaviours that employers seek in first time managers are • Taking responsibility (60%) • People management skills (55%) • Honest and ethical (55%) • Problem solving and critical analysis (52%) • Collaboration and team-working (48%) When asked to assess the skills and behaviours of business school graduates, managers say the top strengths they see are: • Managing innovation and digital technologies (83%) • Curiosity and willingness to learn (79%) • Inclusive and ability to work with different cultures (78%) • Honest and ethical (78%) • Financial skills (72%) University Centre Peterborough is working with students to improve these skills through the launch of an exciting new project to improve employability in Peterborough.
Growing graduate employability in Peterborough
UCP was awarded £300,000 funding in July 2019 from the Office for Students (OfS) for an innovative project aimed at developing relationships with key businesses in Peterborough and the widening catchment area to increase opportunities for graduates who seek work close to home. They were selected as one of only 16 successful applicants awarded funding from the OfS as part of a multimillion-pound scheme to improve graduate employment prospects.
The three-year project focuses on linking local business to local graduates to crucially support their transition into local employment during or on completion of their studies, whilst raising brand awareness of local businesses to students and alumni. If you are an employer and are interested in being involved in this exciting new project you can contact katie.mcallister@ peterborough.ac.uk. The funding has supported the establishment of an Employability Hub for students to enhance their professional and transferrable skills. It will provide dedicated staff to ensure that effective communication between students and employers is maintained, and the introduction of a new employer steering group will ensure that the project is impactful for both parties.
Opportunity Peterborough, The Skills Service and Cambridgeshire & Peterborough Chambers of Commerce are in full support of the project. Tom Hennessy, Chief Executive of Opportunity Peterborough said: 'This a great win for the city's businesses and students alike. This programme will help to provide students with real world work experience that will augment their studies, making them more employable on leaving university whilst also providing SMEs [Small and Medium Enterprises] with much sought after skills in a competitive labour market and real opportunities to influence future curriculum development. It's a win-win for those involved and is another piece in the puzzle of driving our economy forward.'
Start a business management degree in 2020
The Business Management degrees at University Centre Peterborough can be started in January 2020 offering students the flexibility of starting a degree without waiting until September, making it more convenient for them. There are fulltime and part-time study options so students can fit the course around work or personal commitments. There are four different Business Management degrees to choose from starting in January 2020: • FdSc Business Management • BSc (Hons) Business Management • BSc (Hons) Business Management with Human Resources • BSc (Hons) Business Management with Marketing
• If you are interested in these courses you can find out more at an Open Day – visit www.ucp.ac.uk
Leave a Reply