Top of the class – Peterborough Centre for Young Musicians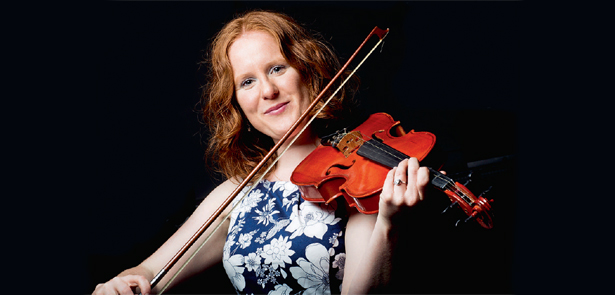 Peterborough Centre for Young Musicians offers amazing opportunities for budding young musicians to really get the most from their music. PCYM's half-day Saturday classes are open to all, with professional musicians teaching and FREE instrument loan vailable. But it's much more than just a music lesson – all children get the chance to play in ensembles, go on amazing musical trips and perform live in some extraordinary venues. Manager of Peterborough Music Hub and the PCYM Centre, Kirsten Goldthorp – herself an accomplished musician and teacher – talked to The Moment about what's on offer
Each PCYM Saturday session involves over three hours of teaching and activities. What can your young musicians expect to do in that time?
When people get in touch we arrange for a free trial morning, where they can come along and make sure it's the right thing for them. They have a 30 minute one-toone lesson on whatever instrument they've chosen, and we can loan instruments free of charge. Then they get a musicianship class, covering music theory, listening, sight reading and composition. There's a singing session, then they also get to play in an ensemble with their instrument; there are various ensembles formed either around students of similar ability or instrument types.
So for example, we have a junior and senior string group, percussion ensembles and a jazz ensemble. And every week there's a little 15-minute concert where everyone comes together from the morning – parents, teachers and students – and whoever wants to perform gets the chance to do that, whether it's a seven-year-old performing their first Twinkle Twinkle Little Star, or someone playing their Grade 8 Bach sonata. We don't have any entrance requirements, but the trial morning is to make sure that the child really enjoys being there, rather than it just being something that is expected of them. It's all about the fun aspects of learning to play an instrument well and performing.
Many will be learning an instrument already – what does PCYM add to that?
One thing about learning an instrument on your own, just doing lessons and practising at home, is that it can get a bit boring for kids and they lose motivation. The idea of coming to PCYM is that they're doing a full morning with lots of other students who share a love of music, and get the enjoyment and excitement of making music together. They get to mix with older, more advanced students, so they get to see what the next steps can look like, and they get lots of opportunities to perform which you often don't get from just attending an instrumental lesson, other than your grade exam.
One example at the moment is The Snowman, which a lot of our older students are involved in, but last year we also brought the whole of PCYM together as an orchestra to play some of the BBC Ten Pieces in Peterborough Cathedral and at The Cresset, as part of our Schools Make Music concert. That was from beginners right up to the highest grade students, and mixing classical instruments with guitars, keyboards and drums. So, there are some great opportunities to share music making and perform on big stages.
It sounds like it's also a great social experience…
Absolutely! There are 46 schools represented at PCYM, but only a small number of children from each school. Often, when they first come, they're a bit scared because they don't know anybody, but usually by the end of the morning they've found a group they feel part of, and we've had people who have formed friendships they never would have had. It's a chance to meet people who share that love of music, rather than just those who happen to be at your local school. That means people from different backgrounds, different cultures, and with different musical interests. I know students who have met up in the school holidays to make music together and attend festivals together, so it definitely creates lasting bonds and friendships.
There's also good research to show that children who learn music properly will gain a year in their academic studies compared to those who don't. There are wellbeing benefits, too, with singing releasing endorphins which gives students not only enjoyment but focused downtime, so they're not simply stressing over exams. And music develops skills that could become an important part of their lives and careers. The creative industries are the fastest growing sector in the country, as well as the least likely to become automated, so, contrary to what many believe, the likelihood of going into the creative industries in a job that may include music is actually quite high.
What instruments can children learn at PCYM?
I'll stop just short of saying we have every instrument, but we certainly have a massive variety! All the orchestral instruments, drums, percussion, ukeleles, guitars, pianos and keyboards. We don't have a harp yet, but we may soon – and we were talking to someone recently about bagpipe lessons, so we'll see how that turns out! We try to encourage new students who aren't sure what instrument to learn to come to it with an open mind, and that is one of the advantages of coming on the Saturday – that you get to see and hear a wide range of instruments being played and can try them yourself.
Even when you've made your choice that doesn't have to be the end of it; we have had many students who have switched, and although parents worry that the years on the first instrument are wasted, the reality is that the skills learned on it are transferred to the new instrument. And it's about much more than just the instrument, it's also about performing skills, developing confidence, learning to read and understand music, having a grasp of harmony…
And you take your students on trips too?
It's in live performances that you get the real energy and excitement of making music, and one thing we're passionate about at PCYM is giving students the chance to experience live music of various kinds. So we've taken groups of kids to hear folk music and see some local bands play, but we've also organised trips down to the English National Opera who are offering free tickets to under-18s on Saturday nights.
We're also really lucky that through our partnership with the Guildhall students get to meet and talk to their undergraduate ensembles, who also work with our students in workshops and give them a concert. That gives our students a glimpse of what the next step looks like if they want to take their music further. It's given lots of students the ability to go out and perform in music festivals, where they receive feedback from adjudicators, and some have won awards. It also gives them the opportunity to take grade exams. It helps students who are doing their Arts Award, as it ticks a lot of the boxes required, and we have four or five students doing the Children's University Passport.
Tell us about your teachers…
All our teachers have degree-level music qualifications – some of them postgraduate level – and all have great teaching experience. But we are very keen on having teachers who are also musicians and performers in their own right. Many are in bands or ensembles, so you may have a guitar teacher come in on a Saturday who played a gig on the Friday night, or a cello teacher who has been on tour with a string quartet, so they can give insight into that which is also very inspiring for the students. They're all DBS checked and fully safeguard trained, and through the Music Hub we also offer them bespoke CPD training to help them with any areas they feel need to be developed. Two of our teachers have just completed postgraduate qualifications in performing teaching from the Guildhall. It makes sure they're up on current theory, but also ensures they offer the students the best possible teaching.
What's the cost of the Saturday sessions?
If they're aged 7+ and they're not already learning an instrument, it's £31 a week. If they're already learning an instrument – if they have lessons at school, for example – then it's £15 a week, and if they're under the age of 7 – from reception to Year Two – then it's just £5 a week. We also provide financial assistance if these costs are a problem for parents. We really want to make these classes available to everybody.
● To find out more, go to: pcym.org.uk
Leave a Reply