Time to take a new course!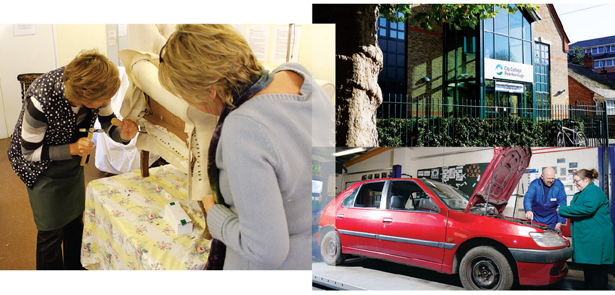 City College Peterborough – celebrating its 70th birthday this year – is now enrolling for September 2014 to July 2015
If you've ever yearned to learn a new skill, revive a forgotten one or just learn something for work or pleasure, the time is right to grab a copy of City College Peterborough's new course guide – packed with daytime, evening and one-day Saturday courses. Rachael Francis enrolled on a one-day bricklaying course just for fun with her husband Daniel. 'I just really felt like trying something new,' she says 'It was something I could do together with my husband and learn a new skill at the same time.'
"The facilities were really good, everybody was very friendly and the enrolment process was really easy. I just enjoyed the whole thing"
Bricklaying may not be everyone's idea of fun, but Rachael – who went on to do a willow weaving course – certainly came away happy. 'I really enjoyed it,' she enthuses. 'The facilities were really good, everybody was very friendly and the enrolment process was really easy. I just enjoyed the whole thing. I've already recommended it to about four other people. I'd recommend it to anyone, really.' Susan White was also looking for something a little different. 'I just felt I had a real need to go and play, to go and do something artistic,' she says. Now in her 50s, Susan had always been interested in doing something creative, despite years working in the public sector as what she calls 'a pen pusher'. She took the plunge and signed up for a printmaking course. 'It was very therapeutic. You would think it would add more stress, but it didn't. I was doing something that maybe I'd had in the back of my mind for about 30 years.'
The message is, it's never too late – and if you're in any doubt, you only have to look at Susan's fellow students. 'Our students range in age from 25 to 92,' says market development manager, Jackie Hall, 'So quite diverse!' Courses such as printmaking can even lead to whole new opportunities, and second or alternative careers. 'There are quite a few students who have gone on to think about selling their work and making products,' explains Jackie, 'so it's not just about producing prints that don't go anywhere. They're now going to craft fairs and selling out in the public domain.' One of the College's art students, 82 year-old Lois Wright, has even had her work exhibited in the Victoria and Albert Museum, one of the most prestigious exhibition spaces for design in the world. Some courses are creative, some purely fun, many extremely practical – even money-saving, such as turning a favourite, worn-out armchair into a vibrant new piece of furniture.
"It's really satisfying, really creative, really good fun!"
Sue Martin has been teaching upholstery at City College Peterborough for 34 years, but the very first thing you notice about her is that her enthusiasm hasn't dimmed in the slightest. 'You can create so many different looks – that's why I love it still! There is so much choice of fabric out there, and so many choices of styles. I can see an idea in a magazine somewhere, and then talk about it with the learner, and if it's appropriate for their piece we can try out those new styles ourselves. So it's really satisfying, really creative, really good fun!' As with many of the courses, Sue's sessions are informal – workshops, rather than classes – and while that might suggest the need to be armed with a whole battery of practical skills,
Sue insists that no special experience is needed. 'Everyone who comes, almost without exception, has never done anything like this before. But I don't think anyone has come into the class and not been amazed and inspired at what you can do.'
Courses available are incredibly diverse, covering everything from Spanish to car maintenance, history to IT skills, photography to classical music appreciation. New for 2014/15 are gardening courses, including small gardens and patios, and there are also courses and qualifications for the workplace, including counselling, teacher training, Chartered Management Institute and Institute of Leadership and Management courses. So, what are you waiting for?
To enrol, or to find out more, visit www.citycollegepeterborough.ac.uk, email , phone 01733 761361 or call into the College in Brook Street.
Leave a Reply