Supportive learning environment at UCP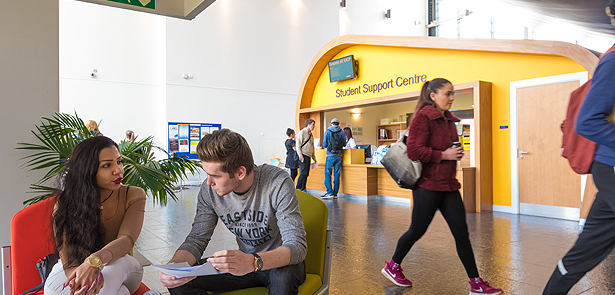 All universities make promises to offer a supportive learning environment, but with many large universities having over 10,000 students – can they all really offer individual support to everyone? With University Centre Peterborough having just 800 students, they can provide all of their students' extensive support to help them get the most from their studies.
If you wanted to study a degree with limited contact with lecturers then you would choose distance learning. But if you are paying to study a degree in person then you want to make sure you have as much face-to-face contact with lecturers and support staff – and without having to wait.
STUDY SUPPORT
University Centre Peterborough can offer this extensive study support as their classes are small in size, with a maximum of 20 to 30 students compared to larger universities who can have lecturers with hundreds of students.
Their academic staff at University Centre Peterborough can get to know students individually due to smaller class sizes and help and support them throughout their academic journey. Students will receive one-to-one tutorials with their lecturer which is something that is not possible at larger institutions.
The student-to-staff ratio at University Centre Peterborough mean that this support is not just applicable to academic staff, as their network of support staff also takes great pride in getting to know students and helping them individually, whether this is for academic, financial or well-being issues.
To improve academic grades, there are two Study Excellence Sessions during lunchtimes every week where students can focus on academic, transferrable and professional skills such as Harvard referencing, preparing for seminars, CV writing and using Excel and PowerPoint software. It also provides an opportunity to share best practice with other students – and those who attend these sessions make the difference from achieving the next grade boundary from a 2:1 to a first class honours.
If English is not your first language, there are English as an Additional Language (EAL) Sessions which provide opportunities to develop strategies to improve written and spoken English. Those who have used EAL support have typically achieved grades 14% higher than those who decline this support.
There is a strong focus on improving employability opportunities with CV workshops, volunteering and providing internships and work placements during study. This can also be achieved with University Centre Peterborough structuring the majority of courses to be studied as two full days a week, so employers can offer work at the same time as studying.
WELL-BEING SUPPORT
There is no longer a stigma attached to mental health thanks for the awareness of the Heads Together campaign, supported by Prince William and Prince Harry – amongst other celebrities and sports people – who have opened up about the challenges they have faced.
The National Union of Students (NUS) had reported that 20% of students consider themselves to have a mental health problem which is why University Centre Peterborough train their staff to recognise signs and how support students.
Whilst there is support in place to help students with mental health issues, the supportive environment and small class sizes that University Centre Peterborough provide will ensure that the risks are reduced and students are not under the same pressures as they have staff they can easily contact, and so are never alone.
If students have a disability or special learning need, they can help students apply for a Disability Students Allowance (DSA) to cover some of the extra costs to get the help required. This will include special equipment such as computers or software, non-medical helpers, extra travel and other disability related costs related to studying.
Making University Centre Peterborough aware of requirements when applying will not affect your application, but will ensure that they can start to help you right away with support which will increase your academic success.
FINANCIAL SUPPORT
Additional financial support may be available in additional to Tuition Fee Loans and Maintenance Loans if you have personal circumstances that may impact on your academic studies, whether they are financial, family, work commitments, health conditional or a learning difficulty. University Centre Peterborough will help students to find out what they are entitled to and help them access this financial support.
CHILDCARE GRANTS: Students can claim up to 85% of their childcare costs with a maximum of £164.70 per week for one child or up to £282.26 for two or more children. The amount you can get also depends on the household income and the cost of your childcare.
ADULT DEPENDANTS GRANT: If you have an adult who depends on you financially and you are in full-time education you can apply for an Adults Dependants Grant which is up to £2,925 per year and this doesn't have to be paid back on top of other student finances.
DISABLED STUDENTS ALLOWANCE (DSA): Students who have a disability, long-term health condition, mental health condition or specific learning difficulty, such as dyslexia, can apply for a DSA grant to cover some of their costs incurred.
HARDSHIP FUND: University Centre Peterborough set aside financial support for students who are struggling financially so this does not impact on their academic studies. These are considered on an individual basis by the student support team. There are also opportunities for referrals to specialist services which the university centre have strong links and relationships with.
When studying at University Centre Peterborough it is safe to say you will never feel that you are on your own before, during or after your studies as they put students first in everything they do.
For more information about courses at University Centre Peterborough visit www.ucp.ac.uk or call 01733 214466.
Leave a Reply