Start your future at a UCP open day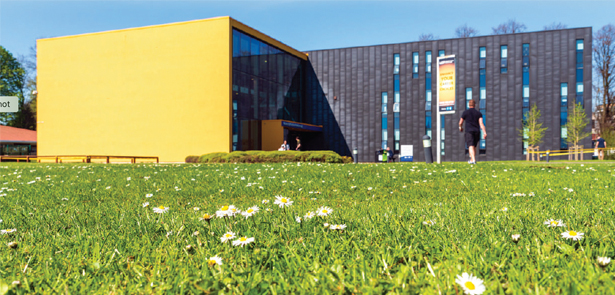 Now is the time of year when students and parents are looking at different universities by attending Open Days. Studying on the other side of the UK is not for everyone and you may be surprised by just how lucky we are to have University Centre Peterborough (UCP) on our doorstep. There are many financial benefits to studying locally, and UCP has a fantastic reputation for creating highly skilled and successful graduates
Why should I come to an Open Day?
Choosing where to study is a big decision and requires researching before deciding where to go. Open Days provide the perfect opportunity to get a feel for what university life will be like as you get to meet and speak to both the academic staff and students. You will get a far better idea of what it is like by visiting the campus in person rather than just looking at a website or watching a video, so it's worth making the effort.
Can I find out about student finances?
Yes, during the Open Day there will be information talks on a variety of topics including student finances and the UCAS application process. The Student Support and Admissions teams will be on hand to speak to you individually about any queries you might have so you get all of the information you need on the day.
How is UCP different from other universities?
As UCP is smaller than other institutions it offers many advantages that other universities can't offer due to their size. Students really benefit from small class sizes and learning from academic staff who can spend more time with students so they get the most out of their degree. They even have group and 1:1 tutorials so students get feedback and are prepared throughout at all times. The majority of their courses can also be studied as two full days a week, as it's easier to timetable courses this efficiently.
Is two full days a week less study?
No, it is the same amount of study, but instead of spreading the course for a few hours each day over four to five days in a week, they group these lectures into full days. This makes it easier for students to plan independent study plus it is more convenient for travelling with some students commuting to the city. It also helps students get work placements during their studies which will ultimately improve their employability after they graduate.
What type of students study at UCP?
There is a really diverse range of students at UCP which makes it an exciting community. Not everyone is from the local area as students come from all over the UK when they discover what makes UCP so different. There is a wide mix of ages with a growing number of students starting at UCP straight from sixth form and college – but mature students (those over 21 years of age) can feel right at home as a third of students are older when they start their studies.
Are there degrees to start in January?
Yes, not all courses have to be started in September. If you want to study Business Management or Computing and Information Systems, then these courses can be started in January 2020. There is still plenty of time to apply for these courses as you don't start studying until the end of January. This is a really popular option for mature students wanting to improve themselves as a New Year's resolution.
How long does it take to study a degree?
The majority of degrees at UCP are full honours degrees which take three years to complete, although there are some courses such as foundation degrees which last two years or HNC and HND qualifications and education courses which are one or two years.
Can I study part-time?
Virtually every course at UCP has the option to study part-time which makes it even easier to fit your course in with family, work or other personal commitments. It is possible to study part-time and complete a full honours degree in just four years – so what's stopping you?
When do I need to apply by?
The first deadline for applications for courses starting next year is 15th January 2020, although you can apply at any time before then as it means you can secure your place and start the process of sorting out your student finances a lot earlier. If you don't apply by this date, there is still plenty of time left to apply – but don't leave it too late.
When are the next Open Days?
There are two Open Days to choose from before the end of the year. If you prefer to visit on a weekend then come on Saturday 9 November from 10am to 1pm, or if an evening is more convenient then the Open Day on Thursday 5 December from 5.30pm to 8pm is best for you.
What if I can't make an Open Day?
If you can't make these dates, then there are more Open Days in 2020, or you can simply drop-in to their Park Crescent campus and staff will be happy to help. For information about the courses at UCP you will find information in the prospectus or online at www.ucp.ac.uk. possible to study part-time and complete a full honours degree in just four years – so what's stopping you?
How can I register for an Open Day?
It is quick and easy to register your attendance in advance by visiting www.ucp.ac.uk/openday
DEGREES TO CHOOSE FROM
There is a wide variety of degrees to choose which include business and professional, science and technology, social sciences, creative industries and education. ● Accounting and Finance ● Biological Sciences ● Business Management ● Business Management with Human Resources ● Business Management with Marketing ● Computing and Information Systems ● Construction ● Criminology ● Digital Arts ● Digital Marketing and Communications ● Early Years and Education ● Education Studies Top-up ● Electrical and Electronic Control Systems Engineering ● English Literature ● English Literature with Creative Writing ● Forensic Investigation ● History and Archaeology ● Journalism ● Mechanical and Manufacturing Engineering ● Media Production ● Performing Arts ● Psychosocial Studies ● Sociology ● Sport and Exercise Science
Leave a Reply