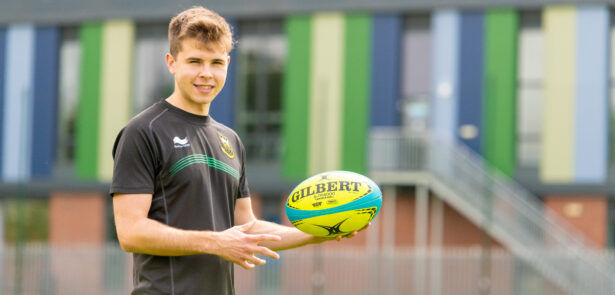 22-year-old Ben Rockliffe, from near Peterborough, completed his BSc (Hons) in Sport and Exercise Science at University Centre Peterborough (UCP) this year. But that wasn't how his degree started – or even where it started... Now embarking on what looks to be a bright coaching career, Ben reflects on why he transferred from a 'big' uni to UCP, what he gained from the move and where he goes from here.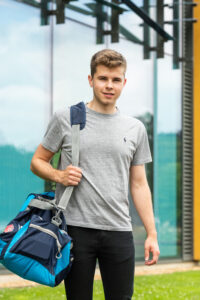 You graduated from UCP this year, but tell us a bit about what you were studying…
I was doing a BSc (Hons) in Sports and Exercise Science, and studied the last two years at UCP. It was a three year degree, but in first year I moved away from home to a much larger university in the UK before transferring straight into second year at UCP and just carried my credits over from the other institution. My specialism is in rugby, so when we were doing coaching, and applying the theory, I applied it to rugby – although I tried to stretch myself and do other activities rather than just stay in my comfort zone, doing the sports I knew.
One thing a lot of people probably aren't aware of when they hear about studying sports or sports coaching is the proportion of that which is psychological, as opposed to physical.
Yes, I completely agree. I think there is a misconception about the study of sports or sports science that it's just about kicking or throwing a ball around all day, which is far from the truth. There are those elements, but it's really all about applying theory to the practice. I never played any matches as part of the course, it was more psychology, coaching-based which is all the stuff I really enjoy.
Over the years, as scientific knowledge has increased, so sports science has become more technical. And certainly the coaching aspect has become more technical and more related to psychology.
I think people have realised that when it comes down to dealing with people, we're all individuals with our own problems and lives outside of sport, whether that's professionals or amateurs, and it's about getting these different personalities within the team to get along and all focus on one goal. There are such fine margins within sport, especially nowadays, that all the sports science, nutrition, psychology and so on can really make the difference.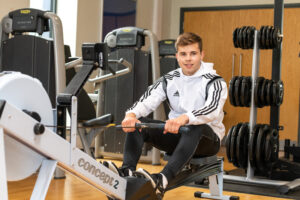 You mentioned how technical it is – are there new methods for analysing sports performance, to help the players or athletes understand their game?
Yes – and performance is quite an interest of mine. I would sometimes get called 'Statto'! At uni we had a professional level of equipment which UCP invested in to train undergraduates, including GPS trackers which monitor work rate and workload. In professional rugby for example – my sport – they wear these GPS trackers in the back of their shirts, and they monitor movement and performance. So, if a player has been on the pitch for 65 minutes, and they can see the performance dipping, they may look at making a substitution early. If you're tracking over a period of time, you can also see if someone's got a niggle, or not performing at the same work rate or covering the same distance as they were for the first half of the season. That can show you that potentially something's not right and needs addressing. And then on the other side of it there is also match analysis, both individually and as a team. So, we used a program called Coach Logic. You can film a game and tag significant moments. They call them KPIs – key performance indicators – so, in rugby, it might be the number of missed tackles, or in football, a number of saves, the number of successful passes, the accuracy of shots and so on. This kind of analysis is becoming huge in the sports industry, at both amateur and professional level.
You switched from a larger university… Talk me through the reasons for that.
There was a whole host of reasons that led to it. I think different institutions have advantages and disadvantages and work differently for different people – but for me, personally, part of it was being away from home. I worked for two years prior to going to uni so I built up that sort of maturity, I guess, and had also built a network of family and friends around here.
I was involved with several rugby clubs, and it felt like I was going to have to up sticks and start again over there, when I had already built those connections with local clubs over years. So, coming back allowed me to get involved with the schools and clubs again, straight away.
Also, the course at the other university wasn't going as well. It was a large institution, and for the core lectures they combined lots of different courses into one. So, for lectures on psychology, physiology, biomechanics etc. everyone was in a massive lecture theatre – probably 300-400 people sometimes. And I just felt like a number really. I thought 'I haven't come and taken a loan to sit and listen to someone reading off a PowerPoint in front of 300 people!' It wasn't interactive at all. Also, the timetable wasn't ideal. It was spread out across the week, from Monday to Friday, a few hours here and a few hours there. I just didn't feel like I got anything done in terms of socialising or independent work.
By contrast, UCP is just two full days in university. So I know for those two days, I'm in uni, and then the rest of the week, I can go out and get a part-time job, get some work experience, socialise, do independent work or whatever. It just meant I could plan a lot better. And the other thing I liked about UCP was because it was so small – there were about 15-16 of us on my course – I felt like I got to know everyone, and built a much stronger and closer relationship with my lecturers and
staff members. You just felt like you were an individual rather than a number. At the end of the day, when I got to higher education I wanted to learn as much as I could from the expert lecturers there. Those relationships you build up are quite powerful in the way that they can lead to different opportunities, I think. I think the narrative has often been that you need to go to a bigger university. I didn't really know much about UCP until someone mentioned it and I thought 'I'm not enjoying
where I'm at. So let's go and check it out…'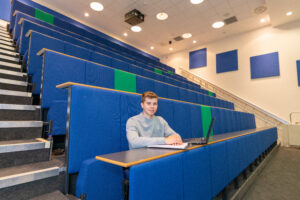 Was the transition easy?
Yes, very easy actually. There was a little bit of work involved in terms of filling in forms, but it was really smooth, and it didn't take very long at all. The original university I was at was very good with it as well. They didn't complain, and they were just quite apologetic and said 'Yes, that's no problem. We're sorry to hear that…' and transferred me straight over to UCP. UCP told me everything I needed to do to make it happen. And we just got it sorted over the summer.
Did you make that change before COVID? How did that affect things?
I changed during the summer of 2019 – June-July – and then COVID struck in March 2020.
So I was at UCP for a good eight months before lockdown happened. I'd got back involved with the school, worked at doing some coaching there, and at other clubs. And I'm sure I would have reaped many more benefits had COVID not happened. But there were still advantages. There were a lot of people who were quite isolated, stuck in their student accommodation in other cities around the country and unable to really get out. I wasn't having to spend that money, because I didn't
have student accommodation. I was just living at home, and was close to my place of study. So, that was an unforeseen advantage.
What's next for you?
I have three things on the go. The first I've essentially started already, trying to recruit players for Peterborough College, to relaunch their rugby academy. There used to be a very successful rugby academy with a previous coach, but now I'm heading up the coaching side for that. I'll be starting in August pre-season, then I'll be starting part-time there in September. I've also got my own coaching business which I'm just in the process of setting up and hopefully will get up and running over the summer. And then the third thing involves talks in schools – and that is linked to sports psychology. It's all to do with improving wellbeing and growth, mindset and positivity in schools – but they also work with universities and employers. It's called Art of Brilliance. Hopefully, I'll be going in to deliver some workshops. That's not sport, specifically, it's more about mental health and trying to help kids deal with the pressures of school life. So, hopefully, I'll be quite busy!
You're clearly going to go on to inspire young people – but who inspired you?
Well, I'm from a rugby and swimming background… Definitely Sir Clive Woodward was a big one for me in terms of the way he carries himself as a person and a coach. He's the only coach who's won England a Rugby World Cup trophy. Jonny Wilkinson as a player as well, obviously. A lot of those heroes are rugby, but I also remember James Hickman, an ex-Olympic swimmer, who came to visit us and inspired me in terms of my swimming. And, of course, Gareth Southgate, the way he carries himself is very impressive. I think a lot of people were very impressed with the way he approached things during the Euros.
TO FIND OUT MORE ABOUT THIS AND OTHER COURSES YOU CAN STUDY LOCALLY, VISIT: WWW.UCP.AC.UK 
Leave a Reply