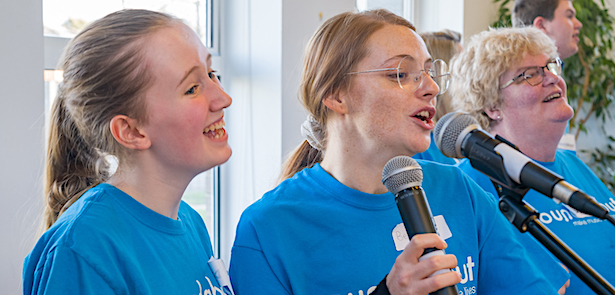 You may have heard of Soundabout through its online collaborations, in partnership with Peterborough Music Hub – not least with the world famous King's Singers. But what are they all about? We talked to Soundabout CEO Clare Cook.
What exactly is Soundabout?
Soundabout is a music charity with a mission to ensure that everybody's voice can be heard. Rather than focusing on what people can't do, we want to emphasise what they can. We believe that people with severe and profound learning disabilities including autism should, have a life full of expression, passion and enjoyment. To enable this to happen we aim to educate, support and empower through empowering training, and supporting those in our community. That's why we use music to enable people with learning disabilities to express themselves, connect with others, and feel the warmth of music. We aim to create an open and accessible community where someone profoundly disabled can feel relaxed, safe, and enjoy themselves. Let's empower everyone to use their voice and create their own rhythm. Our music sessions bring learning disabled children and adults together with their families and carers to take part in music-making, from our inclusive and virtual choir to our workshops. Music is just the start; we want to help develop a sense of belonging, and confidence for people to take through life, as we all deserve to live in a community without barriers.
Soundabout Inclusive Choirs are musical communities without barriers, welcoming people of all ages and abilities. Their delivery approach was created by the charity Soundabout whose specialism is in using music to unlock the potential of people with severe and profound learning disabilities. The aims of the choir to have fun and connect with others through music whilst also developing confidence, musical skills, social skills, leadership skills and enhancing general well-being. Currently run virtually, which has enabled access from people for whom travel, support and personal care considerations can limit face to face opportunities, they will eventually also include face-to-face sessions (which will also be broadcast online to the rest of the group).
How and why did it come about – and how did Peterborough Music Hub become involved?
We set up our first SIC in Oxford in 2019, in partnership with a choir called the Jericho singers, having previously brought their members together with participants of our specialist music sessions for an 'inclusive jamming session' on BBC music day 2018. It quickly became a very important part of the lives of the members so when lockdown hit we moved quickly to ensure that we could continue to bring everyone together to sing even when we couldn't meet in person.
Having featured on the BBC News at Ten in May who told the story of how we were still singing in lockdown (https://www.youtube.com/watch?v=kIEJp2FwWTM) , it raised the profile of our work, and one of the Peterborough Music Hub tutors, Eleanor approached us with the idea of setting one up for Peterborough. We set up a meeting with the music hub team who were very supportive of the idea and have commissioned us to deliver it for Peterborough's children and young people.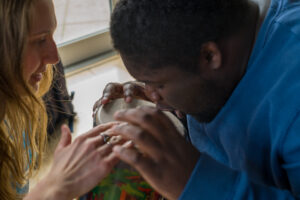 How does music help people with learning disabilities? is it as much about changing attitudes in others as it is about engaging it participants?
A learning disability is lifelong. Children with learning disabilities find it more challenging than others to learn, understand and communicate, and their sense of worth and wellbeing can be challenged as a result.  Yet every one of these people has the ability to engage with music at some level. Indeed, music may be a vital element in their lives, helping with communication and interaction with others and, above all, offering a unique a source of pleasure and fulfilment. Our specially trained team of music practitioners work across the UK to help them to interact with the world. Just because someone has a disability doesn't mean that they are disabled musically and our methods – which we have been using since the charity's inception 25 years ago – require no musical expertise to use them.
What kinds of activities usually take place – and how has COVID changed things? Has this presented more of a challenge, or has it also provided some new opportunities?
Moving to online Zoom sessions has presented challenges, but also some important opportunities. Importantly, it can be very difficult for families caring for someone with a learning disability to travel to face to face sessions, with all the considerations that they need to make around transport, personal care, feeding, other children and so on. We have found that working online has increased accessibility for many families who would have struggled to make face to face sessions.
Backing tracks: Key to an inclusive approach is ensuring that everyone's contribution can be heard. With the limitations of being able to sing together due to the latency of video-conferencing, it is no longer possible to hear all voices, sound makers and instruments live. We therefore use backing tracks to teach each song, and then sent it to choir members to record their voices while listening to the track, and adding it to the piece. Over time, the backing track gradually reflects the sound of the choir.
– Encouraging families and carers to continue music making outside of sessions, opportunity's for relationship development and shared experiences? (Same with videos.
Opportunities to be heard individually: Everyone is invited to share their sound, favourite song, or performance at the end of session. By making sure that the rest of the choir is muted it gives a unique opportunity for people to be heard which is a relatively rare experience when you have complex needs.
Signing and movements: Since moving to a virtual approach, optional signing and movements have proved to be an important way for the choir to connect with each other, when we are unable to hear all of our voices together live. We use a combination of Makaton and movements suggested by the choir. All movements are optional and choir leaders are intentionally descriptive when teaching signs e.g. "twinkly fingers" to ensure that people with visual impairments are not to feel left out. Not only does this support the development of transferable skills but helps with supporting engagement in the world of tech.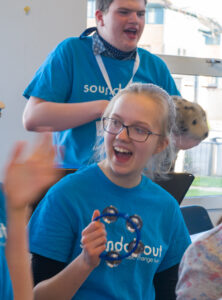 Recently there was a collaboration with the Kings Singers. How did that come about?
The King's Singers made contact with us before Christmas, having seen the Oxford choir online. They were working on a new campaign called "Finding Harmony" which was all about the power of music to bring us together and asked whether the choir would be an Ambassador for the campaign. They said that they felt we really represented what they were trying to communicate which we were delighted about! The plan had been for TKS to run workshops with our singers, and we would come together with two other choirs to do a performance called "Finding Harmony LIVE". Lockdown put the kibosh on that, but it gave us the opportunity to work together on a virtual collaboration – and Amazing Grace was the result. Their approach was wonderful, they started by asking our amazing choir member Sam to sing the song all the way through and used his musical choices to build their arrangement around. The rest of the choir then recorded their voices and instruments at home and by the magic of technology The King's Singers brought it all together. It brings a tear to my eye every time I watch it – https://www.youtube.com/watch?v=cT8HxO9g3rI
In addition we had our Virtual Christmas Concert on Wednesday 16th December at 6pm, which featured Radio 2 DJ Sara Cox, actress Celia Imrie, Lost Voice Guy, Andrea Begley (winner, The Voice 2017) and many more!
Are any other collaborations planned?
We do have plans for a new collaboration between the King's Singers and Together Productions (comprising The Mixed Up Chorus and the Sing for Freedom Choir). We are working with them on a musical collaboration – a new version of I'd Like To Teach The World To Sing by the Seekers for Zero Discrimination Day on 1st March. As there are going to be anything between 200-300 singers involved we have agreed that the finished video will be partly animated, and with so many voices in the mix the sound engineering is also a rather bigger and more technical job than usual! As such we are planning to launch a crowdfunding campaign to raise £1,500 to cover these costs. We currently have 200 people on the choir mailing list, and if 150 gave just £10 we would reach the target. To find out more, go to: https://www.soundabout.org.uk/soundabout-inclusive-choirs-sing-for-zero-discrimination-day
We are also about to release a brand new video by all four of the Soundabout Inclusive Choirs (Peterborough, Oxford, Bristol and Wiltshire) – so please look out for that too.
How did you personally come to be involved?
I joined Soundabout as the charity's new CEO in April 2018 having come from the charity Missing People, where I was involved in setting up a choir of families who had missing loved ones. It really showed how powerful music was in giving a people a voice, connect with others who uniquely understood their situation, and gave them an opportunity to reach out to others to share an important message. It was an amazing journey as the choir became finalists on Britain's Got Talent 2017 and as direct a result two missing people were found. The experience made me realise how much I wanted to work in this field, and when the opportunity came up to lead Soundabout I jumped at the chance.
What have been the best moments for you this year?
There have been so many magic moments, they happen all the time at the choir when people share their voices for the first time, or a new song or instrument. We had a session yesterday which made me cry when one of our young members explained that joining the choir had given her confidence as some people had told her she couldn't sing well, but the choir made her feel like a star. The collaboration with The King's Singers was a real moment too though – one that I'll always be proud to have been part of.
What do you hope Soundabout will be doing in a year's time?
Continuing to build and develop more musical communities without barriers across the UK, and helping learning disabled musicians have the confidence, skills and opportunities to lead, thrive and feel powerful.
Soundabout has been going for some time now. What kind of difference can it make to those involved?
Rather than using my words for this, I wanted to share a few quotes from our families who put it much better than I do…
"George is obsessed with Soundabout and literally watches it (online sessions) whenever he is home. It makes him feel calm and happy and music is all he can really enjoy as he won't hold anything so can't self stimulate. It has changed my world having these sessions to watch again and again as he is so much calmer and not hurting me any more. Every morning he watches it so I can get him dressed and he doesn't get anxious about the taxi arriving because his mind is occupied. It's just made such a huge difference to us.  It also works online because his siblings don't enjoy going along to sessions that they are now too cognitively advanced for, so it means George can enjoy them whilst they enjoy their own activities within the home. It's also hard work to take George out of the house due to his anxiety and behaviour issues as he's non verbal, so this way, I don't have the difficulties I do when getting him out of the home."
"The sessions that Soundabout have provided through these past 6 months have meant so much to the girls and I… Covid put a stop to the things that I was able to access for Maisy where people came into the home to a stop… But every time Soundabout comes into our homes through one of our screens it instantly takes us away from all of that and transports us to a wonderful place for the duration."
Photos: Rob Ferrands
Leave a Reply