Small is beautiful at UCP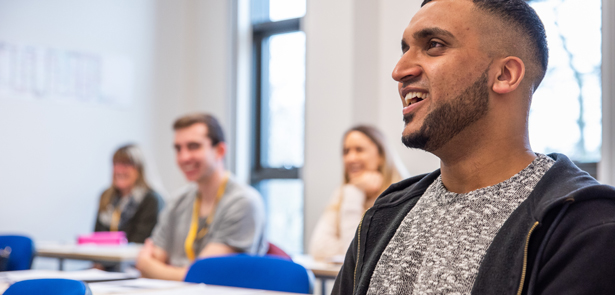 There's a huge buzz about the 'new university' coming to the city – but in fact, the university is already here. University Centre Peterborough (UCP) has been offering degrees in Peterborough for a decade and will form the foundation of the larger, independent university to come – but for now, as The Moment discovers, UCPs compact size has some distinct advantages...
The 'new' university is, without doubt, the most important new development in the city for years – set to transform not only education, employment and skills retention but also to boost the wider economy in a myriad of ways. What many don't realise, however, is that this new university already exists in Peterborough in the shape of UCP, which has been offering a steadily growing range of degree courses for the past ten years. So what exactly going to change?
All degrees at the moment are currently accredited by Anglia Ruskin University and in the future, Peterborough's new, larger university will have the power to accredit – and, crucially, create – its own degrees, which will mean it can tailor courses to local needs and ambitions with valuable input from local employers.
And what of UCP in the meantime? Well, you still get a university degree with UCP – and a good one too – and while the expanded university will bring a range of new opportunities with it, there are some significant benefits to studying in Peterborough before that happens. Many of these, paradoxically, are precisely because UCP is small. Whilst some might think this a limitation, it actually offers some great advantages.
More student-tutor contact
Most importantly, students get to study in smaller classes. Other universities may have 100+ students in lectures, whereas UCP has an average group size of around 20-25 students. Smaller groups offer more opportunity for students to ask questions or engage with lecturers, with fewer pressures. That means the lecturers get to know who you are, can offer one-to-one tutorial times, but also that you can get to know the lecturers better so they can support you.
Better professional contacts
The people who lecture you are also the people who will be assessing you, and many of them have industry experience and local contacts as well, so they are well placed to advise you not only on the progress of your work but also on your potential career path. Students who are proactive about those career options – whether from sixth form/college or are mature students – can also be matched with contacts that the lecturer may have, with less competition for places.
Easier socialisation
Smaller classes also make it easier to settle in. You work in smaller groups, get to know people on your course more quickly. An important factor for UCP is that no one feels they have been left on their own, or that they have no one to speak to. Someone is always close at hand and available to speak to about the course – something that larger universities often struggle to provide.
More available resources
There are also benefits to there being smaller groups when it comes to the practical elements. For example, if you're studying Bioscience and need lab time, the fact that you are not in a big group is distinct advantage – and naturally the same is true if you are studying media, sport, performing arts or other courses where there is a need to use university facilities. The same is true of library resources, over which there's less competition. Having Anglia Ruskin as the degree provider also means that students can also use ARU facilities (in Cambridge, Chelmsford and beyond) in addition to UCP's own, which includes ARU's library and all their online learning resources.
A better fit with existing commitments
The other thing that UCP can do by virtue of being smaller is offer greater timetabling flexibility. The majority of courses can be timetabled into two full days in the week rather than being spread over more days, which makes it easier for people to organise their independent study, or to take on (or continue) part-time work – a key feature of student life these days. Students can, of course, also pursue work placements to run alongside and/or complement their studies, making them more employable at the point when they graduate.
Many courses can also be studied part-time – usually one full day a week – to fit around more major commitments. The ability to work full days during the day and not just evenings or weekends also provides more (and better) employment options – opening up the possibility of work experience that is more directly relevant to your studies and future career than, for example, catering or part-time bar work.
This isn't just about employment, of course – other personal circumstances may include family commitments that would otherwise be hard to accommodate. This opens up degree courses to some who perhaps may have found traditional study at a larger university difficult or impossible, where the same study hours are spread out through the week.
Higher achievement
Having more focused days has been proven to help with student retention and attainment, too; whilst it may be easy to miss a single lecture in a day – especially with other commitments to juggle – students are far less inclined to skip an entire day of study. This is reflected in the grades that UCP students achieve. Last year, 70% of UCP students got a first-class or higher second-class honours degree. Part of this is also down to the supportive environment, in which individuals who may have struggled elsewhere are helped to excel.
And it's a great place to be!
Peterborough itself is a booming and vibrant city. Employers are always on the lookout for graduates, but because there is not yet a large university to keep (or attract) the required number of skilled young people here they often need to recruit from outside of the city. The fact is, though, they would far rather recruit from within it – which gives Peterborough graduates a distinct advantage when it comes to local employment after their studies. Some employers are also very happy to take on new locally-based members of staff whilst they study, with a view to full-time employment when they complete. Some may even sponsor these or further studies. Obviously as the university expands and provides more graduates for local employers to pick from, those opportunities are more likely to be snapped up – at least until more employers are drawn to the area by the growing pool of students. But certainly right now is a great time to be thinking about studying locally.
To find out more, visit: www.ucp.ac.uk
---
About the 'new' university
UCP has been awarded £9.74m to build the first phase of its new university campus, located in the city centre, off Bishop's Road, placing it near the Regional Pool.
Although people refer to this general area as 'Embankment', don't worry; it's not going to be taking over the Beer Festival or the Key Theatre… The new campus will be for 2,000 students which will have a huge positive impact on the city's economy and culture, and will certainly give Peterborough's nightlife a significant boost. Many of these will be school leavers who have come from all over the UK and beyond, but a large proportion may also be mature students (around a third of UCP's current intake consists of mature students which means they are over 21 years of age). In short, it will mean far more skilled people coming to the city and far fewer of Peterborough's ambitious self-improvers moving elsewhere, making for a more vibrant city centre.
So, while other cities are looking at the scaling down their offering in the light of potentially tough economic times, there's a lot to look forward to in Peterborough.
Leave a Reply