Share your Skills, Transform Lives – Military Precision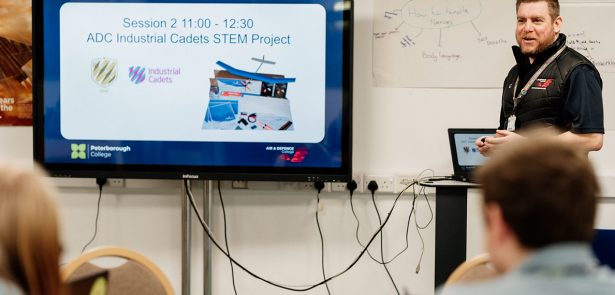 As well as the Teach your Trade campaign launched in March this year, IEG offers other pathways to attract experienced business and industry professionals to teach in further education. Taking Teaching Further is a national initiative funded through the Education and Training Foundation (ETF) and The Moment spoke to Gary Lewis, a former RAF engineer turning existing skills into a fresh new teaching career at Peterborough College to find out more about this programme.
Tell us how you got involved with the Taking Teaching Further initiative.
When University Centre Peterborough and Stamford & Peterborough Colleges created Inspire Education Group, I was working at Stamford College as a Campus Experience Officer. Stamford College is running an Air and Defence College – and as Peterborough was looking at forming one I got the job on the course, due to being ex-military.
What was it about this initiative that encouraged you to switch roles?
I made no secret in my previous role that I wanted to develop and move into teaching – but I had heard differing experiences and stories so was not sure what to expect or what pathway to follow! I've spoken to lecturers who had told me the job is not that straightforward; that when they came into teaching and into the classroom for the first time it was very daunting and, for some, quite a challenge. And I was like, oh okay, that doesn't sound the best! But the Taking Teaching Further model was explained to me as a two-year training programme which offers a reduced teaching timetable, qualifications and an abundance of support; my first year tops out at 14 teaching hours a week. I have ten hours planning time, and I have so-many-hours support time too (working with the quality, teaching and learning team coaches/mentors), and I have time to do my own learning and studying too. It seemed really structured, so I'm going into this new occupation with a bucketload of support.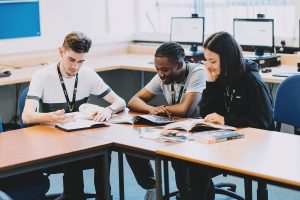 The amount of support was part of the appeal?
Yeah, absolutely, plus the fact that the college had to buy into it as well. I have a one-to- one meeting every week with my teaching and learning coach, I have follow-up meetings with the quality team – people are constantly checking in, and I have supportive observations to see how I'm doing and how we can develop my practice. The guys in my staff room were like, 'You're on to an absolute winner here,' because none of them had this opportunity when they started. Next year I move up to 20 hours of teaching; following completion of this, I'll go on into a full-time teaching role with a maximum of 24 hours teaching a week.
It sounds like the goal for participants to really excel is key to all of this.
Yes, it's allowing me the time to develop the soft skills that come with delivering teaching. So, I'm not stressed at home – I can plan in my weekly timetable at work, the layers of support are allowing me to move really quickly through to becoming a better teacher.
So, tell us a bit about life before you became involved with the college.
I signed up to the RAF when I was 15, and I started when I turned 17. I did 18-and-a-half years with the RAF as a weapons guy, did lots of really interesting jobs. I was going to be a career RAF man until, unfortunately, I was medically discharged, which put a big spanner in the works and sent me off track. I'm very open with the fact I struggled with the transition from military to civilian. I took about eight months out, just didn't work for eight months, simply learning 'how to be adult', how to pay a bill, what council tax was – I was 36 years old at this point and never had a lot of those grown-up, civilian skills.
I put my CV online thinking I might stumble into some sort of engineering job, but a company got in touch who specialised in financial services for the military. They asked if I would take on the RAF as a client, delivering financial presentations to them – and I hated it! It wasn't for me at all. But then COVID came, my job disappeared and I ended up home delivery driving for Amazon. I got attacked by a German Shepherd, so moved on to home delivery for Morrisons – got hit by a car and snapped in half. So, I had a bit of a dodgy year that year!
Then, I ended up at the college, doing the Campus Community Experience Officer job – and it was great. It wasn't particularly taxing, but it gave me an insight into education and working with young people in FE. That's when I knew I'd found my next chapter in life. As I said, I made no secret I wanted to get into teaching, so we were looking at ways for me to do that at Stamford. When this role came up at Peterborough, I snapped it up.
It sounds like so much more than just a job.
It's given me directed focus again. I had that 18-and-a-half year period in the RAF where I was fully focused but then lots of events – not just my accident, but COVID as well – put life into perspective. I've just turned 40, so technically I've got 27 years of work left in me, and I've got a second opportunity to have a go at another career and be successful in it.
Tell us about interacting with the students and how you find that.
I teach two subjects. My main one is Air and Defence – there are only three of those in the country: here, Stamford and Lincoln. The way the courses work is the students come to college and complete their vocational courses over three days and undertake additional skills within vocational pathways, and if they wish to attend the Air and Defence course this is studied over the additional two days. The students come on to the course from a variety of pathways, from engineering, hospitality, uniform services… and next year we are launching computing, so we're going to have a cyber room as well. The stakeholders we have on board are big, multi-billion dollar companies
– Raytheon, BA Systems, Leonardo, all big players that embed into military. We give students a 'try before you buy' experience of the RAF as well as preparing for their selection tests, and so far the interaction with them is brilliant. One of the things I get commended on quite a bit is my classroom management style, and the rapport that I create with the students – it's really good fun and as a result the positive interactions are 99.9%. Seeing the students develop throughout this year has been really, really something.
I also teach within the engineering team to deliver units towards the students' qualifications which is also rewarding.
Doing different subjects sounds like you've also got some variety in the job.
Air and Defence gives me 12 hours teaching a week, and I needed to find some more for my contract, so naturally, with a background in engineering, I can embed into the engineering curriculum and pick up those hours that way. And yeah, I do enjoy it! It can be challenging, having two subjects, because everything for Air and Defence is relying upon me – I have to do all of the paperwork, I designed the curriculum, I build my own lessons, I developed them. With engineering I'm delivering to the BTEC standard with set assignments and working within a broader team.
To find out how you could make a fresh start in a new career sharing your skills and transforming lives, email , peterborough.ac.uk or stamford.ac.uk – or call Kim on 07960 621 923.
Leave a Reply