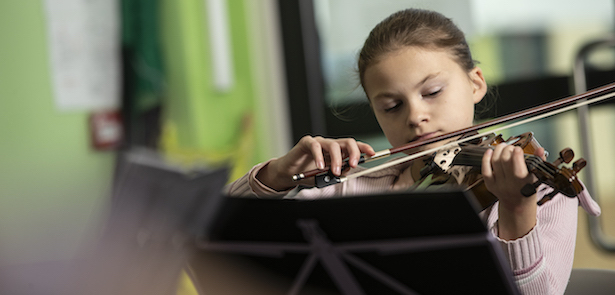 Finally, pupils have been able to get back to school after an exceptionally long break – and, in spite of the pandemic, with all the restrictions and checks that this entails, Peterborough Music Hub have been out in schools too, providing WCITs (Whole Class Instrument Teachers) so children can continue to learn, play, perform and enjoy music together. We talked to one of the Hub's teachers, Donna Barnes, about what she does and why it is more important than ever.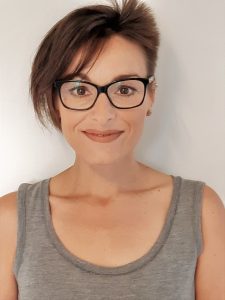 First of all, tell us a little about your background…
I am originally from Peterborough. I was born and raised here. I have benefitted from wonderful teachers in and out of school who have had passion for their subjects and were eager to pass that on to their students. My musical background is just that – firmly rooted in musical theatre, growing up participating in youth theatre productions across the city and going on from being Head Girl at The King's School Peterborough to achieving a 1st class degree in Acting at the Paul McCartney fame school, LIPA in Liverpool. I was an actress in the West End for 10 years, such was my love for singing and all things musical. I have appeared and starred in lots of musicals from Hair to Thoroughly Modern Millie, working alongside some of the world's greatest singers, musicians and lyricists, from Brian May to Andrew Lloyd Webber, Ray Davis to Don Black. I returned to Peterborough to settle and have my family and it was then I discovered my passion for teaching.
What is your involvement with Peterborough Music Hub and the work it is doing in schools?
My initial involvement with the Hub came when I was approached by a dear friend and mentor Michael Cross, who had been the Key Theatre Director throughout my youth and was then working for the Hub. He asked me to provide some singing performance workshops at various secondary schools in the city. The rest is history! I quickly found that I reallyenjoyed working with the students and helping their confidence blossom. I continue to take an active role in providing Singing and Movement opportunities for the students through SEND sing-a-longs, choir performance and concerts,however now in the main for Peterborough Music Hub I am a Whole Class Instrument Teacher. I travel to lots of different schools across the city and I typically spend a term with a year group, although there are some schools in which I am lucky enough to teach for the entire year. I teach all 30 (on average) pupils at the same time. I can honestly say it is the most rewarding challenge I have faced. Seeing the children take ownership of their instrument, forming as a band and understanding how we have to work together as a unit to create music is joyous every lesson, without exception. At theend of each term in previous years the Hub brings students from all schools to perform to each other (a digital performance this year). I particularly enjoy this element and take great pride in watching them play with such confidence and enjoyment.
What does a typical week involve for you?
It is very noisy! The only typical thing for me is my location each day! In every lesson I am delighted by the pupils' engagement and understanding. Children in my experience within classes are never typical, when given the chance they always find new ways to look at and learn things with such creativity. I teach in my schools five days a week, morning and afternoon. My routine has of course changed to ensure I have adapted lesson plans and teaching methods to ensure they are COVID safe.
Obviously COVID has affected everything… What challenges has this brought and how have you tackled those?
Schools and the Hub have worked hard to provide their risk assessments. Everything has had to be taken into consideration. From sanitising instruments and teaching spaces, pupil bubbles, room sizes, ventilation, social distancing to mention a few! Yes, it has been a challenge – but for my part I have adapted my lessons according to the guidelines and guidance from the school and the Hub, and offered some solutions with my experience. My intent is to provide the children the best experience of their music class as possible, with the children and staff 's safety as paramount.
Are music resources under pressure in schools?
Yes. I think schools face a lot of pressure and have to make difficult curriculum decisions. Fortunately, organisations such as the Music Hub help schools to still provide music to achieve the well-rounded education that all pupils deserve.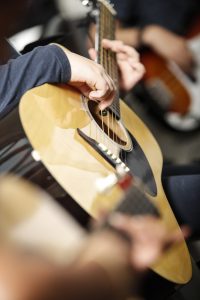 How important is music in education? What benefits does it bring?
When it comes to school curriculum, music education, I believe, is just as important as other subjects. Various studies have found that engagement with music can lead to an improvement in brain development in children. Music education is so important, in that it integrates so many different subject areas all at once. Not only does it allow children to develop their musical skills, it will also give them the opportunity to work on their maths skills, reading and writing skills, science understanding – and history knowledge. Music education is about much more than just teaching music itself. As with any subject, the music itself is also accompanied by important lessons in certain values that young people should be learning. Self-discipline is just one of the many values that music education will impart to students. Students learn the values of practice, of hard work and of setting goals. They'll learn the values of selfconfidence, of teamwork, of humility and, of course, the value of dedication itself. The schools I work in have often commented on how music lessons have created a sense of school spirit. We all need a creative outlet, a way to connect to others. Children are naturally very social, and it's important to encourage them to build relationships by providing them experiences to share with each other. This in turn provides the students with a greater sense of self-worth which will almost always, I believe, lead to a positive attitude. There is no denying that playing and listening to music at any age is an excellent way to relieve stress. This is so significant for students who may feel overwhelmed by the pressures our children are faced with every day in home life as well as in school.
Do you think the pandemic – and lockdown especially – has changed our attitude towards music?
I can only speak for myself, but I find I need my music more than ever. I think it's because when we are all isolated, physically and emotionally, music can make us feel connected and understood. Most of us have a very personal relationship with the kind of music we listen to and that's probably because it puts our emotions and moods in perspective. It allows us to get closer to our own selves. Music can have a profound impact on our mental and emotional health. I hope when we can all experience our live music scene again through concerts and shows, we remind ourselves of our lockdown days.
Pupils were away from school for a long time over the spring and summer. What responses have you had from them since starting up again, and does music help them cope with the difficulties?
The response I have had from all of my pupils has been so positive. Again, with great communication from the wonderful class teachers I can adapt a preferred teaching style to benefit individual or group needs. Because of the practical group nature of the lesson I can honestly say I find all pupils, regardless of academic ability, feel equal with each other. The lessons encourage them to relax back into their routines and enjoy being together with their classmates, working,concentrating, playing and having fun together. The confidence and pride the children take in creating their music is tangible and I hope the Music Hub and schools will continue to inspire and encourage Peterborough's young people formany years to come.
To find out more about the work of Peterborough Music Hub in schools and beyond – including Saturday classes at Peterborough Centre for Young Musicians (PCYM) – visit: www.peterboroughmusichub.org.uk
---
Chris Gill, Class Teacher at Thorpe Primary School:
"In what can only be described as a chaotic time for all of us in education, the way the Music Hub have handled the WCIT lessons has been nothing short of brilliant. They have been patient and understanding of any concerns and Donna who has come to work with us again has been superb at following the rules and restrictions we have in place here as well as coming with solutions rather than problems for any situation that arises. We have managed to work out a schedule allowing for two 45-minute lessons on one day with time to clean the instruments before, in between and after each session. It has been one of the only things to not add more stress and pressure to us at this difficult time. A massive thank you again to everyone at the Hub!"
---
Helen Lilley, Class Teacher at Welland Academy
"Our year 6 students have loved the familiarity of having their ukulele lessons back again this year. The lessons are still just as engaging and entertaining as before. The students have carried on as they left off before lockdown and will continue to get better as the year progresses. I am so pleased we managed to get our ukulele teacher back into our school, as it has provided the students with some normality in such uncertain times. They also really missed not having the lessons for so long and were so pleased to find out that they would be returning! Our year 5 students were so excited to learn that they would be learning djembe drumming this year. They have loved learning a new skill and have been able to do so in a safe way. The lessons are still just as enjoyable and engaging and the students leave on a Friday afternoon with a real spring in their step after the lesson."
Leave a Reply