The Peterborough School and Nursery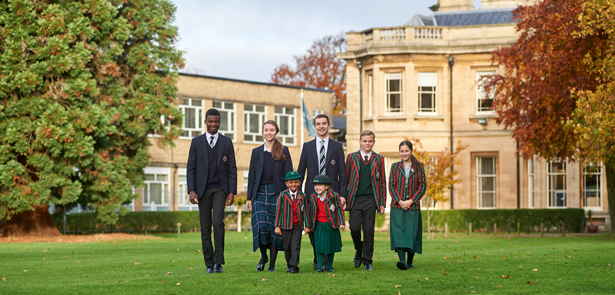 The Peterborough School is the city's only independent day school for boys and girls from Nursery to Sixth Form. Situated on one beautiful, leafy campus in the heart of Peterborough, the Nursery, Prep and Senior Schools enjoy excellent transport links and shared facilities.
The combined campus means the School is a vibrant place with small classes providing boys and girls with the individual attention, opportunities, confidence and ability to exploit fully their natural potential within a happy, caring and friendly community.
In the Preparatory School (4-11 years), the children are encouraged to be independent and inquisitive learners and develop many important skills through the extended curriculum and many extra curricular clubs and activities available.
In the Senior School and Sixth Form, students' unique talents are identified and developed, whether they are in the classroom, in the creative arts or on the sports field. Closely monitored academic performance means students usually achieve levels higher than those originally expected.
The Sixth Form is going from strength to strength and is an area of focus for development. 92% of last year's A Level students gained places at their first choice university, including Oxford, Durham and Imperial College London.
Our pastoral support is extremely strong and we passionately believe that children cannot learn well unless they are happy.
Headmaster, Adrian Meadows, is proud that the long-standing traditions of the school, which was founded in 1895, remain but at the same time it is a forward-looking, progressive place where children continually surprise and delight him. "I have seen students winning a national STEM award on the same day that the Reception Classes and Pre-schoolers enjoyed a Teddy Bear's Picnic. Being amongst children of such a wide are range is fascinating, entertaining and always interesting but overall it is incredibly rewarding and humbling to be part of such an amazing school and community."
Visitors to the School and Nursery are very welcome. Our next School and Nursery Open Day will take place on Saturday 29th September 2018; appointments are not necessary on this day. Alternatively, visits can be booked by calling the School on 01733 343357 or completing the Request A Visit form on our website www.thepeterboroughschool.co.uk.
New Sixth Form facilities
A particular area of development over Summer 2018 is the creation of a bespoke Sixth Form Block, including a Common Room (with relaxation space, games area and kitchen), a state-of-the-art Study Room (with computing and wi-fi throughout, ergonomically designed work stations for private study and student meeting room) and office space for the Director of Sixth Form.
This change means students will also benefit from a new library, which is re-locating to the old Sixth Form study area. Modern work areas with computers and wi-fi, along with collaborative working space and extended room for both fiction and non-fiction titles will create an enviable environment for all.
Small teaching groups are key to our success, particularly for Sixth Form students. They ensure that all students are known very well by all staff, who can carefully monitor progress and provide assistance where needed. When they leave, Sixth Formers talk about the value of the friendly, family atmosphere and the benefits of their teachers knowing them so well.
Our Sixth Form Open Evening is on Tuesday 16th October 2018, when course information for potential Sixth Form students who will be in Years 10 and 11 will be available. Alternatively, visits can be booked by calling the School on 01733 343357 or by completing the Request A Visit form on our website www.thepeterboroughschool.co.uk
Leave a Reply