Peterborough Music Hub: school music spotlight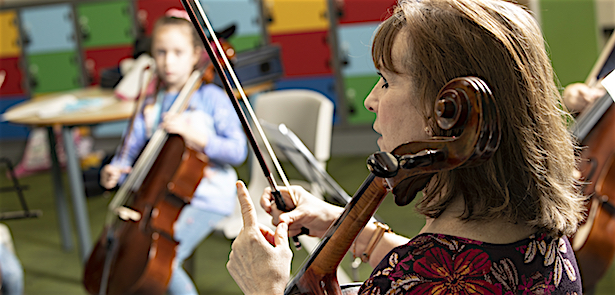 Peterborough Music Hub (PMH), works in partnerships with all schools in Peterborough to deliver a first-class musical environment where all young people can thrive and develop to their full potential. Working with a variety of partners, their aim is to strengthen children's positive engagement with Peterborough's cultural traditions whilst providing pathways for young people to progress with their musical ambitions, regardless of background or ability to pay. In the December Moment issue we saw how music embedded at William Law School impacts students learning and wellbeing. This issue, The Moment talks to Diane Roberts, Music Coordinator at Woodston Primary School, to find out how music is being nurtured and how PMH is supporting their efforts.
First of all, what does your role at Woodston Primary involve?
I am lucky enough to be supported by the Head Teacher, Jacki Mitchell, in being a Music Coordinator. I teach music throughout the school – including the teaching of music for 45 minutes to every class and 2 singing assemblies each week. I'm also involved in the organisation of anything musical. I have to liaise with seven peripatetic teachers providing weekly one-to-one lessons. They are all paid for either through Music Hub, school funds or the parents themselves. We have a hundred children learning different instruments at school, which is fantastic. There's also theme-based activities, so if a year group is doing something that lends itself to musical activity – for example we've just had some African drummers in – then I also organise that. In addition I run a choir once a week and have regular concerts for parents and the wider community including visits to local care homes and sheltered accommodation. I also organise annual events such as Young Voices, which involves taking the children to perform in big arenas where they have the opportunity to engage and perform with other children.
That's an amazing array of activities. How important is Music Hub to all of this?
We wouldn't be able to do half of what we do without them! They subsidise our ensembles, giving us funding to help pay for the teachers. They provide us with free musical instrument loans, which is so important to children as they explore different instruments. They're indispensible to me. They also hold concerts three times a year at the Salvation Army Citadel and they organise all the transport funding. Also available to all the pupils is a regular Saturday morning activity at Ormiston Bushfield Academy.
What are the benefits of learning and experiencing music?
It's just amazing for self-worth, confidence, and being part of a team – there are three group activities: 74 children in the choir; a 15-piece woodwind and brass ensemble; and an eight-piece string ensemble. I think it's just so beneficial for rhythm patterns to support children in Maths; it's quite common for musicians to excel in this subjects. Also, there's a commitment to independent practice, which is good for timekeeping and being responsible – both in relation to the practice itself but also looking after their instruments. Plus, especially with singing, it just makes them feel good! They could have had a challenging morning getting to school but after a good sing-song the endorphins get going! We have a large number of pupils with English as an additional language; music is like a common language, it brings everyone to the same level. Even children with additional needs are often happy to come to the front and perform, this shows its inclusivity.
Are there moments that stand out to you as making a difference for these children?
I think one of the highlights, which I've introduced during my teaching career has been the Young Voices experience. To see children walk into a massive arena with live music and famous people singing, like Tony Hadley or Stacey Solomon, their excitement and engagement is just wonderful to be part of. But there are smaller things too: just today we had an assembly at school when a young boy, only with us for 2 years, had the confidence to sing a solo in front of the whole school. Moments like this are heart warming!
For more information about Peterborough Music Hub, how to get involved and how it can help, visit: pcym.org.uk
---
Summer music making opportunities for Peterborough's young musicians
The best thing about learning a musical instrument is being able to have fun making music with others. Peterborough Youth Orchestra summer courses, provides this opportunity. The orchestra was formed by Robin Norman in 2014 and quickly developed to include a range of courses and ensembles to suit every young musician (18 and under) from beginner to grade 8+. This summer is no exception with a full programme of activity planned at our host school, Ormiston Bushfield Academy with the finale concert on the Friday taking place at the Salvation Army Citadel. These courses bring together young people from schools across Peterborough and the wider area creating fantastic music alongside friendships that will last a lifetime.
PETERBOROUGH YOUTH ORCHESTRA
Tuesday 27-Friday 30 August 2019
Orchestral Instrumentalists Grade 6+
£80
PETERBOROUGH YOUTH JAZZ ENSEMBLE
Tuesday 27-Thursday 29 August
Open to all Jazz Instrumentalists Grade 4+
£60
PYOToo
Tuesday 27-Thursday 29 August
All Instruments Grades 1-5.
£60
If finances are a concern, means tested bursaries are available (detail on request). Closing date for applications, Friday 2 August 2019. Apply Here: pcym.org.uk/pyo-application-form/
---
Top Tips for practising your instrument over the holidays
Keep your instrument out of its case
This way, it is always ready for a quick practice. It will also remind you it is there rather than hidden away in a cupboard!
Set goals for your practice time
If you go into the practice room with a goal in mind, you will be focused and motivated to attain that goal.
Keep a practice log
Going along with the previous tip, when you set your goals, write them down and then when you are finished practicing, write down whether you accomplished your goal or not. If you didn't, reflect on why.
Practicing is NOT just about playing through your music
Yes, certainly there will be times when you are preparing for a performance and you need to play through your entire piece to check memorization and gain stamina. But in the process of learning and perfecting a piece, it is better to perfect small sections of your piece.
Repetition is key
In order to break a habit, you need to do something the correct way 100 times. Break large passages up into smaller passages and repeat them correctly until they become part of your muscle memory.
Set up your space
You want your space to be free of distractions and set up with the tools you need to practice efficiently. Make sure it is quiet, a comfortable temperature and has enough light. Turn off your phone so you are not tempted to check your messages and get calls. Make sure you have everything you need to practice.
Record yourself
Hear and see issues that need work and track your progress over time.
Remember that practicing isn't just about playing your instrument
Listening to and watching examples, research, planning and physical warm ups all count.
Practice little and often – and most importantly EVERY DAY!
Leave a Reply