Peterborough Music Hub: Music is for life, not just for Christmas!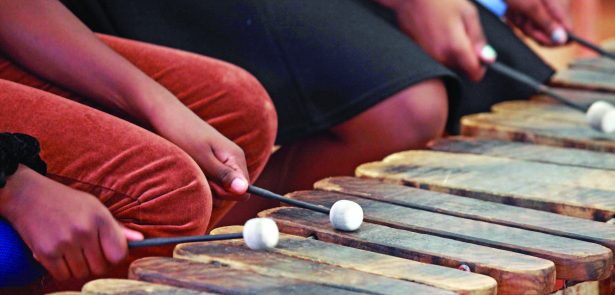 As Christmas approaches with its school concerts and carol services it's easy to think that music for young people is all about seasonal performances, photos and family memories. Peterborough Music Hub (PMH), however, works to deliver a first-class musical environment where all young people can thrive and develop to their full potential all year round. Working with a variety of partners, their aim is to strengthen children's positive engagement with Peterborough's cultural traditions whilst providing pathways for all young people to progress with their musical ambitions, regardless of background or ability to pay
The Moment talked to Rachel Moorhouse, SLE and Music Coordinator at William Law Church of England Primary School, to find out how music is being nurtured in schools and how PMH is supporting their efforts
What is your role at William Law and what does it involve?
I play piano and cello and am an SLE, which means Specialist Leader in Education, and my job is basically full-time music teacher – but I'm also a champion for music within Peterborough, which is fantastic if you're as enthusiastic about music as I am! We work very closely PMH. As an SLE my role is to support schools where I can, and PMH pays for me to go around to other primary schools in the Spring Term if they need help, doing short sessions, but also teachers from other schools can come to William Law and observe to get ideas. I know I'm in a privileged position at William Law because the Head also champions music at the school, and because of that I'm able to run clubs and other extra-curricular activities. Not every school has that luxury.
What does a typical week's music at William Law consist of?
Every child has a music lesson with me once a week with their class. They also have singing practice, which is differentiated between Key Stage 1 and Reception. There are also loads of clubs and ensembles they can join if they want to, and we also have non-select choir, where absolutely everyone can join in. We have the full range of peripatetic teachers here as well for children who want to play an instrument, and we support them financially to do that, so it's not a closed door if they don't have the money. The first access that we provide – which was supported by Music Hub – is that Year 2 all get the chance to play an ocarina. Years 3 and 4 all have a recorder, and in Year 4 they go on to play a clarinet. That's also directly supported by Music Hub who have given us the instruments. Then in Years 5 and 6 they all learn to play the ukelele. So that's how we develop their skills through the years, alongside actual music lessons. There are lots of opportunities to perform as well: all children take part in class assembly performances, Reception classes have their nativity at Christmas and then Years 2, 4 and 6 have a concert during the year too. Lots of opportunities to explore and create! We encourage our children to perform whenever we can. We have lots of concerts in school, but we also go out to perform. For example, on Wednesday the choir went out to some sheltered accommodation to sing for the residents.
PMH supports us in lots of other ways, too. Britten Sinfonia came in the Summer Term for Alice in Wonderland, so the children got to meet professional musicians, and we had a recorder consort that PMH paid for. PMH also links up with its counterpart in Northampton, so we took our children down to the Royal Albert Hall to perform last year as part of the Nene project, which again was paid for by PMH. If the Hub can help, they do! We work with other schools as well, so for example we go to Ken Stimpson School for our Christmas community concert.
Why do you consider music important?
I often get asked about it because it's under pressure in the curriculum at the moment, but there is a lot of research out there showing that music can help educate a child in a variety of different ways, right across the curriculum. It's a way of expressing ourselves, it's a way of gaining confidence, it's a way of creating a whole human being – and we have to give them the opportunity to be creative. But also I think one of the underlying things is simply that music is fun. It is a curriculum subject and every school should do it, but children learn through having fun, so it's education through enjoyment. If you have a happy child, they will learn more.
It's also about passing on a feeling of confidence. If you have high expectations, you get high quality performances. We have lots of opportunities here for children to perform, and the quality of those performances is all down to what you expect, and enabling the children to have those experiences by having high expectations themselves. I'm not talking about trying to get them to do things that are not appropriate to their age, but quite simply if you have high quality engagement you get high quality results, no matter what age they are. If you get those aspirations going at a young age, it encourages them to keep trying.
What do you say to people who claim that the career opportunities in music are limited?
If you think about life in general, we are surrounded by music, and while most children may not go on to play in an orchestra or be a pop star – although we've had people from William Law who have gone on to play in orchestras – there are lots of different entry levels for music. Someone has to be the foley artist on a film, or create music for adverts, or for apps. It's all around us all the time. And it doesn't have to be part of a career to be worthwhile, either; joining a choir and going out singing in later life is a fantastic stress relief and gets you to meet other people socially. So, it's all about creating a well-rounded, happy human being.
Is the music scene changing in Peterborough?
We need to champion what we have in Peterborough. People sometimes say we haven't got the cultural or musical expertise here, but actually, there is an awful lot going on. People just need to look! It's developing brilliantly. I've been a teacher in Peterborough for 25 years and I've seen a huge change. PHM has been a key part of that in recent years.
Music is making a difference in schools – get involved!
Why not contact your child's school to find out what opportunities there are to learn and instrument, sing and make music in school? Peterborough Music Hub also supports students in school though free instrument loans and means tested bursaries.
Opportunities to make music supported by Peterborough Music Hub:
PCYM
The Peterborough Centre for Young Musicians (PCYM) is an exciting venture for the region's talented young musicians aged between 5-18 years. Professional ensemble tuition is offered in association with the prestigious Guildhall School of Music & Drama. The Centre provides a comprehensive package of training, developing key skills in regular practice, instrumental and vocal technique, musical analysis and performance. PCYM delivers a high quality centre of excellence, making Peterborough the regional destination for music tuition and performance skills.
www.pcym.org.uk
Beat This
Beat This is a Community Interest Company (or CIC), which is a social enterprise with a conscience. It uses music and technology to help children, young people, adults and people with additional needs develop skills, interact and express themselves through music. Many of the people that it supports are disengaged from mainstream society or education and may have special educational needs and disabilities, mental health issues, or challenging behaviour.
www.beatthis.org
Peterborough Youth Choir
Directed by William Prideaux, Peterborough Youth Choir is the city's leading youth music group with over 40 members in junior, intermediate and senior sections. The choir is free to all and welcomes children from the age of seven, providing professional singing and music tuition and exceptional performance opportunities.
www.peterboroughyouthchoir.org.uk
Peterborough Young Singers
Peterborough Young Singers are committed to providing opportunities for young people to sing together to the highest standards. The junior choir, for children aged between 7 and 13 years, and our senior choir, young adults between the ages of 13 and 21 perform as distinct groups with appropriate repertoire but do also sing as one voice. The choirs meet on Saturday mornings, during term time, at CSK Church, Silver Hill, Hampton, PE7 8FF. There are no auditions – if you are enthusiastic about singing, just come and join in!
www.peterboroughyoungsingers.org.uk
Open Orchestras
Open Orchestras supports Music Education Hubs, arts organisations and schools to create orchestras that are accessible to young disabled people. By subscribing to a comprehensive package of resources and training, each school is supplied with everything it needs to successfully run its own Open Orchestra. This SEND music project is funded by PMH in two Peterborough schools: Phoenix School and Heltwaite School. Visit the website for more information and how to get involved
www.openorchestras.org
Whats on at Peterborough Music Hub in the New Year…
Banding Together
Friday 8 March, 6pm, The Salvation Army
Following the success of previous Banding Together projects, this year PMH will be partnering with renowned Musical Director, Greg Arrowsmith to deliver an exciting collaborative project. Working with 15 students from a mixed and diverse demographic from 4 secondary schools through a creative process exploring students cultural experiences of Peterborough and how it is they have come to live here. Students will take part in a series of workshops at their school with Greg and supporting musicians to explore and develop their musical responses. The project will culminate with a public concert showcasing the bringing together of the schools individual performances as well as a collaborative work.
Schools Make Music
Wednesday 20 March 2019, 7pm, The Cresset
The annual event is a celebration of music, happening daily across the city in our schools and educational establishments and will showcase the very best examples of music-making. The concert will offer a wonderful opportunity for all Peterborough schools to show the excellent work taking place and will include excerpts from in-house productions, choirs, instrumentalists (soloists/ensembles), bands and vocalists. Students will take part in workshops leading up to the event to hone their performance skills!
Singing Days with Peterborough Sings
Thursday 21 March 2019, Friday 21 March 2019, The Cresset
Each of the 'big sing' events features a live band or orchestra, and as well as having the opportunity to rehearse and perform with them the children are able to meet the musicians and learn about their instruments during interactive 'meet the band' sessions.
Directed by William Prideaux, these 'big sing' events have engaged thousands of children from over 40 local primary schools across Peterborough and beyond and have been fantastically well received by staff, children and parents alike. 'Something new for Peterborough…' says Clive Butters of the Beeches Primary School. 'Wwe can't wait for the next one!'
William Prideaux says: 'I wholeheartedly recommend the project. This is a once in a generation opportunity for schools and community groups, their teachers and leaders to develop their skills and aspirations.'
Sing-a-Long
Wednesday 27 March 2019 – Not open to the public
SEND Sing-A-Long sessions will feature a live band and will provide a great opportunity for students from SEND schools to join them in singing some well known numbers as well as some new ones.They'll also be the chance to learn a few dance moves too. Dressing up as is positively encouraged.
WCIT concert
Wednesday 27 March 2019 – Not open to the public
This event gives Whole Class Instrumental Teaching (WCIT) groups from different schools and on a variety of different instruments the opportunity to perform to each other. All students will then get to see varied performances by local professional musicians to inspire and motivate their learning.
If you would like to know more about the work of Peterborough Music Hub, or ask any questions, please contact or visit www.peterboroughmusichub.org.uk
Leave a Reply