Overture to a new age for Peterborough Youth Orchestra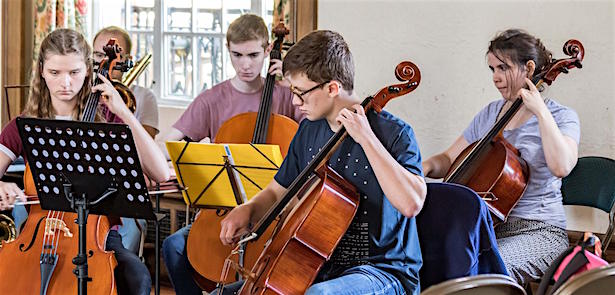 2019 sees an exciting new development for the young orchestral musicians of Peterborough as the Peterborough Youth Orchestra (PYO) enters a new chapter in its history...
The orchestra was formed by Robin Norman in 2014 for all string, woodwind, brass and percussion students in the area undertaking 4-day Summer courses – but this quickly expanded to include a February Half Term workshop and the addition of extra ensembles. The Peterborough Music Hub has always helped in the organisation and with the funding of the orchestra but, in 2019, they will take on the management and administration of the group.
Speaking of the change, Robin Norman says: 'The formation of PYO was a great passion of mine as someone who really relished youth orchestra playing myself as a teenager. I am thrilled with how the ensemble has grown over the four years but the downside of this is that the administration is too much for me to handle alone. The Peterborough Music Hub have been fantastic in their support of the organisation and have a willingness to improve the group further. Therefore to pass the reigns onto them makes perfect sense. I will still be involved with the group but I am excited for what the future holds.'
As part of the switch PYO will be hosting the traditional February Half Term workshop on Saturday 16 and Sunday 17 February 2019. Entitled 'Overture to PYO', the weekend workshop will focus on some of the best-known overtures of the classical repertoire by Mendelssohn, Beethoven, Sullivan and VonSuppe.
However 'Overture to PYO' has an additional meaning as, alongside the February workshops and Summer course, this also marks a new start for the group as a weekly ensemble.
'Members of the orchestra have been asking if it could rehearse throughout the year and the time seems right,' says Robin. So, PYO will start meeting weekly at Ken Stimpson Community School, Werrington, on Thursdays from 7.30-9.30pm commencing Thursday 28th February, where instrumental lessons will also be available from the Peterborough Centre for Young Musicians.
Membership of PYO is open to all orchestral instrumentalists grade 5 standard and above and aged 19 or under. For more details on both the February workshop and weekly rehearsals contact
Leave a Reply