Now we are 70: City College Peterborough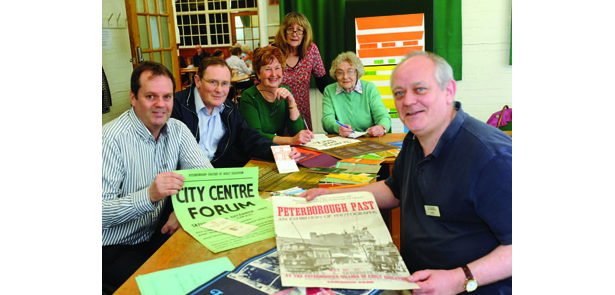 City College Peterborough reveals its long history in a new book
While some anniversaries are marked with a commemorative coin or souvenir supplement, City College Peterborough has gone one step further. The home of adult education in Peterborough is celebrating its 70th milestone this year – and along with it, the publication of a book which charts the college's history, from its establishment in 1944 as the Peterborough Education Institute, right up to the present day.
The book's final chapter will be the special birthday party being held by the College for 70 of the city's 70 year olds on 21 May. The idea for a commemorative book was suggested at the end of last year by College Principal, Pat Carrington. Tutor and local author, Tim Wilson, quickly took up the mantle and, with a team of volunteers including College students, set about researching the history of the College. The research for the book included searching through city and the college's own archives, conducting face-to-face interviews with past and present students, members of staff and principals and exploring Peterborough's photographic past.
Tim, who has tutored at the college for the past 15 years, explained: 'We have had a lot of input from members of the public who have their own stories about the college, and the whole project has been a real team effort. 'As a writer, I am used to working on my own, but it was a treat to have such a dedicated team of volunteers involved in the research of what we hope will be an attractive and interesting book – not only delving into the College's history but looking at the many changes Peterborough has seen over the past 70 years.
'There are so many different elements to the book and even just looking at how the courses have changed over the years is fascinating; from war-time courses on cooking with powdered eggs right up to our current courses on Indian cuisine!' The volunteers who have worked tirelessly to gather material for the book, along with Tim, are Chris Lane, Geoff Richardson, Fran Louis, Jane Abbott and Ruth Hufford (pictured) together with Betty Hobbs, Maureen Meade, Jane Russell, Sharon Stockley and John Naylor.
Tim is now finalising the copy, and the book will be published in the Summer. Although details have yet to be finalised, it is expected that the first print run of 600 copies wil be sold locally and that proceeds from its sale will be donated to the Royal British Legion.
To find out more about City College Peterborough and the wide range of courses available visit www.citycollegepeterborough.ac.uk, phone 01733 761361, email or pop into the College in Brook Street.
Leave a Reply